Dear Members of the Villanova College Family
Recently schools in Queensland were informed the Department of Education has instigated a review to identify the key issues being raised in Queensland community, specifically by parents, about NAPLAN.
The department has engaged independent reviewers, Dr Gabrielle Matters and Dr Robert Lake, to consult with parents and parent organisations from the three schooling sectors- State, Catholic and Independent- to ensure that a broad range of opinions are captured.
Terms of Reference
The present review is confined to the following topics:
Impact of NAPLAN testing on students, including student well being
Impact of NAPLAN testing on teachers
Value and benefit of NAPLAN
Unintended consequences of the current NAPLAN testing
Usefulness of NAPLAN results
Understanding of the composition and content of NAPLAN tests.
To assist in collecting data, forums will be conducted at the following venues:
Monday 11 June – Broncos Leagues Club Red Hill – 4.30 pm – 6.00 pm
Tuesday 12 June – Carina Leagues Club – 4.30 pm – 6.00 pm
I encourage parents to have their say on NAPLAN Testing by either completing the survey instrument which will take 10-15 minutes or attending the parent forums at the dates and venues above. The survey instrument is available now at https://tinyurl.com/NAPLAN-Q  and closes on 15 June.
GRANDPARENTS' MORNING TEA
To see the smiles on the faces of the students and the grandparents was a delight to behold at the annual Grandparents' Morning Tea held on Tuesday 5 June. The grandparents were pleased to be able to experience life at Villanova College and many commented on how different school life is today compared to their experience many years ago. Our Year 5 students were excellent hosts and went out of their way to be hospitable and welcoming to our guests.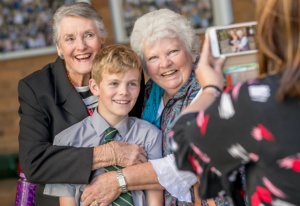 TERM TWO SPORTS 
As the chess, football and rugby seasons conclude this weekend I offer my thanks to the many parents, Old Boys and members of staff who gave so generously of their time to coach, manage and oversee the sporting program in Term Two. It is through the generous support of members of our community that we are able to offer the plethora of opportunities to our young men. Their development as men of character is made possible through the positive role models that coach and guide them. Through the experience of winning, tasting defeat and battling together as members of a team our young men learn many valuable life lessons.
Thank you to all our coaches for their involvement in the sports program in 2018.
ACADEMICS
Assessment block for students in Year 11 and Year 12 will begin on Tuesday 19 June. Students have received their exam timetable and should by now have it clearly displayed at home. Parents are able to view a copy of the timetable via Parent Portal.
Students have been made aware of expectations for the Assessment Block regarding time for arrival, equipment and uniform expectations. I thank all families for ensuring their son is well presented and organised for the assessment tasks.
Preparation is the key to success with all assessment tasks. Cutting corners and taking short cuts will only lead to a poor result. Our staff continue to challenge, encourage and support our students to strive for excellence in their academics.
You have made us for Yourself O Lord,
And our hearts are restless until they rest in You.
God Bless
Mr Mark Stower, College Principal