Dear Members of the Villanova College Family
Planning for the construction of the new grandstand and player facilities at Villanova Park is continuing with urgency. An important aspect of the planning process has been to identify the issues that need addressing through the redevelopment of the site. Town planning and approvals are currently being undertaken. Traffic studies to determine possibilities for a new entrance are also being investigated.
The Master Plan developed following consultation with our community shows the following key concepts.
Expanded parking options
Removal of all buildings at the front of the site including relocation of canteen
Seeking alternative entrances to the site
Function room with catering facilities
New grandstand and changerooms
Toilet facilities for the lower fields
Improved connectivity between top fields and bottom fields on the site
The first priority for the Villanova Park Project is to begin construction of the new grandstand and associated players facilities. With careful planning, I am hopeful this project will commence well before the end of the year.
YEAR 11 – 12 ASSESSMENT BLOCK
Assessment Block for students in Years 11 and 12 will commence on Tuesday 19 June through until Wednesday 27 June. Students have access to their Assessment Timetable via Student Café and families can view this Assessment Timetable via the Parental Portal. Our young men will need some support to ensure they are organised for this End of Semester Assessment Block. Prior planning and preparation will ensure students arrive on time knowing where exams will be held and having in their possession all the required equipment. Students need to be checking with their teachers over the coming days to ensure that they understand clearly the requirements for the upcoming assessment.
A great site for Top Ten Exam Tips is https://www.youthcentral.vic.gov.au/study-and-training/help-with-study/how-to-study-better/top-10-exam-tips.
AUGUSTINIAN SCHOOLS EXCHANGE
Our visitors from St Rita's School, Chicago are on their way home following two weeks in Australia. I sincerely thank our host families who generously opened their homes and hearts to our visitors and welcomed them wholeheartedly into their families. In speaking to the students and visiting teacher, Mr Kevin Reed, all participants in the exchange thoroughly enjoyed the experience and gained new insights into life in an Australian school. Thank you to Mr Sean O'Neill, Mrs Danielle Galpin, Mr Peter Meecham and Mr Adrian Hellwig for their support of our visitors during their stay.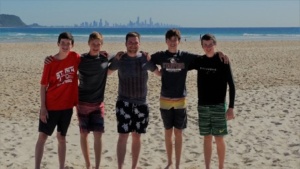 PRAYERS
We keep in our thoughts and prayers the Abraham family, following the death of Mr Harry Abraham, Grandfather of Isaac (Year 12), Elijah (Year 10) and Jonah (Year 5).
May his soul and the souls of all the faithful departed rest in peace, Amen 
You have made us for Yourself O Lord,
And our hearts are restless until they rest in You 
God bless
Mr Mark Stower, College Principal