Music at Villanova College is a true community enterprise, thanks to enthusiastic support from staff, students, parents, and the local and greater Brisbane communities. Considered an inclusive art, there is a place for all students in our music program, so long as they have the necessary desire and commitment to create music at the highest possible standard. Villanova has a proud tradition of music that dates back to the College's second Rector, Fr John Hanrahan, and we encourage all students to be part of the music program.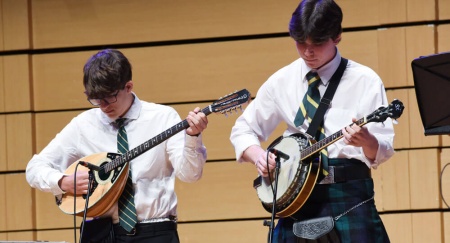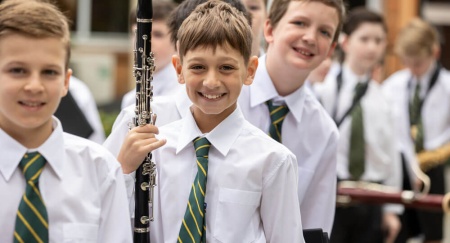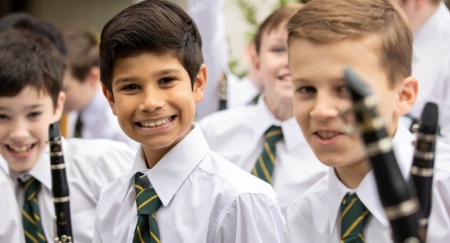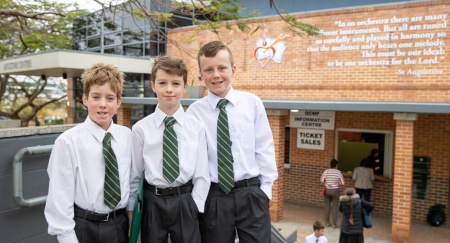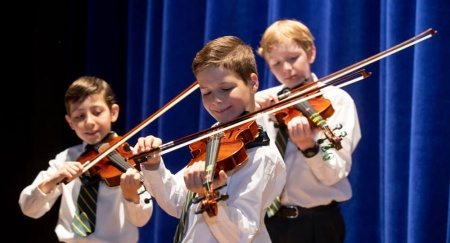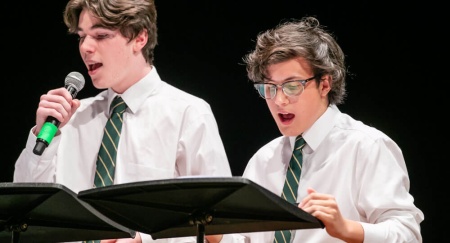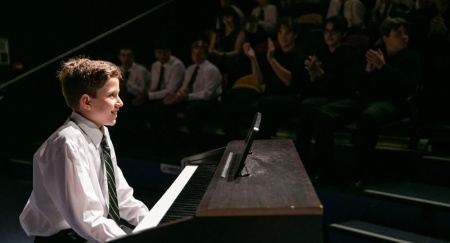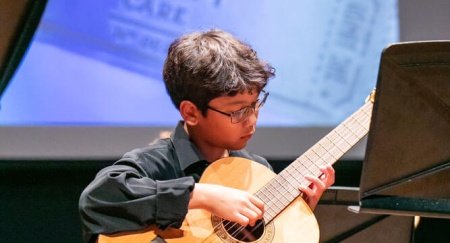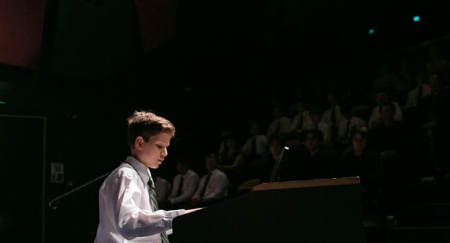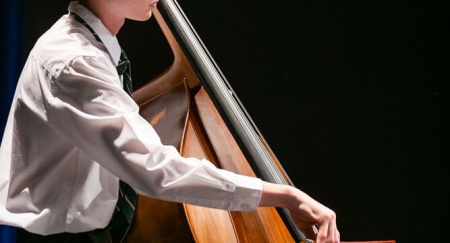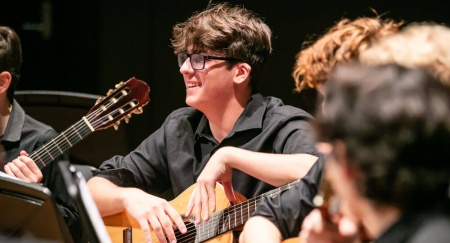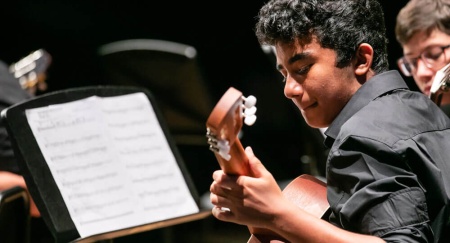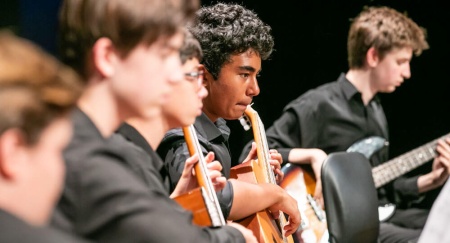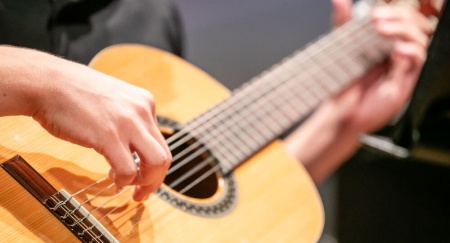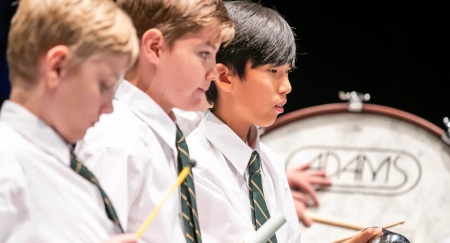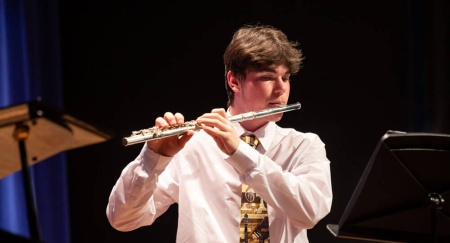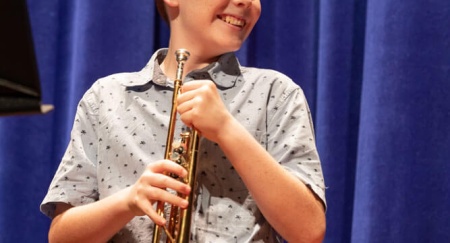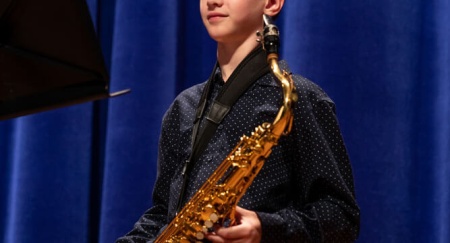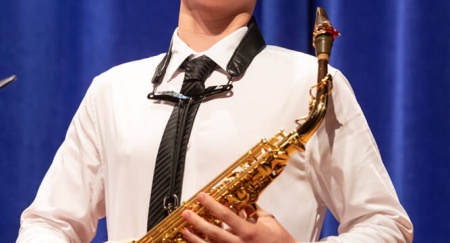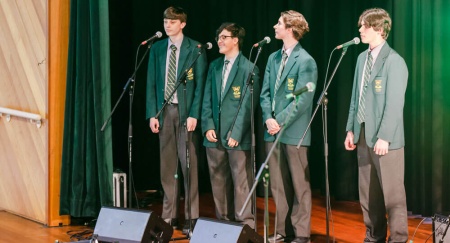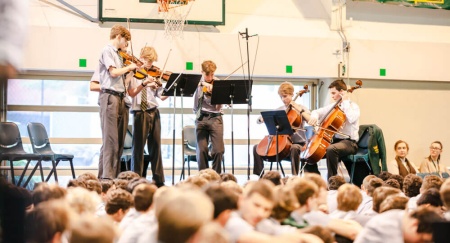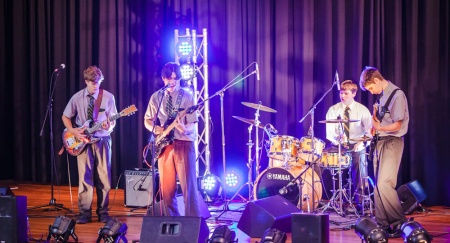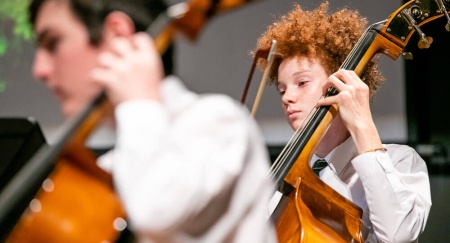 Year 5 Immersion Instrumental Music Program
All Year 5 boys learn an instrument as part of the Immersion Instrumental Music Program. Through a careful engagement and selection process, students are allocated an instrument based on preference, aptitude, and prior ability as we form two balanced ensembles: a concert band, and a string orchestra. The instrument and tuition across all of Year 5 are an investment the College makes in the educational and social-emotional development of your son.
Students entering the College with musical experience will participate in this program; however, they may be allocated to a different core ensemble as these are ability grouped. Students learning an instrument for the first time will have the opportunity to join with their new mates in our Year 5 Band or Orchestra as we prepare for an exciting calendar of performances across the year!
In Year 6, students are strongly encouraged to continue their involvement in the Music Performance Program as they make their way through to Middle and Senior Schools.
All Junior School boys are also invited to be involved in the exciting Junior School Choir, which also rehearses one morning each week.
Music Performance Program (Middle & Senior School)
Students in Years 6-12 who wish to continue learning an instrument and perform in College ensembles are able to enter the prestigious Music Performance Program.
The Music Performance Program is a comprehensive course providing tuition by many of Queensland's finest musicians and educators. Students in the program also benefit from involvement in the College's many ensembles, which are listed in the Opportunities for Involvement section below.
Many Villanova students find that the classroom music elective (accessible from Year 8) strengthens their understanding of music and greatly complements their performance abilities, which can help them stand out in future jobs and pursuits. Most of our senior boys are also actively involved in sports with little or no conflict, as there is great support between these two respected areas.
Opportunities for Involvement
Villanova College boasts more than 30 performing groups including:
Commercial (contemporary) ensembles
Chamber string, woodwind and brass ensembles
Students are also involved in all aspects of stage performance during the biennial musical theatre production put on by Villanova College and Loreto College Coorparoo.
Prior to COVID, our top senior ensembles toured nationally and internationally. We look forward to returning to this touring program and providing exciting performance opportunities for our students. Students also have the opportunity of working with guest artists and clinicians; previously having worked with visiting guest artists such as James Morrison, The Idea of North, The Ten Tenors, Doch Gypsy Orchestra, The Grigoryan Brothers and the Australian Army Band.
In addition, Villanova offers students training and experience in backstage and technical lighting, and sound recording and production. This is available through the College's Music Stage Crew and Technical Crew positions.