Dear Members of the Villanova College Family
What exciting days Tuesday and Wednesday were this week as we welcomed back all the students for the commencement of the 2018 academic year. The students have returned eager to embrace the opportunities on offer at the College and to begin their classes and meet their teachers.
Thank you to all families for their care and attention to grooming and the College uniform. The students have returned well dressed and with hats. During these very warm months we will be extra vigilant in encouraging our students to wear their hats when outside.
Our theme for this year is "LEADING LEARNING".
At our recent College Assembly, I spoke about the responsibility of each student to take an active role in his own learning journey this year. Each classroom teacher has the responsibility of leading the learning in their classrooms to ensure students reach their full potential.
70th Anniversary
2018 is a year of celebration as we mark the 70th Anniversary of the foundation of Villanova College. In 1948 Villanova College threw open the doors and 40 young men across Years 5, 6 and 7 marched in and so began this wonderful story of Catholic education in the Augustinian Tradition in Brisbane.
One of the highlights of the celebrations this year will be the Musical, Augustine: The Way (Songs of Love, Loss and Liberation) to be held on June 1 and 2 in the Hanrahan Theatre. Please pencil in these dates.
Building Works
The work on the Fr Michael Morahan Staff Centre is now only days away from completion. The scaffolding and fences have been removed and the students have their seating areas available once more. The image in the glass façade is the emblem of the Order of St Augustine -a flaming heart pierced by an arrow on the background of an open book.
The open book suggests a dedication to intellectual searching or study; the pursuit of knowledge, both divine and earthly. The flaming heart indicates Saint Augustine's great personal charity and the fact he preached love of neighbour as the way to serve God. The arrow piercing the heart and the book represents the spirit of God piercing our minds and hearts and calling us to a continual growth of faith, hope and love in our lives.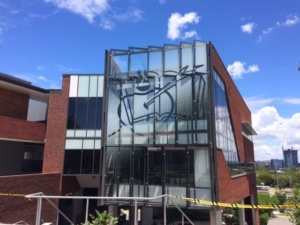 Prayers and Congratulations
Congratulations to Mr Matt Lalor and his wife Urszula on the recent birth of their first child, Rosemary Ewa. We also keep in our prayers Mr Ed Havelock and his family following the recent death of his mother in law, Mrs Rita Buenavista.
You have made us for Yourself O Lord
And our hearts are restless until they rest in You.
God bless
Mr Mark Stower, College Principal