Dear Members of the Villanova College Family,
Classes have commenced, students are engaged in their studies and teachers are leading learning in the classrooms. The 2018 academic year has well and truly started. Over the next few weeks there are a number of disruptions to the normal routine with camps, Parent Information Evenings and the commencement of sporting events. These activities enhance the education experience for students and are important for the whole development of each child.
Thank you to the large number of parents who have attended the Parent Information Evenings to date. Strong partnerships between the staff of the College and parents is an essential ingredient for success in educating our students. The presence of parents at College events provides an enormous boost to the staff who appreciate knowing they do not carry out this important work alone.
Opening School Year Mass
On Tuesday, the College community gathered to celebrate the Mass of the Holy Spirit.  College Chaplain Fr Peter Wieneke OSA and Fr Saldie Resolado OSA concelebrated the Mass. The theme for the Mass, "Christ, The Way, The Truth and The Light", reflected the Gospel message that in knowing the way we are reliant on the teachings of the Gospel to guide us. As we begin the journey of a new school year, we keep Christ at the centre of our own compass.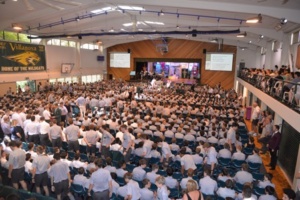 Investiture of Senior Students
At the end of the Mass, senior students and student leaders were presented with their badges of office and recited their pledges. Our senior students have been called to be examples of our key values and to role model for younger students the characteristics of a "Villanova Man". We wish all our senior students every success this year and we keep them in our prayers.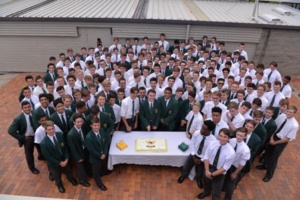 Media Consent
Parents are requested to notify the College if they do not wish their son's image to be used in any College publications or marketing materials. Please send an email to the relevant Student Services Officer by Friday 9 February 2018.
Senior School – Mrs Joy Browning – jbrowning@vnc.qld.edu.au
Middle School – Mrs Vicki Lamb – vlamb@vnc.qld.edu.au
Junior School – Mrs Maria Mascadri – mmascadri@vnc.qld.edu.au
You have made us for yourself O Lord
And our hearts are restless until they rest in You
God bless
Mr Mark Stower, College Principal