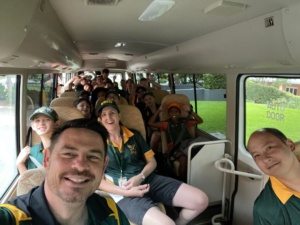 It is with a great sense of appreciation I have today spent time assisting our students share the Villanova community's generosity with the people of Gympie and the students of the Flexible Learning Centre.  It was a wonderful experience for the students who had the opportunity to visit Gympie and contribute by visiting families and sharing conversation.
It was an opportunity for transformation and to shape their concept of our 2022 theme of ongoing conversion – to be transformative in the world we live and to transform our thinking and the way we view and participate in the world as a result of our experiences and interactions. Finding opportunities for service learning, and in that service an ability to give boys tangible opportunities to walk in solidarity and develop empathy and understanding — vital elements to a truly excellent education.  As a College we remain committed to this and dedicated to uncovering as many of these opportunities as we can across your son's time here.
This week we have also had to face from a distance the sad reality of war, loss and the senseless of violence as we bear witness to the Russian invasion of the Ukraine. To see people fleeing as refugees, women and children caught in the crossfire of and unjust conflict has been almost unbearable. It is with great hope that we stand in solidarity with the people of the Ukraine, open our hearts to their plight and in time our country to those refugees displaced.
We congratulate our AIC swimmers on the way they represented themselves and the College at the AIC Swimming Carnival on Tuesday. Our Year 5's in particular were fantastic in winning their age group. Fourth overall was an excellent result for the College and a credit to all participants and their coaches.
Finally, I would like to thank all of our parents for their cooperation and patience across Thursday, Friday and Saturday last week as we responded to advice and direction form government regarding school responses to possibly serious weather events. While thankfully things were far better than expected it was still frustrating for all.
Mr Paul Begg, Principal
In keeping with the spirit of Reconciliation, Villanova College acknowledges the Yuggera and Turrbal peoples, as the Traditional Custodians of this land on which we stand.  We pay our respects to Elders, past, present and emerging.  This has always been, and always will be, a place of teaching and learning connected to country, culture and community.