As the term comes to an end it is with great enthusiasm I look toward to the future given the enormous promise I have felt through my interactions with the boys, parents, staff and the broader community since my arrival. I can't lie, some of my positivity is grounded in the undying hope of a term with some semblance of 'normal' but moreover it is the sense of exciting possibility and the dream of what is next for Villanova.
Across this term we have engaged with DCWC and Cox Architecture to develop ideas and concepts around our new College masterplan which will ensure the highest quality facilities and learning environment for your boys and those Villa boys of the future. In the early weeks of Term 2 we will share with broader community the outcomes of these discussions for consultation and comment. The Parents and Friends Association have had some opportunity already through the recent AGM, but broader consultation will be sought.
There has also been the opportunity to have a surface level analysis of our Villanova College Teaching and Learning framework, our College process and practice in the addressing of bullying and development of positive relationships, and our framework, flowchart and practices to create and encourage positive behaviour and its associated support and response plan. Across terms two and three, and in accordance with both our College strategic plan and the College operational objectives for 2022 we will do deeper analysis, make adjustment and communicate to students and the broader community new or revised practices or approaches as they are decided. From here we will enter the implementation stage. Our reasoning is anchored in our commitment to consistent, just, fair practices, informed by contemporary research and enacted by well trained, prepared and developed practitioners. These will remain embedded in the foundations of our Augustinian values and with due consideration of our relational pedagogy and restorative practice fundamentals.
Finally, last weekend was a wonderful time to be Principal of Villanova. To have two of three First teams secure premierships is quite an achievement to be a part of, not because we won but because of how the teams achieved their success. At the start of our seasons, I had the honour of presenting caps and jerseys to our Volleyball, Cricket and AFL sides. I outlined to them my expectation of their performance. These words I reiterated to you last weekend as I wrote to you regarding the place of sport in our College and in your son's learning.
Sport and extracurricular activities are an integral element in the education process and often allows one to highlight the value of collaboration, practice, mentorship, and problem solving in a very tangible and self-effacing way. In all teams at our college "winning" is the outcome of focused effort, repeated and spaced practice, having an explicit focus on areas of weakness or failure, analysis of skill and the subsequent focus and execution of those specific skills to their premium by all members of the team. This is done while developing knowledge of the game, it's strategy, and establishing and executing game plans. Often this approach will result in a 'win' on the scoreboard. At other times we will be beaten, despite our best efforts, but in defeat we won't have lost. There are always lessons to be learned and improvements to be made. As a standard we leave our game gracious and dignified in our losses and with humility and gratitude in our victories. If we don't do this, that is when we have truly 'lost'; we have lost our way!
Further,
We will be Villanova College, we will focus on the values of humility, interiority, community, and the restless search for truth. We will support families financially and otherwise as they need to be supported considering both their individual and the collective need. We will challenge boys and look to provide a robust environment intellectually, physically, and spiritually. We will succeed and fail but we will always look to improve, and in doing so dare I say 'win', on our terms, inside our values and with our community.
So, while our AFL and Volleyballers were rewarded as AIC Premiers, all three teams had winning seasons because of the way they played and what they have learned about themselves and their ability to focus on a task and its achievement. I commend and thank our coaching staff and parents for your commitment and diligence and the way that you are supporting my philosophy on the place and purpose of sport in our College.
COVID Protocols
A reminder to all parents regarding COVID protocols.  Please do not send your son to school if he is unwell or showing any signs and symptoms of illness. With rising numbers, we are encouraging the wearing of masks again in our College community as we would like to minimise learning disruption as much as possible across this last week of the term.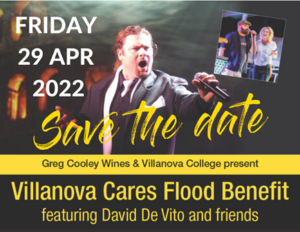 Villanova Cares Flood Relief Concert
These last three years have been somewhat barren in terms of community gathering and celebration. We would like to change that and encourage your attendance at the 'Villanova Cares Flood Benefit', raising funds for those affected by the recent Brisbane floods on Friday 29 April. While we have done some tremendous work in this area, we would like to make sure that in the months after the 'Mud Army' has disappeared those still displaced or suffering can be supported.
If you can join us, we would love you to come along for some food, wine, entertainment and fun catching up with those in our Villanova College community. The evening kicks off with pre-show drinks followed by an evening's entertainment in Goold Hall featuring powerhouse tenor David De Vito and friends.
Grand Finalist on Australia's Got Talent, David De Vito is a dynamic entertainer, rich with diversity and a voice capable of performing the most challenging operatic pieces through to the pop/rock genre, complimented by years of studying Classical piano and guitar.
Joined by special guest artists Coloratura Soprano Tabatha Ashmore and Cabaret songstress Nadyne Thorne, you will be in for a treat of Pop-Opera and some of the all-time classics, mixed in with Anthem numbers from the likes of The Greatest Showman, Lady Gaga, QUEEN, ACDC and more.
The evening kicks off at 5.00pm and tickets are just $55 to enjoy the entertainment with a selection of beer, wine and soft drinks available for purchase on the night, plus you can BYO a hamper or purchase a grazing box online from the team at "In A Pickle" for $30pp.
Of course, if you are unable to join us on the night, you can still donate via the website should you wish to contribute to this worthy cause. Tickets are available through Trybooking here: 'Villanova Cares Flood Benefit' with David De Vito & Friends Tickets, Villanova College, Coorparoo | TryBooking Australia
Alternatively, you can contact Kelli Shanahan at Greg Cooley Wines on 0421 055 799.
Mr Paul Begg, Principal
In keeping with the spirit of Reconciliation, Villanova College acknowledges the Yuggera and Turrbal peoples, as the Traditional Custodians of this land on which we stand.  We pay our respects to Elders, past, present and emerging.  This has always been, and always will be, a place of teaching and learning connected to country, culture and community.