One of the defining features of Villanova College is that we are a community not simply a school. I am sure many parents are asked why they choose an independent Catholic education when there are opportunities, without the cost, elsewhere.
The answer is in the identity of the school. We are a Catholic community in the Augustinian tradition. When your son comes to Villanova you get more than the classroom, or a sports field, or a flash uniform, or a set of behaviour standards. At Villanova you get a community. That community cares, challenges, supports, reflects, and has its focus on the whole person. You get a community where your son's development is directed by faith and a set of the values that, if lived in everyday life, does in fact set him apart from others. These are not designed to make him better, more powerful, intellectually elite, or significantly influential. In many ways it is the opposite our values and practices are designed to provide the broadest set of opportunities for him to develop to his fullest, to see the world through many lenses and to respond and make a positive change in that world. They may well hold power, have developed strong intellects and be influential in their interactions with others but these are by products of developing a fine Augustinian man. We are a community that encourages diverse thinking, the careful consideration of alternatives and to respond in service, with compassion and humility. That is the Villanova difference!
This Villanova difference is what I have been watching, observing and reflecting on in these first two months. I have recognised it through seeing it in the actions of others, staff and students and experienced as someone new to community sharing myself with the boys, staff and parents for the first time. It is in people's words and most importantly in their actions.
I have experienced and witnessed the welcome and the care, the politeness and friendliness of the boys. I have experienced students being challenged in the classroom, both academically and in relationships. I have seen and spoken to boys who have made mistakes, some significant ones this early in the year! Yet in response I have experienced the care of staff in redirecting and challenging their behaviour and the commitment of boys to improving behaviour, taking accountability for their short comings and re-establishing relationships.
I am thankful of these first few months and in my gratitude am encouraged to ensure it is a hallmark of our community not a simple reflection of early naivety.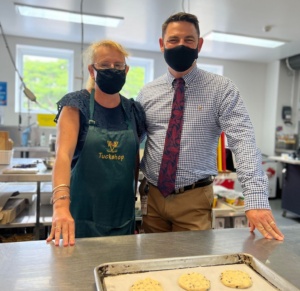 Community engagement opportunities
Across these last two years with the effects of COVID and exclusion from schools of people and the cancellation of events it has been difficult to engage community. We have parents and students from Years 5 -9 who have never experienced a Villanova International Carnival, whose experience of an Open Day celebration was an online discussion, who have only ever engaged with AFAS online, or through donation not through experience. Who are unaware that our service-learning opportunities are open to students, parents and Old Boys!
As we slowly emerge across these next few weeks and months there are hopefully so many opportunities to engage and become immersed in the traditions, values and friendships of Villanova. Your place is with us at our place.
The key opportunities for you to engage over the next few months being with our AFAS concert next Saturday evening. There are further details below.
There are many more;
Tuckshop volunteers are required each weekday please contact:  3394 5592 or email Dot Blair – tuckshop@vnc.qld.edu.au
Sports Canteen support for all sports at home games throughout the year.  For further information please contact Mrs Sarah Patterson via email spatterson@vnc.qld.edu.au
Parents and Friends Association – all are welcome to attend the P & F Meetings held once a month during the school term; the next meeting is the AGM scheduled for Monday 7 March – please check your email over the coming days to register your attendance.
Sports Club – all are welcome to attend the Sports Club meetings which are scheduled twice a term with the next meeting scheduled for 6pm on Wednesday 16 March.
Music Support/QCMF Planning Group – the Music Support/QCMF Planning Group meets once a month during the school term; the next meeting is scheduled for 7.30pm on Monday 7 March.
At a more strategic level there are also College Board sub-committees which need expertise and commitment to ensure the reliable and proper running of the College with high level checks and balances. Opportunities to serve the community in this capacity will be requested in a specific and direct communication at a later time.
Villanova Community in action!
On Saturday 5 March the first opportunity for parents, friends, Old Boys and students to re-engage with the College arrives with the Villanova social function to rival all others. Taking place on the Terraces, with the city views, is the AFAS Musical extravaganza featuring Australia's Got Talent David de Vito who will be in concert along with Australian Idol runner up Luke Dickens.
In just over a week, music from Neil Diamond to Leonard Cohen and AC/DC will be presented under the stars.
Our families are encouraged to gather together a group of friends and create great memories together over music and food.
Our last similar concert raised enough money to purchase a sterilizer for the mid-wife on the island of Kinatarcan in the Philippines. Past parents, students and teachers have twice assisted in construction work with Kinatarcan residents.
Fr Saldie has returned from the Philippines this week and during his trip home spoke with residents and community representatives struggling to rebuild after the devastation of Typhoon Odette. UNICEF reported that over 4,000 classrooms were lost in the storm effecting over two million students learning.
On the evening we will be able to share with you all where the 2022 David de Vito Concert funds will be allotted.
More details view our flyer here
Book online at:  https://www.trybooking.com/events/landing/824008
Recent Community Bereavements
As a College with a long history, there are times when members of both our past and present community pass and to whom we would like to pay our respects.
Recently, Mrs Judy Smith, mother and mother-in-law of Sue and John Godwin (1986 and previous member of staff) and grandmother to Ned (Year 10), Archie (Year 7), Gus (2021) and Riley (2018) passed away. As did Mr John Holroyd Senior, the father of long serving staff member Mr John Holroyd and grandfather to Elijah (Year 11) and Henry (2021).
We wish the Godwin, Smith and Holroyd families our deepest condolences at this time and hope that in their grief the memories of lives well lived are remembered fondly and celebrated in Christ.
Mr Paul Begg, Principal
In keeping with the spirit of Reconciliation, Villanova College acknowledges the Yuggera and Turrbal peoples, as the Traditional Custodians of this land on which we stand.  We pay our respects to Elders, past, present and emerging.  This has always been, and always will be, a place of teaching and learning connected to country, culture and community.