Dear Members of the Villanova College Family
In preparation for the commencement of the Stage One Build in 2019, Villanova College is required to engage in a community consultation process. Over the coming weeks you will notice signage around the College advising residents of the upcoming development on site. The College has also delivered letters to residences and conducted a letter-box drop.
The community consultation is a required step of the Infrastructure Designation Application to the Minister of State Development, Manufacturing, Infrastructure and Planning. The College will hold a "drop in session" on Wednesday 12 December in the Chapter Room, Augustine Centre from 5.30 pm until 7.30 pm where members of the community can meet the Project Team and discuss the project.
Catering for a student-centred education model—Proposed Ministerial designation
Villanova College has taken the next step towards seeing our proposed new building up and running in time for Term 1 2020.
In accordance with Chapter 2, Part 5 of the Planning Act 2016, we have asked that the Minister for State Development, Manufacturing, Infrastructure and Planning designate our land premises located in Coorparoo as educational facilities.
If the Ministerial designation is approved, it will acknowledge and reflect what we use our land for today, and it will help us to cater for our natural growth.
As you know, this natural growth is occurring in all schools across Queensland because of the introduction of Prep in 2007, changes to the school starting age in 2008, and Year 7 moving to secondary schools in 2015. This natural growth will see the population of the College grow to approximately 1,326 students, and we will require an extra five full time staff at 2020.
As part of the College's ongoing approach to moving towards a student-centred 21st Century learning model, the proposed Ministerial designation involves the construction of a four-storey building on the western portion of our site. This new building will generally comprise:
a covered outdoor area
a Junior School learning suite, amenities, staff rooms, and offices at levels 1 and 2
a Senior School learning suite, amenities, auditorium, and offices at level 3.
To find out more about the Ministerial designation and the proposed new teaching and learning centre, please visit https://planning.dsdmip.qld.gov.au/id-consultations.
Community consultation for the Ministerial designation commenced on 22 November 2018.  You may have seen the advertising signs that have been placed on Main Avenue and Fifth Avenue. This consultation period will end on 24 January 2019.
During this time, we are also:
advertising in the South East Advertiser
providing an opportunity for interested community members and neighbours to drop-in and talk with representatives from the College.
If you have any questions or would like more information about the consultation process, please visit the https://planning.dsdmip.qld.gov.au/id-consultations or call Mark Stower on 3394 5504.
Images of the Stage One Build
The New Learning Centre will provide innovative and contemporary classroom facilities for Years 5 and 6 on the first and second floors as well as reception, offices and meeting rooms for the Junior School. The third floor will house additional classrooms for the Senior School in a flexible arrangement with specialist rooms, collaboration spaces and contemporary classroom spaces.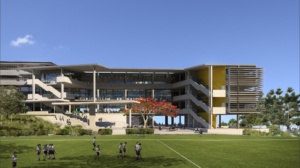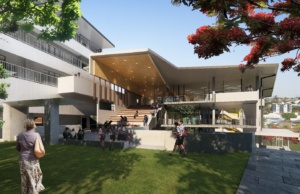 Villanova Park
The grandstand development at Villanova Park is progressing well with the project moving to the tender stage this week. We are hopeful that the project will be completed in time for the first home game of the rugby and football season in 2019.
Last Week of the Year
The final week of the Academic Year will be held next week with classes concluding on Friday 30 November. Students from Year 5 to 10 will have normal classes from Monday 26 November to Wednesday 28 November. The Year 11 students will have additional presentations on Wednesday 28 November – Safe Driving Education conducted by RYDA followed by the Year 11 Odyssey Challenge on Thursday 29 November.  Also, on Thursday the younger students will be attending end of year activities at theme parks including Wet 'n' Wild and White Water World. On Friday 30 November students will attend school as normal with a special End of Year Liturgy and College Assembly commencing at 10.00 am. Parents are most welcome to join us in Goold Hall at this time. Students will be dismissed at 10.45 am on Friday.
You have made us for Yourself O Lord
And our hearts are restless until they rest in You.
God bless
Mr Mark Stower, College Principal