Dear Members of the Villanova College Family
Work will commence today to remedy the front stone wall on Sixth Avenue. Please be aware when dropping your son to school of this new construction area. Fencing will remain in place until the remediation work is completed. The work will not commence in the area until after 9.00am in the morning and will cease before 2.30pm.  I thank you for your understanding and patience.
College Academic Assembly
Tomorrow the College community will recognise the academic achievements of our students following the Semester One Assessment period. It is pleasing to see the number of students who strive to achieve excellence in their studies. A common characteristic of these high achieving students is an understanding that hard work during each and every week will pay dividends when it comes time for assessment. We applaud the Academic Award recipients and congratulate them on their achievements.
Year 10 Outdoor Education Camp
Year 10 students enjoyed the challenges of Emu Gully, Helidon over the past three days as they bravely faced the challenges of the activities. For our students and staff the infamous, "Mud Pit" is a very challenging activity that can only be conquered through determination and teamwork. The early feedback from the instructors and staff accompanying the students on the camp has been extremely positive.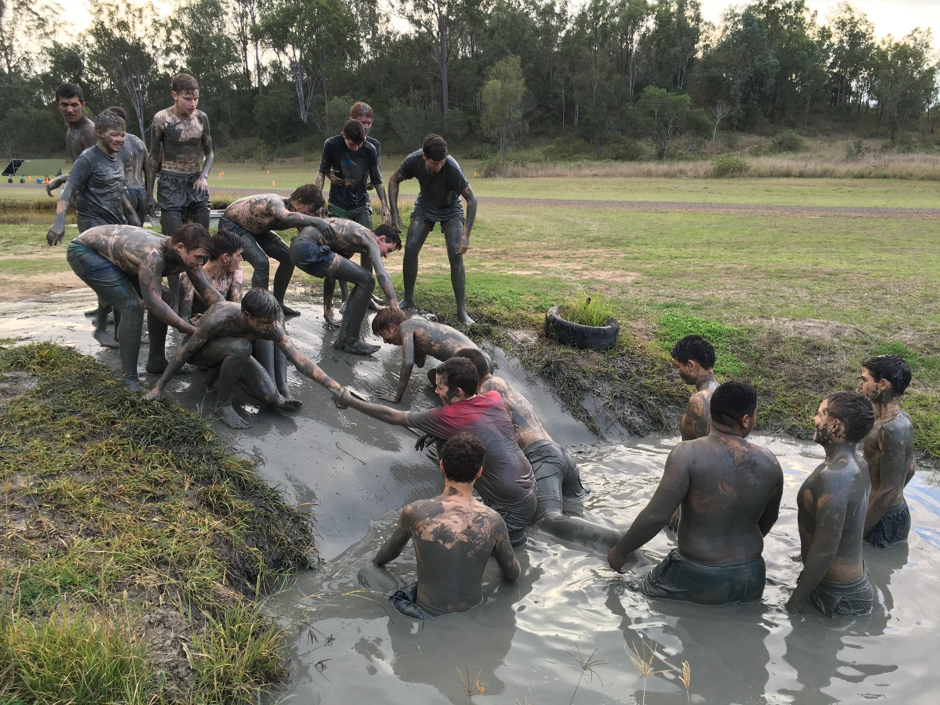 Brisbane City Council have notified the College that, "Over the next school term, Council Officers will be attending school zones to ensure safe parking. Parking fines may be issued in cases where illegal parking is observed."
It is timely to remind parents of the Loading Zones outside the College in Eighth Avenue and Fifth Avenue marked by the green and white striped street signs. These zones operate from 7.00am until 9.00am and in the afternoon from 2.00pm until 4.00pm.
Fifth Avenue Procedures
We have one staff member (wearing a Hi-Viz vest) who ensures 'pick up' is flowing and boys get into cars promptly.
Junior School students are only permitted to enter a car in the designated area – between the two telegraph poles.
Parents are issued with name placards that must be displayed on their sun visor to assist boys and staff members locating their car.
Parents can collect their child from 3 – 3.30pm. We encourage parents to arrive at 3.15pm – 3.20pm when the congestion has died down.
Please avoid the following:
Arriving from 2.30pm and parking in the loading zone to get 'pole position' for a 3.00pm pick up as this halts traffic until your child is collected.
Parking across the road and calling to your son to walk across (extremely dangerous) or trying to collect your son before the designated area, which causes congestion at the corner of Fifth and Sixth Avenues.
Eighth Avenue Procedures
Green and white striped poles designate the loading zone. Please note the area immediately outside the Eighth Avenue gate is not a loading zone.
Parents are asked not to queue excessively in the zone adjacent to the corner of Eighth and Fifth Avenues as this blocks all vehicles.
The main loading zone in Eighth Avenue stretches down the hill and it works efficiently if parents inform their sons they will pick them up down the hill rather than immediately outside College gates.
Congratulations to Mr Darren Thomas and his wife Amanda on the birth of their daughter Isabella early this week. Please keep in your prayers Fr Joe Walsh OSA who is undergoing further medical treatment.
You have made us for Yourself, O Lord
And our hearts are restless until they rest in You.
God bless
Mr Mark Stower, Principal