Earlier this week we welcomed the grandparents of our Year 5 students to the College. On a cold and blustery winter's day, the hearts of our visitors were warmed by the wonderful hospitality displayed by our Year 5 students and the many volunteers who worked behind the scenes to ensure there were ample cups of tea and sandwiches.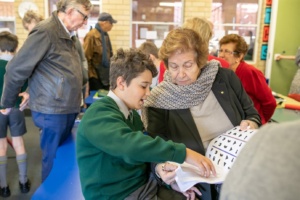 Speaking to one group of grandparents, who had travelled from Bundaberg to attend the morning activities, I could hear the pride in their voices as they recounted the visit to their grandson's classroom and attending the music concert in the Hanrahan Theatre. Our young people are afforded many opportunities that simply were not possible in the times when their grandparents were attending school. In the space of two generations so much has changed.
STUDY TIME
It is now time for revision and study plan to be central for the next few weeks in the lead up to the End of Semester Assessment Tasks. For all students taking time to revise work covered over the past weeks and to ensure notes are in order is a crucial task that needs to commence now.
Students should be listening very carefully to their teachers as they outline the assessment tasks for the upcoming exams and assignments. If there is any doubt as to the tasks it is important students speak to their teachers to make sure they are clear and understand the requirements for the assessment.
Over the coming weeks it is expected all students will find the extra time to revise and prepare their study notes.
As parents it is also our responsibility to put in place some clear guidelines for study. Study should happen at a desk with good lighting. It should be a quiet space away from distractions such as mobile phones, game consoles and televisions. It is not spying to check occasionally on your son to see what he is doing. Please take note of what sites he has open on the laptop.
Taking breaks away from study is a way of rewarding effort. However too long a break can be detrimental so negotiate what is reasonable when study time is happening.
I wish all the students the very best for the upcoming End of Semester Exams.
AIC SPORT
The students responded with enormous enthusiasm to the call to get behind their teams over the past weekend. Beginning on Friday afternoon with great support for the chess teams, the tide of supporters turned up across Saturday to support all Villanova College teams. The final game of the day saw a capacity crowd gathered round Charlie Fisher Oval to cheer on the players of the First XV teams from both Colleges.
The support was outstanding, and it was pleasing to see so many players from other teams remain behind to lend their voices to the cheer squad.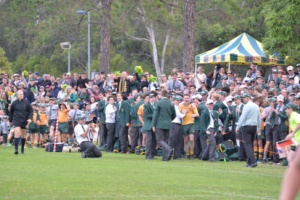 You have made us for Yourself O Lord,
And our hearts are restless until they rest in You.
God Bless
Mr Mark Stower, Principal