Mission Day was a wonderful celebration of our community spirit as students and staff came together to raise funds for Australian Filipino Augustinian Solidarity (AFAS) work in supporting communities in the Philippines.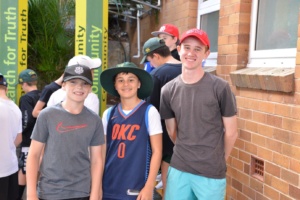 Across the day a range of activities were held, and the majority of these activities were student driven. The Amazing Race saw senior students assisting Year 5 students as they raced around the grounds finding answers to questions about the history of Villanova College. Year 7 students did a marvellous job setting up the Foods of the World Experience and displayed a smorgasbord of great food to be enjoyed. The Year 10 students were responsible for the afternoon carnival and did not disappoint with amazing activities for the students to enjoy.
A special thank you to Mr John Holroyd and his team of helpers who oversaw the organisation of the day.
VILLANOVA PARK
This weekend fixtures against Marist College Ashgrove at Villanova Park will see a significant crowd to watch the football and rugby matches. The Manager at Villanova Park undertakes significant preparations to ensure the crowds and spectators have ample spaces to watch the matches without impeding on the flow of pedestrians or the match areas. I ask all spectators to be mindful of not encroaching on to playing areas during play.
At the last two home games our staff have had to speak to some spectators about drinking alcohol. It is the policy of AIC Sports that there is to be no alcohol at AIC fixtures. As a member school of AIC, Villanova College supports this policy.
BUILDING UPDATES
The New Learning Centre foundations work is continuing with the grounds works underway and the pilings being put in place. To date work has been on target and the builders are happy with progress.
The Villanova Park Grandstand continues to move forward with preparations in place to complete the roofing of the grandstand to begin the internal fit out.
Thank you for your understanding and patience with the construction work currently being undertaken at the College. With everyone's co-operation we will keep our community safe as the works continue.
PRAYERS PLEASE
We keep in our prayers all members of our community who are battling illness at this time. We pray for a speedy recovery and comfort to those who tend the sick.
You have made us for Yourself O Lord,
And our hearts are restless until they rest in You.
God Bless
Mr Mark Stower, Principal
I BELIEVE CAMPAIGN
The highest levels of performance are empowered by the deepest levels of belief.
This Saturday we play Marist College Ashgrove who have always been tough competition for Villanova. What is the difference between us and them? Is it that they have a deeper belief? I think we need to change our mindset, to change our reality. Much like in 2010, where we experienced great success on the rugby field, and in 2013 when our football boys brought home the silverware. Our First XI cricket team had the belief this year and what did this bring them? They beat Marist on the McMahon Oval, something that hasn't been done by a Villanova First XI cricket team in recent memory.
I believe that our First XV rugby team can beat them. I believe our First XI football team can beat them. I believe that every Villanova team that takes the field can win. This weekend we need the entire Villanova community to stand up and show that they believe. What you believe drives what you do, and what you do determines what you achieve. When it happens this weekend where do you want to be? Do you want to say, "I was there when Villanova beat Ashgrove"?
Our time in the green and gold will not last, but the memories we make certainly will. This Saturday, June 1, we come together not as individuals, rather as a collective College, Junior, Middle and Senior School students converging as one on the sporting field and on the sideline in the Wildcat's Cage. On a day that will hark back eight long years to the First XV's last premiership, and as we did then, and have done ever since, we believe. I believe.
Our First XI football players will not be left wanting either. Although some sceptics might write them off, not us. We believe in our talented football boys as they face their toughest competition, because the underdog has gotten up before on Villanova Park's field 5.
Saturday will be a day far more than just another school sporting fixture. This is a day we call all Villa men to Villanova Park. I remember my days in the grey shirts, a sprightly, young Year 5 student, screaming my lungs out, spurring on the boys in the green and gold. This weekend I will make yet another great memory from my time here.
The highest levels of performance are empowered by the deepest levels of belief.
I believe.
Matt Rolls, Villanova College Captain 2019