Dear Members of the Villanova College Family,
Last Friday the College community gathered for a special Mass in honour of the feast of St Thomas of Villanova, our College patron. Joining with us on the day were Augustinian Fathers, Peter Jones OSA – Prior Provincial, Percival Sevare OSA, Paul Moloney OSA, Peter Wieneke OSA, Saldie Resolado OSA and Deacon Tuan Anh Le OSA.
Fathers Peter Jones OSA, College Chaplain, Peter Wieneke OSA and College Campus Minister, Fr Saldie Resolado OSA concelebrated the Eucharist for our staff and students on this occasion. We are most grateful for the presence of our Prior Provincial and the Augustinian Fathers at this special event.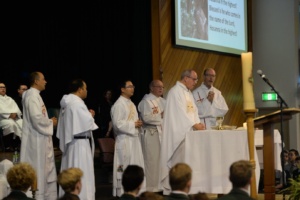 As part of the Mass, the students and staff experienced a video recording of the blessing and opening of the St Thomas of Villanova Learning Centre performed in front of the Junior School students last Monday. Students also watched a series of slides depicting the evolution of Villanova College classrooms from our earliest days to our new facilities. It has been a tremendous change from blackboards and chalk to flexible learning spaces with laptops and interactive screens. It was a startingly contrast from the austere days of yesterday to what our students enjoy today.
Crossing Roads
On Friday afternoon I was travelling outbound on Old Cleveland Road going to a doctor's appointment at Camp Hill at around 3.25 pm. As I sat in traffic, I watched in amazement as a group of Villanova College students exited the 895 bus and scamped across four lanes of traffic like a wild herd of buffalo. They had no regard for their safety or the traffic. If it would have been safe to do so, I would have leapt out of my vehicle and given chase.
I shared the story withy our staff on Monday at our weekly briefing and asked the staff to please reinforce with the students the danger of racing across roads with undue care and attention.
From the St Thomas of Villanova Learning Centre, I have watched students run in front of cars and narrowly miss being hit. I am hoping we do not need a tragedy to get the message home to our students.
Open Day
Yesterday we threw open the gates and put our College on show for very appreciative and enthusiastic families who wanted to see what is behind the fence on Sixth Avenue. Thank you to the fantastic group of student tour guides who did a great job showing our visitors the College campus. We can all be very proud of our students in their role as ambassadors for the College.
Well done to our Manager of Marketing and Communications, Mrs Sue Homann and Enrolments Officer, Ms Clare Bass for all their work behind the scenes. It was a mighty team effort by all.
Prayers
We keep in our prayers Fr Tuan Ahn Le OSA who was ordained to the priesthood by Archbishop Mark Coleridge on Saturday at St James Church, Coorparoo. We wish Fr Tuan every success in his ministry. We also keep in our prayers Christine and Adrian Hellwig following the sudden death of Christine's father and Adrian's father-in-law, Terrance Dwyer, father to Villanova College Old Boys, Michael, Mark and Bernard Dwyer.
May his soul and the souls of all the faithful departed through the mercy of God rest in peace. Amen
Mr Mark Stower, Principal
In keeping with the spirit of Reconciliation, Villanova College acknowledges the Yuggera and Turrbal peoples, as the Traditional Custodians of this land on which we stand.  We pay our respects to Elders, past, present and emerging.  This has always been, and always will be, a place of teaching and learning connected to country, culture and community.