Dear Members of the Villanova College Family,
Last week we threw open the gates of Villanova College and almost 400 family groups took up the invitation to explore our campus and engage with our students and staff. The feedback from the tours around the College led by our students has been outstanding.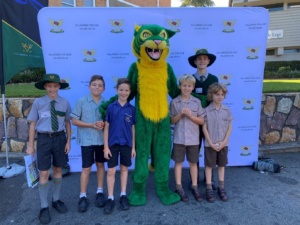 Our young people displayed confidence, courtesy and knowledge in answering questions about life at the College. To see the students lead the tours and engage with the families was fantastic and I was very proud of our young men.  A special thank you to our staff who went above and beyond to showcase our College, and to share with families all the aspects of school life that makes our place so special.
AIC Cross Country
Well done to the Villanova Cross Country team for placing second in the Year 5 /6 Aggregate and fourth overall in the 12 Years to Opens. The performances of our runners were very good across the ages and the coaches and managers can rightly be proud of the efforts of all runners. Cross country running is a demanding sport and even though the team results count towards the final points, each individual runner must perform on the day and achieve to their personal best. Well done to all involved with our Cross Country program.
Next week I am looking forward to spending time with our Year 12 students as they take some time out of their busy lives to stop and think about the future and their relationships. God will certainly be a key part of the discussions as our staff leaders share with the Year 12 students their own struggles and the place God plays in their lives. It is a privilege to share this time with our students as they explore who they are and where they are going.
Final Weeks of Term Two
We are now approaching the assessment period for most year levels, and it is now time for all students to take stock of their revision programs and to make sure they have allowed adequate time for assignments to be completed and to cover those topics studies some time in the past.
I strongly encourage all students to sit down with their parents to plan the next two weeks to ensure they allocate sufficient time for study, revision and completing schoolwork.
Prayers
Please keep in your prayers our Year 12 students and staff as they experience the 2021 Year 12 Retreat.
You have made us for Yourself O Lord
And our hearts are restless until they rest in You.
Mr Mark Stower, Principal
In keeping with the spirit of Reconciliation, Villanova College acknowledges the Yuggera and Turrbal peoples, as the Traditional Custodians of this land on which we stand.  We pay our respects to Elders, past, present and emerging.  This has always been, and always will be, a place of teaching and learning connected to country, culture and community.