The first I heard about it was on Monday morning. One of our teachers had a son playing in the Year 5A rugby team and her son was 'blown away' when the First XV players turned up at Iona College to watch their game and provide support and encouragement. Joining with the First XV players to sing the war cry was a highlight for the Year 5 boys. So much so the Year 5 team wanted to return the favour and be on the sideline to watch the First XV play their match at Villanova Park.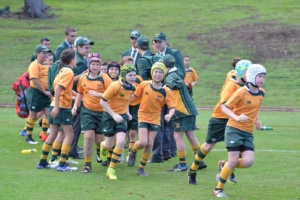 This simple act of 'brotherhood' exemplifies the significant role the bond of community plays in providing support to young boys as they navigate the journey to adulthood. Surrounded by positive role models a young boy can develop his character based on the example of others in an environment of trust, knowing if he stumbles and falls someone will be there to pick him up and set him on the right path.
We are fortunate to have many fine role models in our Senior student body and I am grateful they continue to provide positive examples of a Villanova College man to our younger students.
SAFETY AND BUILDING WORKS
Due to a number of reasons, the builder's transport needs to access the site from Seventh Avenue. This has placed semi-trailers on this road which is narrow and often congested. I have asked families not to use the Seventh Avenue road as a drop-off and pick up zone until further notice to minimise the risk to pedestrians and private vehicles.
Car parking on site at the College is significantly reduced due to the construction works. Recently it has been noticed that a number of parents are dropping their son in the Seventh Avenue car park and leaving the car parked to catch the bus to work. Unfortunately, only staff from the College are permitted to park in this car park. I ask those parents to please find alternative parking.
STUDENT PROTECTION
Statement of Commitment:
Villanova College supports the rights of children and young people and is committed to ensure the safety, welfare and wellbeing of all children. Villanova College is therefore committed to responding to allegations of harm resulting from the conduct or actions of any person including that of employees.
This commitment includes the provision of a safe and supportive living and learning environment for all children and young people and requires all employees, volunteers and visitors to model and encourage behaviour that upholds the dignity and protection of students from harm.
In support of this commitment, Villanova College is dedicated to their Child and Youth Risk Management Strategy which includes having relevant policies, procedures and training in place to effectively address the safety and wellbeing of students in their care.
Student Protection Contacts
At Villanova College a number of staff have been invited to take on the role of Student Protection Contact (SPC). The staff members listed below have undergone annual training to ensure they are familiar with the legislation for Student Protection and how to respond to any information received disclosing harm that is or may be occurring to a student at the College.
Mrs Hannah Elder – Middle School Science CAL
Mr Stephen Rouhliadeff – Head of Junior School
Mr Greg O'Neill – Head of Middle School
Mr Matthew Levander – Head of Senior School
Mr Adrian Hellwig – College Counsellor
Mr Steven Bremner – Deputy Principal
Mr Mark Stower – Principal
If you have a belief or suspicion that a child has suffered, is suffering, or is at unacceptable risk of suffering harm or abuse contact Queensland Police or Child Safety Services. Where you need guidance in making a report or have questions regarding child safety, contact one of the College's appointed Student Protection Contacts. Wherever there are concerns that a child is in immediate danger the Police should be called on 000.
PRAYERS PLEASE
We keep in our prayers all those in our community who are battling illness at this time. We offer our support, prayers and thoughts to all families where students are battling chronic long-term illness.
May the compassion and care of our God be with us all
You have made us for Yourself O Lord,
And our hearts are restless until they rest in You.
God Bless
Mr Mark Stower, Principal