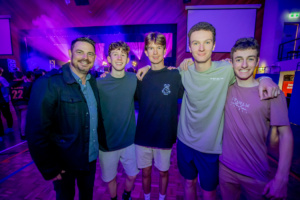 Well, what an amazing event the Villa Community Carnival turned out to be! With cancellations and postponements over the last three years, and then a lead in period of wet weather and winds there is no question that our P&F President Peter Roberts, Carnival Convenor Emma Jane Harrison and Coordinator of Logistics Damien Craig would have an excuse for some extra grey hairs that arrived across the back end of last week.
The Villa Community Carnival is but one example of how the College looks to create and support our gateway value of community. This attitude and the commitment of our parents and friends of the College is on display consistently. At sport on Saturday I saw our parents volunteering on barbecues and in canteens before backing up again at the carnival later that night. Our College identity and the attitude and character of our boys is developed in and through community and it was such a wonderful weekend to see so many people coming together in support of our young Villanovans and their College.
Our College identity was once again reinforced across these last few weeks of preparation through the very real example of service, humility, love and connected relationships that makes our community so strong and valuable to our young people and families. I cannot say thank you enough to those who convened stalls, to those who coordinated events and to those who came and supported the carnival. I would encourage all of our parents to find opportunities in volunteering to be a part of our College community and experience the friendship and happiness that those relationships bring.  I can't wait until next year!
Sporting Presentations and First Round of Trimester 3
It was with much celebration last week that we congratulated our First XIII Rugby League team, First IV Tennis and First V Basketball teams presenting them on assembly to the College. It is no coincidence that it was in conjunction with our focus of the week being on our expected value and practice of respect as part of the Villanova GREATS framework.
There is an expectation that comes with being in a firsts team that you uphold the expectations of the College and grow our reputation through the modelling of respectful relationships, attitudes and actions. It was so pleasing to see at tennis, basketball and rugby league on the weekend this was delivered by every member of every one of our peak teams.
I observed courageous play that was met with respectful action and language.
I witnessed contentious, but correct, calls by referees that was met with acceptance and a hardy determination to play in the right spirit and right attitude.
I experienced an atmosphere of collegial friendship between teams, respectful manner and a spirit of competitiveness that never crossed the boundary of anger or arrogance.
Unsurprisingly by setting these standards I experienced all of this across all our teams that I watched. Let this standard continue as we move forward across the season.
Academic Award Winners Semester 1 2022
On Friday we also acknowledged well over 150 boys in Year 5 – 11 who averaged an "A" GPA across all subjects studied. This is a tremendous effort, and the names of these students  will be acknowledged through the Villa View in coming additions.
At Villanova College we take our academic performance seriously and want to ensure a strong balance between our academic endeavour, physical development, psychological health and the development of strong, resourceful and resilient young men. Any of our boys who did not reach their goal can ask a simple question, "Did I do my best?" if their answer is yes then one should duly celebrate. However, every young man also needs to know not to tell lies to himself . . . did you really do your best?
Did you create a strong relationship with your teacher?
Did you ask questions and pose problems to help your learning?
Did you work in your class to form a learning team?
Did you prioritise your learning and ensure a balance between sport, social activities, learning and work?
Such questions challenge each boy to be honest about their performance and encourage reflective practice and interiority. For many the answer will be "no," and that is OK because they are young and maturing. What we need them to do is keep asking the questions so that they continue to grow and learn.
Mr Paul Begg, Principal
In keeping with the spirit of Reconciliation, Villanova College acknowledges the Yuggera and Turrbal peoples, as the Traditional Custodians of this land on which we stand.  We pay our respects to Elders, past, present and emerging.  This has always been, and always will be, a place of teaching and learning connected to country, culture and community.