Welcome back to Term Two 2020 and what a different start this has been for families, teachers and our College community. Our normally vibrant, noisy, bustling place of learning is so quiet. It does not feel the same. I am an optimist and I know we will return to normal soon, I just have to be patient.
It was to be expected there would be some teething problems as we settled into a new routine of learning at home and technology will always present a challenge. I am confident we will overcome these early difficulties as the first week unfolds.
One of the intentional goals for this time of Learning@Home is to assist our young men develop as independent learners. To assist students to develop as independent learners it is important that we allow our students the opportunity to work through the materials and at times to struggle and even fail. It is often our failures that are our most effective teacher. So please do not be too hasty in solving all the problems your son will experience. I find asking questions about what solution he is trying or strategies he may employ to solve the problem will provide your son with problem-solving skills that will be able to be applied to a variety of situations. And how good does it feel when you solve a problem successfully all by yourself!
I sent my Year 11 ACP class a short video yesterday checking in and asking them to video back to me their responses about their first day at home. All the responses were positive so far. Some had difficulties with downloads and this issue was solved by their teachers who emailed the work. It was great to see their faces and all students were extremely respectful and polite- a credit to their families. Our staff are here to help all our families and students get through this challenging time of Learning@Home so please do not hesitate to contact our staff.
I want to thank our parents for their patience and understanding as together we meet the challenge of the majority of our students continuing their education by working from home.
New Learning Centre
With little over a month until the delivery of the new building, the New Learning Centre is finally being revealed to the community. It is a very impressive building and is quite imposing. I visited the site yesterday and the classroom spaces are nearing completion on floors one and two with work continuing on the top floor. The students and staff will enjoy spectacular views over the city skyline and Coorparoo suburb from their high vantage point.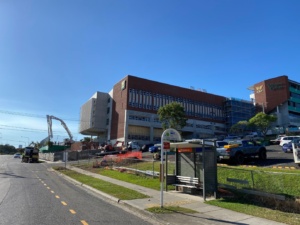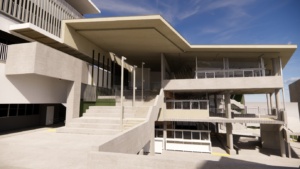 This new building will provide high quality learning facilities for our students and staff. I am confident our community will be thrilled with the new addition to our College.
Prayers
We keep in our prayers all those in our world affected by the Coronavirus. May they find the compassion and love of our God a comfort during these troubled times.
You have made us for Yourself O Lord
And our hearts are restless until they rest in You.
God bless
Mr Mark Stower, Principal