The Royal Commission into Institutional Responses to Child Sexual Abuse strongly advocated for the implementation of the Child Safe Standards. These national standards represent 'best practice' and serve as a minimal standard for the protection of children.
The Child Safe Standards are:
Child safety is embedded in institutional leadership, governance and culture.
Children participate in decisions affecting them and are taken seriously.
Families and communities are informed and involved.
Equity is upheld, and diverse needs are taken into account.
People working with children are suitable and supported.
Processes to respond to complaints of child sexual abuse are child focused.
Staff are equipped with the knowledge, skills and awareness to keep children safe through continual education and training.
Physical and online environments minimise the opportunity for abuse to occur.
Implementation of the Child Safe Standards is continuously reviewed and improved.
Policies and procedures document how the institution is child safe.
The standards guide the College and its staff, leadership and governance in ensuring Villanova College is taking all the appropriate steps to provide a child safe environment.
INTERNATIONAL CARNIVAL
This Saturday the 2019 International Carnival will be held on the College grounds. The campus will come alive with families, young people and guests enjoying the wonderful music, games, food and entertainment. The International Carnival is a family-oriented event and I encourage all to wholeheartedly embrace this occasion.
As a College event our high expectations around behaviour are required of our students and their guests. If you invite a guest, you are responsible for looking after your guest and informing them of our expectations.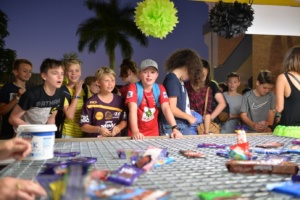 The Parents and Friends Association has poured countless hours into the preparations for the International Carnival. It is extremely helpful if families and our young people take full advantage of the food and drinks on offer at the carnival. All the funds raised will be used to support initiatives at the College. So please do not eat outside the grounds at other venues. Come and enjoy the great food on offer.
EXAMS AND ASSIGNMENTS
Over the coming week all students will be facing end of term assessment tasks and exams. I once sat a multiple-choice test and failed as I did not prepare well enough and took the easy road, leaving my study until the last moment. On my second attempt I took the test seriously and studied hard and passed with distinction. For our young people preparation is the key. If we leave our study to the last minute, we give ourselves little chance for success.  As the saying goes, "Success comes before work only in the dictionary."
PRAYERS
We keep in our prayers and thoughts Sean Kearns Year 11, Mr Edmund Kearns and family following the recent death of Mrs Kerry Kearns following a battle with illness. We also remember in our prayers the family of Mr Tony Papapavlou following the death of his mother Tsambika last Thursday.
May their souls and the souls of all the faithful departed, through the mercy of God, rest in peace. Amen
God bless
Mr Mark Stower, Principal