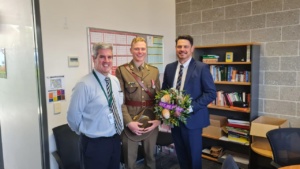 Welcome back to all our boys and their families after a well-deserved Easter break. While the health and wellbeing challenges of the pandemic are not over it is at least relieving that we can look forward with at least a level of predictability to the term ahead. While there will continue to be inevitable challenges and outbreaks of illness, we have at least established a way forward, both at Villanova and more broadly across the community.
Across the Easter period I had an interesting conversation with a friend as we shared a family meal on Good Friday evening. She asked
"So, what is all this no meat deal today?" "Why is that, where does it come from?"
It was a question that as a Catholic I am rarely asked and so to answer it took some quick but careful thought. How do I put my Christian faith and practice forward in a way that explains 'no meat on Fridays'? Because when you term it as she had it does seem quite ludicrous because how is it possible that not eating meat can have any significant effect on the 'saving of one's soul.'
So, in response (whether it fulfilled the intricacies of the catechism or not is questionable) but I chose to speak of the Lenten and Easter season, about it not being a 'one day' thing nor really a 'no meat' agenda. It was important to detail the real message – that this Easter period is a culmination event. That in the Christian calendar we take a period of time to consider our last twelve months, our failings, our intentions and our reflections on how we can truly be our best selves to others and make strong commitments to fulfilling those actions and attitudes. Good Friday is central to the story as that is the day we mark Jesus' sacrifice and acknowledgement of our failings as humans, but Easter is the day in which we celebrate his resurrection, the idea for us of a renewal and a forgiveness and the first day of our commitment to becoming better people to ourselves, our families and those with whom we share our lives and have impact upon.
Our reflections across the Lenten period centre on the person of Christ, his teachings, message and sacrifice. The Easter story is a challenge to live faithful lives, to accept our mistakes and fallibilities but always strive to renew, forgive and reconcile moving forward in word and action that delivers to those around us care and compassion and leads to just and right relationships close by us and extended more broadly to society. Individual actions that shape a society that cares for each one other, challenges injustice, considers the earth and its environment and encourages love as the prevailing force that guides us and our decisions.
This is Easter for me anyway. To celebrate the gift of life and my part in that. To take time to consider where I can be better. How I have failed in my dealings, decisions and actions against others and searching for a way forward. To be the person I was born to be, made in the image and likeness of Christ and constantly challenged to live up to the person of love whom he was. While others, including my guest, was not of faith she was certainly accepting and encouraged that this then was a very special time of year. A time where a change in diet was a great way of reminding oneself to be better, be kinder, be forgiving. A time of year worthy to be embraced, cherished, and continued each year. I do hope that in your family you were able to use the Lenten and Easter period as a time of reflection, consideration, and renewal and that you and your family are feeling stronger and ready for the year ahead and the difficulties, challenges and triumphs that will inevitably befall you.
College Masterplan 2023 – 2030 Community Consultation
Across Term One the College Leadership Team and Board have been heavily involved in the process of generating and new College Masterplan that will respond to the changing needs of boys and education as well as addressing some of the current needs on campus for a growing and vital campus community.
We have reached the stage of community sharing and consultation and this will be published for comment and consideration by families in the next two weeks. More details will come but please be aware of this impending opportunity to be involved in developing the future of the College and the educational journey and facilities for your sons.
Student Behaviour Support Strategies and College Response to Bullying Framework
Our Pastoral Team has begun a process in Term One of reviewing the College Response to Bullying Framework and our College wide behaviour support strategies. We want to ensure a safe environment for all our boys, acknowledging that as boys and young men they do, and will continue to make mistakes, but equally ensure that there is a just, fair, reliable, and consistent process of managing classrooms, behaviour incidents and relationship challenges and breakdowns.
We have across Term One conducted a critique of practices and looked to identify gaps and inconsistencies and shared together a process of reimaging and rebuilding a positive behaviour response framework that incorporates as a cornerstone restorative practice and relational pedagogy. Staff consultation on the adjusted program begins next week with a sharing among the student body and the parent group for reflection and comment by mid-term.
ANZAC Day March
On Monday, our students are welcome to join the Villanova College contingent at 7:45am at Baragoola St, Coorparoo (opposite St James Church) for the ANZAC Day March commencing at 8:00am. Students attending are asked to dress in full academic uniform.
Rugby, Football and Cross-Country Season
The winter sport season always brings great enthusiasm and fervour to school life. It is strange phenomenon when one considers that various sport is conducted all year round and club sport is equally engaging for boys, however, the AIC school sport winter season is that something extra. As a parent I think I found the answer. It is the time when I could sit, watch and enjoy not only my son and his talent, but that of his friends, of other students in the school and enjoy it with others. In essence this winter sport season is a celebration of community.
Many a Mum and Dad enjoy not only their game but the next, and the next because they are chatting and sharing and building supports. It really is a time of building "Cor Unum" – One Heart. We share our stories together of the week past and the week ahead, of what is happening in our lives. In sharing we listen to others. This is what we want all our school sport, and music and cultural activities to be at Villanova College, opportunities for Cor Unum to occur. It is centre of our Augustinian heritage and attitude, One Mind, One Heart on the way toward God. This is for everyone, not just our boys. At Villanova, our parents are just as much a part of the belonging and loving community as our students, at least that should be our goal.
To be true to this I would encourage all parents then to;
Support with fervour but with positive intent toward our teams and the opposition.
Respect our coaches and their intent to improve and challenge your son and his talents.
Challenge your son to be his best, behave his best and take the disappointment with the If he has executed his skills to the best of his ability offer him praise, if not encouragement – but do not support his excuses; challenge them.
Respect our opposition and make them feel valued and welcome.
Support the referees and officials, without them there is no game.
Find opportunities to volunteer and support the community – in the canteen, as referees or officials, as coaches.
Where possible stay and support the Villanova teams.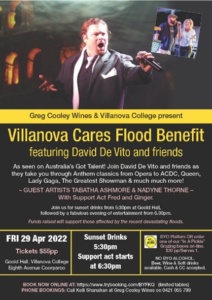 Villanova Cares Concert – Friday April 29 2022
We are getting very close to our Villanova Cares concert on Friday evening April 29 on the Terraces at the College. Sponsored by Greg Cooley Wines and presenting former Australia's Got Talent Winner David DeVito. It should be a wonderful night in which we get the opportunity to support and stand in solidarity with those who are affected by floods, have been displaced and are still awaiting housing solutions and of course our traditional AFAS partners in the Philippines I encourage you to get a table together and take the chance to share in community.
DATE CLAIMER
Villanova Carnival – Saturday July 23 2022
While it may be some time away, I would ask all to put into their diaries the Villanova Carnival, back after a COVID enforced hiatus. Our P&F president Mr Peter Roberts is certainly focused on putting together a great event and is certainly in need of parents and community members to assist.
While there will be more direct calls to arms in the future if you are keen to help you are most welcome to contact the Principals Office through via email at principal@vnc.qld.edu.au to offer any support and we can put you in touch with Peter and the P&F Organising Team.
Bereavement
It is with sadness I share of the passing of Mr Merv Gordon.
Merv's four sons attended Villanova; Shiloh Gordon (1989), Lucas Gordon (1990), Craig Gordon (1991) and Liam Gordon (1993). His grandson Michael Gordon is currently a Year 12 student.  We share with the family our condolences on their loss.
"Eternal rest grant unto Merv, O Lord, and let perpetual light shine upon him. May his soul and the souls of all the faithful departed, through the mercy of God, rest in peace."
Mr Paul Begg, Principal
In keeping with the spirit of Reconciliation, Villanova College acknowledges the Yuggera and Turrbal peoples, as the Traditional Custodians of this land on which we stand.  We pay our respects to Elders, past, present and emerging.  This has always been, and always will be, a place of teaching and learning connected to country, culture and community.