The response from our parents in attending the Parent Information Evenings over the past two weeks has been tremendous and very uplifting for our staff. Your presence at these events is a very visible sign of the strong partnership being forged between home and the College.
The new Queensland Certificate of Education (QCE)  introduced in 2019 is a significant change to Senior Schooling that affects all students. I can appreciate understanding the new system with new process and language can be a daunting prospect. To help parents to understand the new system, the Queensland Curriculum and Assessment Authority (QCAA) has provided numerous resources for parents on their website.
The screenshot below from the QCAA website – https://www.qcaa.qld.edu.au/ has a number of resources for parents. I encourage parents to be informed about the new systems operating in Queensland schools.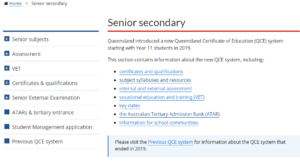 ATAR
The Australian Tertiary Admission Rank (ATAR) will be calculated by the Queensland Tertiary Admissions Centre (QTAC). The ATAR is a rank provided to Year 12 students who are seeking entry into tertiary courses in the following year. The ATAR will range from the top- 99.95 down to a low of 30 or below. All ranks below 30 will be reported as "30 or below".  The QCAA will provide the academic data for all Year 12 students who are eligible for an ATAR to QTAC for the calculation processes. The ATAR will be released to students around the middle of December each year.
Whistleblower Protection Policy and Procedures
Legislative changes introduced for 2020 require all organisations, including companies such as Villanova College to have in place a policy and procedures to protect whistleblowers. The Whistleblower Protection Policy and Procedures can be found on the Villanova College website- https://www.vnc.qld.edu.au/our-college/policies-and-documents/
School Bags
Young people love to have a cool school bag with the "cool" look, however, Villanova College has a school bag that is branded as Villanova College. The school bag is part of the identification of students who attend the College in the same way the uniform identifies our students. It is my expectation that all students will have a Villanova College school bag for everyday general use. Sports clothes etc may be carried in the Villanova College sports bag. If your son has currently hidden his school bag under his bed, please drag it out and assist us in ensuring all students meet our expectations.
I will be asking the staff to police the school bag of students over the coming weeks to ensure all students comply with our uniform expectations.
We are currently investigating the production of a Villanova College satchel that will provide a means for students to carry their laptop and books to classes. I will keep you posted on this progress.
Prayers Please
We keep in our prayers and thoughts at this time the community at St Martin's Catholic Primary School. We also keep in our prayers Mr Adam Fry and his family and Ms Amy Roberts and her family following the recent death of their respective grandmothers.
May their souls and the souls of all the faithful departed through the mercy of God, rest in Peace. Amen
God bless
Mr Mark Stower, Principal