What a busy place we have been over the past eight days. We have settled in the students, commenced classes, welcomed new students and families, held Swimming Carnivals for all three schools, celebrated Opening Mass, presented the Senior class of 2020 and Student Leaders, and conducted Parent Information Evenings for the Junior and Middle Schools. On top of all this activity, students in Years 5 – 8 are now getting ready for their annual outdoor camp program.
Somewhere in the midst of all this busyness, I hope there has been time for settling into the routine of schoolwork and homework. An important part of establishing the right routine is making sure the study area is a suitable location for your son to complete his work. I have included below a checklist for you to tick off with your son:
Is there an uncluttered desk and suitable chair available for study?
Is there suitable lighting?
Is there good ventilation?
Is my mobile phone placed away from me when I am working?
Do I have quiet music playing in the background?
Am I taking small breaks and stretching?
Am I drinking enough water?
Is my computer visible?
While not an exhaustive list I am sure parents get the idea. Students need to reduce the number of distractions via mobile phones, television and social media when committing to their studies. Having a suitable place to work without distractions is a great start to becoming a successful student.
Sleep, nutrition and exercise we are told are the key ingredients to a healthy life. For teenagers, adequate sleep is essential to their wellbeing and ability to function at school. Research has shown that for learning and memory retention to be efficient, most young people need 8 to 9 hours of sleep each night. This is best when matched to a regular bedtime and waking up time. Further the research tells us that if a student minimises screen time one hour before bedtime his sleep pattern will ensure a goodnight's sleep.
OPENING MASS
On Tuesday the College community came together to celebrate Mass in Goold Hall to mark the commencement of the 2020 Academic Year. Fathers Peter Wieneke OSA and Saldie Resolado OSA concelebrated Mass. During the ceremony the student leaders and Senior students recited their pledges of office and received their badges. In taking their pledges the students offered their gifts and talents in the service of all in our community. We are grateful for their spoken commitment to serve our community.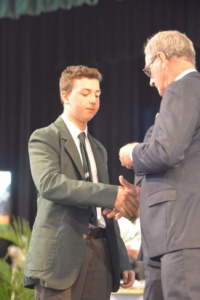 FOUNDATION MANAGER
The College is currently advertising for the position of Foundation Manager. If you are interested or know of any person/s who may be interested in this role, please direct them to Seek.com and the College Website under employment for the position description and advertisement. Applications for the position will close on Monday 17 February.
AIC ECUMENICAL SERVICE
Representatives from the College attended the AIC Ecumenical Service at St Patrick's College, Shorncliffe today as the eight AIC Colleges begin the AIC Sporting season for 2020. As part of the gathering, students and leaders of the Colleges worked together to develop the draft Strategic Plan for the AIC Association. We are looking forward to a great year of fine competition and good sportsmanship.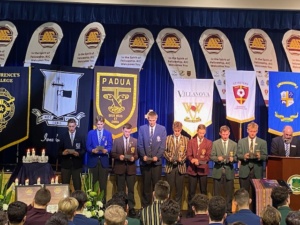 PRAYERS
As we begin the year, we are mindful of all members of our community; parents, staff and students who are in need of God's loving embrace and compassion. We keep them all in our prayers.
Congratulations to Mr Matthew Wilson and his wife Linka on the birth of their first child, a son, Zane Peter Wilson.  We wish Matt, Linka and Zane all the best.
You have made us for Yourself O Lord
And our hearts are restless until they rest in You.
God bless
Mr Mark Stower, Principal