Ash Wednesday will be celebrated at the College with a special liturgy to mark this significant occasion in the Church's liturgical calendar. During the liturgy the students will receive the ashes in the Sign of the Cross on their forehead.
Archbishop Mark Coleridge wrote in his Lenten Pastoral Letter the following:
"Lent is the time given to us to open our hearts to the power of Easter. On Ash Wednesday we take the ashes upon ourselves in recognition of the truth that we are often powerless and always fragile. But by the time we get to Easter, we have come to a deeper sense that we are empowered in our powerlessness, that we are made strong in our weakness. Knowing that we can walk from the tomb with Jesus; we can rise from the ashes with him to sing the song of Easter. Fires may rage and floods come, but the voice of hope is always heard. Nothing and no-one can silence the voice of Jesus risen from the dead."
Outdoor Education Programs
Our Outdoor Education Programs provide great opportunities for our students. In safe environments, our students have the opportunity to take risks, work together as a team and build relationships with their classmates and the teaching staff while enjoying a range of challenging and enjoyable activities.
Earlier this week I had the chance to visit the Year 7 and 8 camps on the Sunshine Coast. The students were generally happy, enjoying the experience and having a great time with their mates. Even the food rated highly!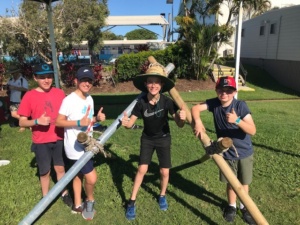 One of the critical aspects of the Outdoor Education Program is the relationship that is established between students and staff, and the importance of these strong relationships in regard to student learning. The staff of the College attending these camps have given generously of their time because they understand the significance of the teacher – student relationship. I am grateful to our teachers for their dedication to their role as teacher and mentor to our young men.
Mary Poppins Musical
Over the past months the students from Loreto and Villanova Colleges have been working diligently preparing for opening night next Thursday 27 February. I am confident the talented students from both colleges will thrill audiences with their skills and acting talents. The response from the community has been outstanding and I am sure that audiences will not be disappointed.
Prayers Please
We keep in our prayers the families affected by the loss of innocent lives in the tragic events in Cairns and Camp Hill. We also keep in our prayers the community of our brother college – St Augustine's College with the sad news of the death of a Year 11 student following a battle with illness.
May their souls and the souls of all the faithful departed through the mercy of God, rest in Peace. Amen
God bless
Mr Mark Stower, Principal