Dear Members of the Villanova College Family,
Welcome back to the start of a new school year. The beauty of starting again is that all the matters from the past can now be confined to yesterday. They become part of the lessons we learn. Today we look with relish at the promise of a new year where we begin again with a sense of hope and optimism.
As I watched the Year 5 students enter the grounds of the College yesterday, I was thrilled to see their happy faces and eagerness to discover their new surroundings. Accompanied by their parents there was a real buzz as the students gathered for the start of the school day. We welcome all the new students and families to our College.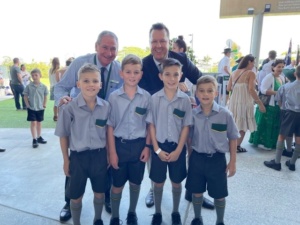 The Power of Youth
Like many people I watched the Inauguration Ceremony for President Joe Biden earlier this month. A young lady, Amanda Gorman stole the show for me. At 22 years of age, the wisdom found in the words of her poem, "The Hill We Climb" left her audience with a sense of hope and awe. Amanda has overcome a speech impediment and auditory processing disorder to be the youngest Poet Laureate to recite a poem at a Presidential Inauguration. If you have not had a chance to see the recording of Amanda reciting the poem or to read the words, please do yourself a favour and do so.
The passion of our youth will be the saving of our world. Through the power of coming together as one, united in their common cause to create a more just and equitable world, our young people bring hope and a light to the darkness.
I think we adults sometimes underestimate the ability of our young people to often see clearly what needs to be done to address the problems that confront our society and communities.
Our Year 12 students have begun their final year and during my address today I reminded them that this year belongs to each Senior student. It is up to each individual to discover what they will do with the opportunities they are given during 2021. Before them is a path to a bright future. Our job is to be a guide walking with them and showing the way.
COVID Normal
The government has recently released the Education Industry Plan/Framework to help school communities to assess what actions may be necessary when an outbreak occurs. At the moment all school communities are at the response Level 1- COVID Normal. Under COVID Normal there is still the requirement for physical distancing for adults at indoor events. This requirement will impact our College assemblies, sporting fixtures for volleyball and any other functions held indoors. Once again, I ask for your understanding, co-operation and support as we deal with this ongoing issue.
Student Residential Address and Other Information Collection Notice
The Student Residential Address and Other Information Collection is an annual data collection performed by the Australian Government.  Approved authorities are required under the Australian Education Regulation to complete this collection.
To ensure Villanova College provides accurate details, parents are requested to login to Parent Lounge to ensure that their details are correct. Further information about the Collection can be found here.
You have made us for Yourself O Lord
And our hearts are restless until they rest in You.
God bless
Mr Mark Stower, Principal
In keeping with the spirit of Reconciliation, Villanova College acknowledges the Yuggera and Turrbal peoples, as the Traditional Custodians of this land on which we stand.  We pay our respects to Elders, past, present and emerging.  This has always been, and always will be, a place of teaching and learning connected to country, culture and community.