Dear Members of the Villanova College Family,
Over the past two weeks we have celebrated a number of significant events including the Year 12 Formal, Mass and Graduation Ceremony, the Year 6 Moving On Ceremony and the Year 9 Transition Ceremony. At each of these special occasions our parents have joined us in recognising the efforts of our students in meeting the challenges of this year.
2020 has certainly been a year to remember and we can all be very proud of how we, the Villanova College community, have supported each other to meet the many challenges we have faced since early March.
As the school year concludes it is fitting to congratulate our major awards winners across the College.
Year 12
Villanovan of the Year: Isaak Collie
Sportsman of the Year: Hamish Muir
Musician of the Year: Nicholas Chay
Junior School
Robbie Sellars Augustinian Fellowship Award:  Christian McIlwain
Sportsman of the Year:  Darcy Kerr and Harvey Thompson (joint award winners)
Musician of the Year: Hadley Holt and Benjamin Lestani (joint award winners)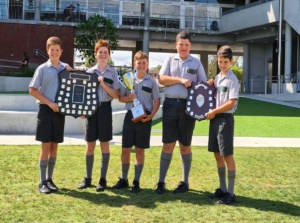 Staffing News
At the end of this year we will farewell the following staff members. We thank them for their contribution to the College over their time with us and the significant impact they have had on all members of our College community.
Teaching Staff: Mr Justin Feuerriegel, Mr Jack Cabassi, Mrs Maureen O'Dwyer, Mrs Dianne Martin, Mr Luke Cahill, Mrs Vickie Opie, Mrs Samantha Sleep and Mrs Katie Dauth-Sousa.
Support Staff: Mrs Chris Purcell, Mrs Vanessa Fitzgerald – Uniform Shop, Mr Pat Zietsch – Audio Visual Co-ordinator, Mrs Julie Herden – Enrolments Officer, Mr Vince Scuderi – Audio Visual Co-ordinator, Mr Ben Stuart – Teacher Aide and Mr Benji Lynch – Teacher Aide.
We wish all departing staff the very best for the future and wish them every success.
Thank You
On behalf of the staff members of the College I wish to thank all our families for their support during what has been an extra-ordinary year. We can all be extremely proud of how well we all handled the many challenges thrown our way over the past 10 months. We are hopeful 2021 will see the medical sciences providing a response to the pandemic and the presence of Coronavirus.
I wish all our families a very Merry Christmas and an enjoyable break over the coming weeks. We pray families scattered across Australia will now be able to come together for Christmas.
You have made us for Yourself O Lord
And our hearts are restless until they rest in You.
God bless
Mr Mark Stower, Principal
In keeping with the spirit of Reconciliation, Villanova College acknowledges the Yuggera and Turrbal peoples, as the Traditional Custodians of this land on which we stand.  We pay our respects to Elders, past, present and emerging.  This has always been, and always will be, a place of teaching and learning connected to country, culture and community.