Dear Members of Villanova College Family,
The Celebration of Excellence held on Wednesday evening was a truly wonderful event to recognise the academic achievements of the students from Years 5 to 9. Once again, the talented musicians and performers left the audience spellbound. My sincere congratulations to the award recipients presented during the evening. The hard work and diligence of the students is worthy of recognition and our applause as we all know that success in your studies is only achieved through hard work and persistence.
Thank you to many families and friends of the College who watched this event through the live stream. Unfortunately, due to restrictions currently in place we were unable to have all family and extended family members and staff present.
The Year 10 and Year 11 Celebration of Excellence evening will be held in the Hanrahan Theatre this evening from 7.00pm.  The link for the live streaming of the event is https://youtu.be/j1Tt1Dor86c

School Fees
Families received communication from the College regarding the School Fees for 2021. The College continues its commitment to all families as our state and country navigates the uncertain economic times. There are many avenues of support available to families and I want to assure parents and caregivers that we will work together to continue your son's education at Villanova College.
I thank Mrs Agi Waloszek, Business Manager and her team as well as the Finance Advisory Committee and College Board for their work over many months to deliver a sustainable budget.
Parking and Driving around Villanova College
I often receive emails from our neighbours regarding parking of parents dropping off students especially in Dowar Street and Fifth and Eighth Avenues. In most cases they are extremely polite and point out to me their frustrations with cars blocking their driveway and preventing people who live in the residences from entering and leaving their properties. I always assure them that I regularly communicate with our families asking them to be considerate and mindful of our neighbours when dropping off and picking up at the College. Thank you for your support in this matter.
Please do not use Seventh Avenue for drop-off and pick up. It is a narrow street due to cars parking on both sides and student safety is being put at risk.
Building Works
Stage Two of the College Master Plan will see the classrooms for Years 7 and 8 receive a refurbishment over the next twelve months. The first phase of this building work has begun with the refurbishment of the O'Donnell building classrooms. These rooms will be flexible learning spaces with a dedicated launch pad for short direct instruction times and multiple breakout and group spaces to allow students to work in a variety of settings from individual to small and large groups.
The six classrooms in the O'Donnell building will be ready by Christmas and completed with all the technology required in today's classrooms by the start of the 2021 school year.
The Grounds and Maintenance staff are creating a number of pleasant, shaded areas around the College to lift the quality of the seating spaces for students. The first area is almost completed, and students are very interested in the new designs.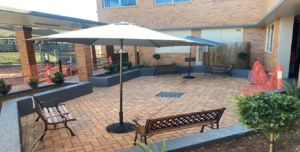 Prayers
Please keep Mrs Ellen King (staff member) and her family in your prayers following the recent death of Ellen's father-in-law last week.
May his soul and the souls of all the faithful departed through the mercy of God rest in peace. Amen
You have made us for Yourself O Lord
And our hearts are restless until they rest in You.
God bless
Mr Mark Stower, Principal
In keeping with the spirit of Reconciliation, Villanova College acknowledges the Yuggera and Turrbal peoples, as the Traditional Custodians of this land on which we stand.  We pay our respects to Elders, past, present and emerging.  This has always been, and always will be, a place of teaching and learning connected to country, culture and community.