Dear Members of Villanova College Family,
Early next month our College community will gather to celebrate the academic achievements of our students. In the past we have enjoyed a night of celebration at the Queensland Performing Arts Centre where our prize winners and their families attend a gala evening with entertainment by our talented musicians and performers.
For 2020 due to gathering restrictions in place, we have had to change to location and split the night into two events – Years 5 – 9 and Years 10 and 11.  The 2020 Celebration of Excellence will be held in the Hanrahan Theatre at the College on Wednesday 4 November (Years 5 – 9) and Thursday 5 November (Years 10 and 11). Year 12 students will be sitting their External exams and will have a special celebration in 2021 to celebrate their academic achievements and major prize winners.
Further details regarding these evenings will be available next week. Students who are receiving an academic prize will be informed shortly. There will be restrictions on the number of people who can attend these events and the arrangements for tickets will also be communicated in the very near future.
After an extra-ordinary year, it will be a real pleasure to celebrate with our community the academic achievements of our students. We have not had an opportunity to do so and this occasion is a very important event. I look forward to sharing this night with our families.
Year 12 External Exams and Graduation
Today was the final day of formal classes for our Year 12 students. They were farewelled from the College at the Farewell Assembly and the students formed a guard of honour to lead the students out the front gates on one of their last occasions.
On Monday 26 October, the students will begin their external exams with English, Business and Mathematics in the first week. We keep our Year 12 students in our prayers at this important time.
The students were very happy to receive the news that dancing is back on the agenda for the Year 12 Formal.
Building Works – Refurbishment of Year 7 Classrooms
Kane Construction have moved into the O'Donnell building and have commenced refurbishing the classrooms in readiness for the start of the 2021 school year. The new classrooms will be dynamic learning spaces designed to optimise the use of flexible teaching models.
The classroom design builds on the work undertaken with our Year 5 and Year 6 classrooms and offers students an exciting and refreshing environment in which to explore their first year of secondary education.
Street Parking around the College
The College recently received an email from one of our neighbours.
"I am writing this email to express my concerns regarding the collection of students outside my residence in Baragoola Street.
It appears that parents are using the driveway of my apartment block as a 'pick up zone'. I understand this may be due to convenience, as I can understand the frustrations of collecting children from school. However, in a lot of instances, parents are parking their cars across the driveway for numerous minutes which is not appropriate.
In other instances, I have observed parents stopping in the middle of the road for numerous minutes which has obstructed the street for residents and other road users. This is inconsiderate and discourteous."
I have assured the email sender that we will raise the issue with our families. Your support and care in this situation is appreciated.
Congratulations to Ms Amanda Waterson, Fr Saldie Resolado OSA, Mrs Maria Mascadri, Mr Jack O'Hare and Mrs Eleni Greenaway for their involvement in the virtual Sydney City to Surf run to raise funds for Augustinian Volunteers. We also congratulate our Volleyball teams following their participation in the Queensland Schools Volleyball Cup. Our Year 10 team was placed first in their division and the Year 7 team won their Division Two competition.  Thank you to the coaches and managers for their support of the teams.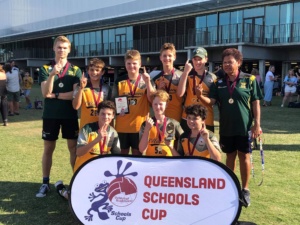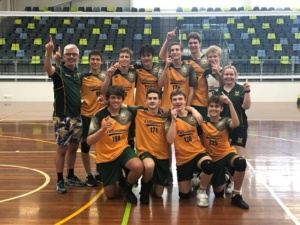 You have made us for Yourself O Lord
And our hearts are restless until they rest in You.
God bless
Mr Mark Stower, Principal