Dear Members of the Villanova College Family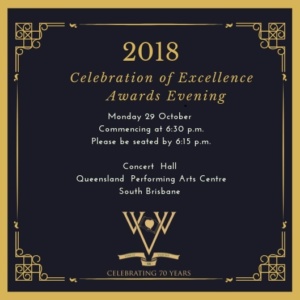 On Monday evening 29 October, the Celebration of Excellence Awards Evening will be held at the Queensland Performing Arts Centre (QPAC). On this occasion we recognise the students who have achieved outstanding results in their academic studies across 2018.
QPAC is a wonderful performance space and provides an air-conditioned and comfortable space for families and guests. Unfortunately, the venue has seating for approximately 1500 persons, so it is not possible to accommodate all the students and families of Villanova College.
Our Year 12 students are required to be in attendance for this evening and the families of our senior students received correspondence from the College about this event last week. Students who are receiving prizes will be notified by email on Friday 19 October and I invite their families to join with us on this evening to recognise their outstanding work. Families are most welcome to attend and enjoy a very entertaining and enjoyable evening.
Bookings for the evening are via TryBooking link – https://www.trybooking.com/YWUR. There is a maximum of four (4) free of charge tickets per family. Parents are asked to book their tickets by 5pm on Wednesday 24 October. Tickets will be available for collection from Villanova College Reception on Thursday 25 October and Friday 26 October from 7.30 am until 4.00 pm.
I look forward to welcoming members of our community to this important event.
AFAS Elders Project 2018


In early December 2018, Old Boys, staff and parents will embark on an immersion experience to Kinatarcan Island, Philippines to continue the great work started in 2016 to build a Community Centre for the people of Kinatarcan Island.
In 2013 Typhoon Yolanda hit the island and damaged much of the surrounding reef and island infrastructure. For many families their primary source of income on the island disappeared overnight. The residents of the island are attempting to develop an alternative economy.
In 2016 they constructed a drying house for the Moringa tree and the new Community Centre will also house their mat weaving initiative and is another step along the long road towards recovery.
If you would like to assist the AFAS Elders reach their target of $8000 please donate towards this project. It will be gratefully received.
Donations may be deposited into the following account:
BSB                                     064-786              
Account Number              019232109
When making deposit/transfer, please put 'AFAS Elders' in the description plus your name:  AFAS Elders – Smith.   If you would like to remain anonymous, please put "anon" instead of your name.
Unfortunately, AFAS Elders is not a registered charity, so donations are not tax deductible but if you require a receipt, please contact Tony Hindmarsh via email – thindmarsh@vnc.qld.edu.au.
Year 11 Leadership Camp 
It would seem the Year 11 students and staff are quickly gaining a reputation as 'drought-breakers' as their annual Leadership Camp often coincides with significant periods of rain. I am sure the staff and students will embrace the challenges of mud, rain, cold food and trekking across mountains in trying conditions. The challenges of the camp will certainly take all participants out of their comfort zones and I am confident through this experience our young men will continue to grow in confidence and independence.
Augustinian Appointments for 2019
Following correspondence from Prior Provincial – Fr Peter Jones OSA Order of St Augustine, I am pleased to announce that Fr Peter Wienke OSA will remain on staff at Villanova College as College Chaplain in a part-time capacity for 2019. Fr Peter has been elected to the Provincial Council and will juggle his responsibilities as a Council member with his pastoral work at the College.
Fr Saldie Resolado OSA has been appointed to the role of Augustinian Campus Minister – Villanova College from January 2019.  Fr Saldie is well-known to our community and to the staff and students and we look forward to welcoming him officially to our College.
Prayers Please
We keep in our prayers all our families, especially the Spoto family and ask for God's continued blessing on all in our community.
You have made us for Yourself O Lord
And our hearts are restless until they rest in You.
God bless
Mr Mark Stower, College Principal