Pentecost Sunday brings to mind an image of the apostles gathered in a room in a state of shock following the recent events that had taken place. Jesus was no longer with them. The authorities were displeased with their activities and many of their followers had disappeared. The apostles were lost, bewildered, abandoned and scared.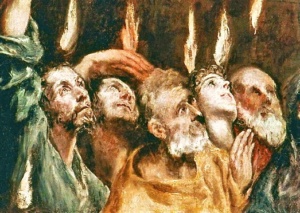 Gospel – John 20: 19-23
On the evening of that first day of the week, when the doors were locked, where the disciples were, for fear of the Jews, Jesus came and stood in their midst and said to them, "Peace be with you."
"When he had said this, he showed them his hands and his side. The disciples rejoiced when they saw the Lord."
Jesus said to them again, "Peace be with you. As the Father has sent me, so I send you."
And when he had said this, he breathed on them and said to them, "Receive the Holy Spirit."
"Whose sins you forgive are forgiven them, and whose sins you retain are retained."
At this time of Pentecost Sunday, we pray we take the time to be still and seek the presence of Jesus in our world. Watching the riots in America at the moment our world is in need of peace amongst all people.
Semester One Reports and Parent-Teacher Conferences
Semester One Reports will be made available to families on Wednesday 15 July via Parent Lounge. At the same time, the College will activate the Parent-Teacher Online portal from Wednesday 15 July to Tuesday 21 July to allow families to book meeting times with their son's teachers. Parent-Teacher conferences will be held on Wednesday 22 July, with the day being a student-free day.
Due to the restrictions on gatherings we will provide parent-teacher interviews for families via video-conferencing and/or telephone to connect with teachers and to discuss the academic progress of their son. To afford as many parents as possible the opportunity to speak with teachers we will need to maintain a time limit for meetings. It will be important that meetings are conducted to the time schedule to ensure appointments are not missed due to delays.
I ask that on this day your son is present with you where possible for the Parent-Teacher Conferences to be involved in the discussion with the teachers.
Specific details for booking and participating in the conferences will be sent to families in coming weeks.
Augustinian Community
Recently the Augustinian community at Villanova College celebrated two significant events. Fr Kevin Burman OSA celebrated his 89th birthday and he is in very good spirits. Fr Peter Hayes OSA celebrated 60 years as an ordained priest and we join with the community in congratulating Father Peter on his accomplishments during his ministry of service over these past years.
Images of the new learning Spaces
Below are images of the new learning spaces in the St Thomas of Villanova Learning Centre.
Prayers
We keep in our prayers the community of Iona College following the tragic death of one of their Year 9 students. We offer our condolences and prayers to the College staff, students and community.
May his soul and all the souls of the faithful departed, through the mercy of God rest in peace. Amen
God bless
Mr Mark Stower, Principal