Welcome back to all our families. It was great to see the students return to the College on Monday. The noise in the yard at break time was wonderful to hear. In so many ways the noise heralded a return to some normalcy in these challenging times. The students were very excited to see their classmates and teachers and return to the classroom.
It is expected the students will take a little time to settle back into the normal school routine after a break of almost eight weeks. Over the course of this week our staff will be settling students into the normal classroom routine. For a small number of students there is a need to attend to haircuts and uniform items such as ties.
In the classroom our teachers will check the work students have covered over the last five weeks to determine the progress of each child. Early reports indicate that the majority of students maintained their studies while at home so thank you to the parents for a great job supervising and assisting your son when necessary. Over the coming weeks students will be monitored through diagnostic testing and other tools to provide feedback to students on their individual academic progress.
With the many challenges our students have had to face over the past weeks it is pleasing to see that their enthusiasm for life and joining with their mates has not diminished. I often find our young people can surprise us with their resilience. With the great support our students receive from home and the College, we can expect much of them as they settle back into school life.
Risk Management Committee
Villanova College Board is seeking suitably qualified and experienced people to join the newly formed Risk Management Committee. Experience in organisational risk and governance would be highly desirable. The Risk Management Committee will be a sub-group of the College Board and will report to the College Board through the Chair.
It is our hope that within our community there are suitably qualified and interested persons who are willing to give of their time to support the Villanova College Board with this important work. If you are interested in contributing to this committee, please complete the Expression of Interest Form via the following link.
National Reconciliation Week
Wednesday 27 May marked the beginning of National Reconciliation Week (27 May – 3 June). The theme, "In this together" reminds us that we all play an important role in the reconciliation process.
In 2020 Reconciliation Australia marks twenty years of shaping Australia's journey towards a more just, equitable and reconciled nation.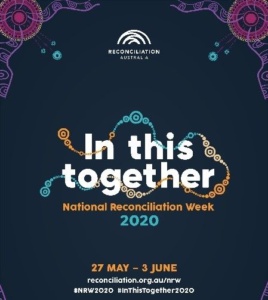 Much has happened since the early days of the people's movement for reconciliation, including greater acknowledgement of Aboriginal and Torres Strait Islander rights to land and sea; understanding of the impact of government policies and frontier conflicts; and an embracing of stories of Indigenous success and contribution.
2020 also marks the twentieth anniversary of the reconciliation walks of 2000, when people came together to walk on bridges and roads across the nation and show their support for a more reconciled Australia.
As always, we stand on the shoulders of those who came before us, and Australians now benefit from the efforts and contributions of people committed to reconciliation in the past. Today we work together to further that national journey towards a fully reconciled country.
Reconciliation Prayer
Holy Father, God of Love,
You are the Creator of all things.
We acknowledge the pain and shame of our history
and the sufferings of Our peoples,
and we ask your forgiveness.
We thank you for the survival of Indigenous cultures
Our hope is in you because you gave your Son Jesus
to reconcile the world to you.
We pray for your strength and grace to forgive, accept and love one another, as you love us and forgive and accept us in the sacrifice of your Son.
Give us the courage to accept the realities of our history so that we may build a better
future for our Nation.
Teach us to respect all cultures.
Teach us to care for our land and waters.
Help us to share justly the resources of this land. Help us to bring about spiritual and social change to improve the quality of life for all groups in our communities, especially the disadvantaged.
Help young people to find true dignity and self-esteem by your Spirit.
May your power and love be the foundations on which we build our families, our communities and our Nation, through Jesus Christ our Lord. Amen
(Wontulp Bi-Buya Indigenous Theology Working Group 13 March 1997 Brisbane, Qld).
God bless
Mr Mark Stower, Principal