Is the chocolate in Easter eggs better than the chocolate in a block of Cadbury chocolate? I am not sure of the answer to this question – I am always happy to do the research! Hopefully for most of us the term "Easter" means more than just chocolate eggs.
On Wednesday March 6 we began a journey of reflection and renewal that culminates on Easter Sunday. The Easter period, Holy Thursday evening until Easter Sunday evening, is known as the Triduum (a Latin word meaning 'three days'). During these three holy days the Church remembers Jesus' suffering, death and resurrection. The celebrations of Easter Sunday bring the Lenten Season to a joyful conclusion.
Pope Francis said, "…Christ's resurrection is the true hope of the world, the hope that does not disappoint."
This Easter we pray the light of the risen Christ illuminates a world that has too often been plunged into darkness through fear, hate, intolerance and extreme ideals.
OPEN DAY
Last week we threw open the gates to over 350 families who joined with our staff and students to tour Villanova College. Our students acted as the tour guides and did a most impressive job of explaining the working of Villanova College. Feedback from our visitors was very positive and complimentary of the welcome received from all students and staff.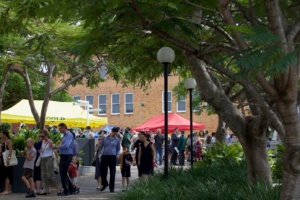 TERM 2, 2019
Term 2 will commence on Wednesday 24 April. Students are expected to be in winter uniform including ties for all students in Years 5 to 12. Senior School students (Years 10-12) are required to have a blazer and to wear the blazer when travelling to and from the College and to all formal assemblies held during the school day. Senior School students are also required to wear long trousers for Term Two and Three. Younger students have the option of wearing long trousers if they wish.
In the cold weather the College jumper may also be worn. I remind all students the Sports jacket, Senior Jersey or Senior hoodie are not to be worn with the formal uniform. These items of clothing may be worn only with the sports uniform.
PARENT AND TEACHER CONFERENCES
To start Term 2, the College teaching staff will be holding Parent-Teacher Conferences to provide feedback to parents and students on Tuesday 23 April. Students are most welcome and strongly encouraged to attend. If students are attending, I ask please that they attend in school uniform. The Parent-Teacher Conferences are a great opportunity to check in and meet your son's teachers and to hear how your son is handling the challenges of the new year.
KEY DATES TERM 2
Tuesday April 23 – Parent-teacher Conferences (Student-Free Day)
Wednesday April 24 – All classes Years 5-12 resume
Thursday April 25 – ANZAC Day – Public Holiday – ANZAC March
Friday April 26 – normal classes
Monday 6 May – Labour Day Public Holiday
RUGBY AND FOOTBALL TOURS
This Friday, the Open Rugby and Football teams will depart for their respective tours to New Zealand and Japan. These tours are a fantastic opportunity for our students to develop their skills and explore different cultures and regions of the world. Thank you to the staff, coaches and managers who are accompanying the students and providing this opportunity.
You have made us for Yourself O Lord
And our hearts are restless until they rest in You.
God Bless
Mr Mark Stower, Principal