Dear Members of the Villanova College Family
Blessed + Broken is the theme for the Lenten Season 2018 in the Archdiocese of Brisbane. We recognise that the Lenten journey is one of renewal as we take time to pray, share and live the Gospel in our lives.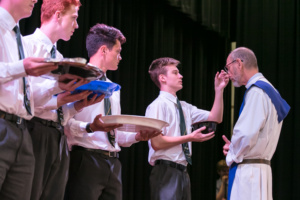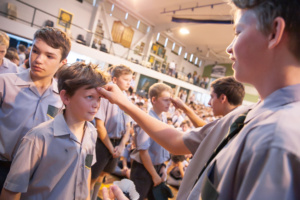 Ash Wednesday celebrated yesterday saw our community gather together to begin our own Lenten journey with the mark of the cross in ash on our forehead. The ashes come from a previous Palm Sunday. The palms are burned, the ashes collected and then crushed into a fine, sooty powder. Fr Peter Wieneke OSA blessed the ashes before they were distributed to all in our community.  As the ashes are placed on the forehead we hear the words,
"Turn away from sin and believe in the Gospel"
Paul Dillon Presentation
Earlier this week Mr Paul Dillon from Drug and Alcohol Research and Training Australia presented to our families on the topic "Drugs, Alcohol, Sleepovers and Parties."  His presentation was of great interest and he made a number of very important points during his presentation.
Most young people and adults do not engage in drug taking behaviour and drink alcohol responsibly.
The change in behaviour for young adolescents occurs around 14 and 15 when they will engage in risky behaviour.
A sleepover is code for "I do not want mum and dad to know what I am getting up to!" so be proactive and speak to the host.
Delay, delay, delay the time young people begin to consume alcohol – the research on the human brain indicates a young brain is damaged by regular consumption of alcohol.
Rather than always saying NO to parties – try placing restrictions such as "I will drop you and pick you up and you can stay for two hours."
The DARTA website- darta.net.au has a wealth of resources for parents.
Building Works
Finally, after three years the rectification work on the Veritas and Fr Michael Morahan Building is completed.  All areas are now open and the staff and students have access to all stairs and thoroughfares around the campus.  We are very pleased to have this project completed.
Study, Homework and Assignments
How much homework and study should your son be doing? This is a difficult question to answer. The amount of prescribed homework set by the teaching staff will vary across the week depending on the subjects studied during the day. What most students need to build into their practice is a regular revision of the work covered during the day. This revision takes the form of making sure the notes taken in class make sense and that the student understands the concepts and ideas presented in the classroom.
It may be more helpful to set a weekly target for your son rather than a nightly amount. The Junior School students have regular set homework. The following weekly amounts may be a helpful guide.
Years 7 – 9  aiming for 6 to 10 hours per week.
Year 10 – aiming for 8- 12 hours per week
Years 11 and 12 – aiming for 10 – 15 hours per week
When the 30 hours of school time each week is added to the homework/study time it quickly adds to 40 hours plus for a senior student before adding in co-curricular activities and part-time work. If a senior student is spending in excess of 60 hours per week on study, co-curricular and other activities careful monitoring by the adults in his life will need to be in place.
You have made us for Yourself O Lord,
And our hearts are restless until they rest in You.
God bless
Mr Mark Stower, College Principal