Fr Peter Wieneke OSA, College Chaplain in his opening statements at the Mass of the Holy Spirit on Tuesday, told the students, staff and parents gathered in Goold Hall that we come together today to realign our hearts and minds in the direction towards God. It is a phrase that is often used in our Augustinian context. We speak about a community being of "One Mind and Heart on the Way towards God." As we begin the 2019 academic year, we take a moment to refocus on our purpose as stated in our Vision Statement.
Striving for excellence in boys' education as an Augustinian community one in mind and heart on the way towards God.
We strive to achieve this vision through a wholistic education where the formation of the whole person within a faith community is our primary purpose. Our community made up of many parts, contributes to developing good, young men of Gospel values who seek the common good. We strive to graduate young men with a burning passion for learning and a desire to continually search for Truth.
Commissioning of Student Leaders 2019
During the Mass of the Holy Spirit, the Student Leaders for 2019 were commissioned in their respective roles. In receiving their badges of office, they pledged to uphold the values and ideals of Villanova College.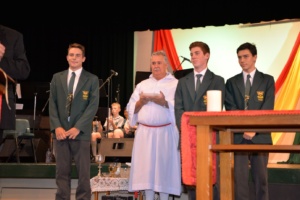 College Captain – Matthew Rolls (centre) with Vice-Captain – Will Barwick (left) and Student Council President – Nickolas Sofios (right), pictured with College Counsellor Mr Adrian Hellwig.
MMG Education Survey – Parental Results
In Term 4 2018, MMG Education was commissioned to undertake a survey of parents, staff and students to assist in gaining deep insights and research-based information relating to stakeholder needs and expectations in order to drive continual improvement in the quality of education provided by the College.
484 parents out of 968 families responded to the survey, which was a 50% response rate. 26% were parents from the Junior School, 39% from the Middle School and 34% from the Senior School.
Key Results
94% of parents noted Villanova College to be their school of first choice.
Overall satisfaction with son's education at Villanova College
Junior School – 89% (Very high)
Middle School – 83% (Very High)
Senior School – 82% (Very High)
Overall – 84% (Very High)
Overall satisfaction with the Academic Program
Junior School – 83% (Very High)
Middle School – 78% (High)
Senior School – 81% (Very High)
Overall – 80% (Very High)
Over the coming weeks further results from the survey will be published.
You have made us for Yourself, O Lord
And our hearts are restless until they rest in You.
God bless
Mr Mark Stower, Principal