It was another great day of sport played against St Peter's Lutheran College last  weekend. Based on the results over the past five – 10 years, one could justifiably say that last weekend saw the top AIC basketball school (Villanova) up against the top AIC tennis school (St Peter's). It is probably little wonder that the results from the weekend reflected this trend, that is, Villanova taking out the day in basketball while St Peters took out the day in tennis. Although St Peters have shown dominance in AIC tennis across many years, our teams performed at their best and were able to take out five solid wins across the day from the 16 games played, well done boys!
Unfortunately, as St Peter's do not play rugby league, most of our teams had a BYE with only our Year 5 team enjoying a great win against Ashgrove in a supplementary game.
As mentioned, our basketball was again very solid. Not only were we successful in the 1st basketball game, but Villanova also won 23 of the 27 basketball games played against the opposition with a further four teams having a BYE.
On behalf of the College, I would like to thank the many spectators and players who did their bit to ensure the day went well. Special thanks is given to the parents who allowed their son/s to stay behind and support other teams. It does make a significant difference.
I am a big believer that many good lessons in life can be learnt whilst playing sport. Sometimes you work hard and get the results and sometimes you do not. Developing a sense of resilience when things do not go your way and being happy knowing that you did the necessary work are worthwhile values to instil in our student athletes. Throughout the year, the College has had some fantastic sporting achievements and sometimes we did not perform as well as we would have liked. If you enter the sports realm, you must be prepared to take the wins and losses.
Villanova's success across all areas comes about because all or most within our community make it a success. It does not just happen. If we strive to be the best, we all must take responsibility to ensure we do our part to make Villa a great community. If we are good enough to represent our school, we should represent our school. Our school would not be the great place it is if we did not have our best giving their best. There is little use possessing a gift or talent and not using it. After each round of sport or each championship event, I am satisfied and happy if I know our students and coaches gave their best throughout the season and have enjoyed themselves along the way. The result is secondary.
The AIC Track and Field (T&F) training program will commence the week after next. The training schedules will be posted on the web by the end of this week. We encourage all students from Year 5 – 12 to participate and work hard at T&F training to improve. The College is very much aware that many of our top T&F athletes will already be involved in tennis, basketball, rugby league or other co-curricular activities. Although we try to avoid timetabling clashes, we know that some training sessions will overlap. This is normal and does occur at all AIC schools. Keeping the lines of communication open between coaches and students is the key.
Please be mindful that our Inter-House Track and Field Carnival will be held next Thursday 11 August at Villanova Park. More information about the carnival is posted below.
This weekend we play Round 3 of basketball, rugby league and tennis fixtures v Ashgrove. All rugby league games will be played v Ashgrove and hosted by Iona College. I wish everybody the best and please enjoy!
AIC Basketball Team Photos
Please note the Basketball teams will have their team photos taken this Saturday 6 August at Villanova College. The full schedule is available below and via Parent Lounge.
Please arrive five minutes before the scheduled time, dressed in the correct sporting apparel.
If you arrive LATE, sorry NO photo. Teams playing at St Martin's are still asked to head to Villanova for their photo prior to their game.
 Location: Tuckshop Undercroft, Villanova College
| | |
| --- | --- |
| Time | Basketball Teams |
| 7.00am | 11C |
| 7:30am | 10D |
| 7:35am | 10B |
| 8.00am | 11B |
| 8:30am | 10A |
| 8.35am | 10C |
| 9:00am | 4th V |
| 9:30am | 11A |
| 10:00am | 3rd V |
| 10:30am | 2nd V |
| 11:10am | 1st V |
AIC Tennis, Rugby League and Basketball Round 3 v Marist College Ashgrove, Friday 5 and Saturday 6 August – Times & Venues
All Year 5 and Year 6 basketball games are played on Friday afternoons. Note – the College will supply bus transportation to the playing venue each Friday afternoon for all Year 5 and Year 6 teams. Parents must collect their sons from the venue after the game. All Year 7 – 12 basketball and Year 5 -12 tennis and rugby league games are played on Saturday.  Please refer to the College's website to view all times and venues for this weekend's fixtures against Ashgrove.
AIC Track & Field Training
AIC Track and Field (T&F) training will commence the week after Ekka week. A full season schedule will be posted on the Villa website by the end of the week. At the conclusion of the Inter-house Carnival, the coaches will invite students from Year 5 -12 to be a part of their squad. All Track and Field coaches will monitor student attendance at all training sessions. Students will be contacted by either their coach or a member of the Sports Office to explain any absenteeism. We encourage all students to contact their coach if they are unable to make training. Rolls will be taken each week to ensure that those who have been identified as our best athletes attend the sessions and follow through with their commitment as this not only builds character but also the College's Track & Field program. Parental support on this matter would be greatly appreciated.
Villanova Track & Field Carnival Years 5-12 – COMPULSORY!
All students from Years 5-12 are required to attend Villanova's annual Track and Field Carnival held at Villanova Park next Thursday 11 August. All students are to attend school as per normal times wearing their PE uniform to and from school. Buses will then transport the boys to and from Villanova Park. Boys with before school training for either Basketball (Clem Jones Centre) or Tennis (Morningside Tennis Centre) will be bussed directly to Villanova Park at the conclusion of their training. We hope all parents support the College to ensure that all boys attend. Canteen facilities will be available at the Park with cash and EFTPOS options available. We ask students to bring a small bag on the day for their belongings including a hat, sunscreen and water bottles (food etc.). The first events are due to start a 9:40am with the last event concluding at 2.00pm followed by presentations. All students will be rotated around 100m, Hurdles (championship event only), bin ball, 200m, Javelin, 800m, Long Jump, Discus (Year 7 only), Shot Put, High Jump (a select few in each age group only) and Tug-o-war events. Our aim is to have fun, promote Track & Field, give everybody a go, showcase our best athletes and identify those boys who should be in our AIC T&F squad.
Our Track and Field coaches will be posted on all Championship events for them to identify our best athletes and invite them into our T&F program, which will commence the week afterwards. We would expect all members of our rugby and football development programs as well as all 'A' team members of each of the sports we have on offer to excel and be at the forefront of the T&F program.
Villanova Inter-House Track & Field Carnival Canteen – Your assistance is required
The canteen will be in operation next Thursday at the Villanova Track and Field Day. If you are available to help for an hour or so (in between your son's event) please contact Sarah Patterson by email spatterson@vnc.qld.edu.au or phone on 0487 421 922. We are particularly keen on parents attending around 8am to assist with preparation.
Brekkie will be available from the Villanova Park canteen on the day of the Track and Field carnival with cash or EFTPOS available (no Flexischool card available at all during the day). This will be on offer for those coming from tennis and basketball training.
Please note that the Villanova College Tuckshop WILL NOT be open on this day.
Track and Field – Championship Events and 'Fast 'n' Furious'
Students will have the option of competing in each or all individual championship events rather than selecting a relatively small group of boys to do them all. Boys have had the opportunity to sign-on for Championship events in the last week – these sign ons closed on Thursday of this week. The championship events include the 100m, 200m, hurdles, 800m, long jump, shot put, javelin (Year 7-12 only) and high jump.
Students who do not wish to participate in the championship events will compete in the non-championship program.
All boys will be given the opportunity to compete in a 'fast and furious' race. We are looking for our 10 best runners in each age group to nominate themselves for this event. The finalists will then compete in the first event at the Villanova Inter-House Track and Field Carnival in front of the entire school for the 'fast and furious' final. The winner of each age group will be awarded a prize (TBC) by the Sports Office.
At the end of the day, we want Villa's best athletes to compete against each other for the College to identify our best athletes to join our AIC Track and Field Program. It would be reasonable to expect that all 'A' team members in all sports, nominate for at least one Championship event. Ben Mowen, Andrew Slack, Junior Football Development Squad and 1st Football candidates for next year's season must nominate or they will not be considered for these squads.
AIC Basketball – Mr Sean O'Neill, AIC Basketball Coordinator
The Round 2 match up against St Peter's was another excellent weekend of basketball. The calibre of play continues to improve every year and the style of basketball ensures that the crowds are entertained throughout. The Junior School completed another clean sweep with eight straight wins to keep their undefeated record intact. Overall, Villanova secured 23 wins, had four losses and four byes. In terms of aggregate results, we won the day 10 – 2. This certainly keeps us on track for our goal of Champion School again.
The 1st V were pitted against the much-improved St Peter's who had a tall, athletic team that were keen to impose themselves on the game. It was a tight tussle throughout and both teams should be proud of the way they played. While the final score was 104 – 73, the game was certainly much closer and a great contest throughout. Special mention to Mason Honeyman who top scored with 31 points. Our supporters certainly provided us with the added support to continue to play our brand of basketball. It was great to see the amount of Rugby League players in attendance who came to cheer on basketball due to their bye round.
This weekend we play Ashgrove whose depth across the year levels continue to make it a challenging round. Hopefully, our continued commitment to training and listening to our coaches will ensure we play our best basketball. Good luck to all teams!
Basketball Results v St Peters Lutheran College
TEAM
Round 1

IONA

Round 2

SPLC

Round 3

ASH

Round 4

SPC

Round 5

SLC

Round 6

SEC

Round 7

PAD

1st V
W 82-59
W 104-73
2nd V
W 42-38
W 56-34
3rd V
W 44-37
L 29-43
4th V
W 30-26
L 21-30 (V ASH)
11A
W 79-32
W 46-32
11B
W 58-38
W 74-24
11C
W 46-20
BYE
10A
L 52-18
W 73-18
10B
W 33-32
W 52-14
10C
W 35-28
W 67-10
10D
BYE
L 35-46
9A
W 49-27
W 59-41
9B
L 40-28
W 64-21
9C
L 68-25
W 44-23
9D
L 43-21
BYE
8A
L 23-14
L 35-36
8B
W 55-24
W 63-2
8C
W 55-15
W 80-5
8D
W 47-14
BYE
7A
L 32-23
W 42-19
7B
W 35-30
W 27-16
7C
W 37-14
W 74-5
7D
W 22-12
BYE
6A
W 32-24
W 51-16
6B
W 29-26
W 92-10
6C
WASHOUT
W 33-17 (V ASH)
6D
WASHOUT
W 28-22 (V ASH)
5A
W 61-10
W 54-8
5B
W 42-8
W 102-4
5C
W 70-6
W 30-7 (V ASH)
5D
W 25-9
W 19-11 (VASH)
AIC Tennis – Mr Todd Kropp, AIC Tennis Coordinator
It was certainly going to be a tough task coming up against arguably the AIC tennis leaders in St. Peters for our second round of AIC sport.
It is pleasing to say that the scores were not necessarily a true reflection of the matches played with several sets even going to a tiebreaker. Whilst I didn't get to see all matches, the ones I did see saw our teams display some great rallies but occasionally let down by our service game. It was also great to see some of our players getting over to support other Villanova players in between fixtures.
The First IV had another tough round against SPLC. Coach Bo was happy with the intensity brought by our team however we did fall short in the scorebook. Whilst some scores haven't been pretty, we know the team's commitment and hard work will soon payoff. With First IV Tennis Captain Sam watching from the sidelines due to injury, a true up and comer on the Tennis Court in Year 8 student Reuben Wagels got his first chance to represent the Villanova First IV Tennis team. Whilst the coaching team were all proud of how Reuben represented himself on the court, it is also pleasing for me to report him taking a win in his singles match against a very talented opposition. Well done, Reuben!
Tennis Results v St Peters Lutheran College
TEAM
Round 1

IONA

Round 2

SPLC

Round 3

ASH

Round 4

SPC

Round 5

SLC

Round 6

SEC

Round 7

PAD

1st IV
3-5 L
1-7 L
2nd IV
5-3 W
3-5 L
3rd IV
7-1 W
5-3 W
4th IV
BYE
6-2 W
10A
4 (24) – 4 (24) D
0-8 L
10B
8-0 W
4 (31) – 4 (33) W
9A
4 (36) – 4 (38) L
1-7 L
9B
2-6 L
1-7 L
8A
1-7 L
8B
7-1 W
2-6 L
7A
4 (24) – 4 (29) L
0-8 L
7B
2-6 L
5-3 W
6A
0-8 L
7-1 W
6B
1-7 L
3-5 L
5A
7-1 W
4 (29) – 4 (30) L
5B
7-1 W
8-0 W
AIC Rugby League – Mr Blake McLauchlan, AIC Rugby League Coordinator
Villanova had the bye over the weekend for Round 2. Our Year 5 team were lucky enough to pick up a game versus Ashgrove at Shorncliffe. Once again, our Year 5 team are proving that they will be a very competitive team, coming away with the win. It is fantastic to see so much enthusiasm as a younger boys take the field.
This week we come up against Ashgrove for Round 3 at Iona College. Please check the schedule on the college website for the scheduled kick off time. A reminder to please make sure that you arrive at the venue at least 30 minutes before your scheduled kick off time unless your coach has asked you to be at the venue earlier. A friendly reminder that only players and coaches are permitted in and around the players' bench. The NRL are asking that all players move away from the players bench as soon as their game has concluded.
Best of luck to all teams for Round 3 versus Ashgrove at Iona College. Train hard, be aggressive, play within the spirit of the game and as always, chase the win.
Rugby League Results – Round 2 BYE
TEAM
Round 1

IONA

Round 2

BYE

Round 3

ASH

Round 4

SPC

Round 5

SLC

Round 6

SEC

Round 7

PAD

1st XIII
34 – 4 L
 
YEAR 10
28 – 10 L
 
YEAR 9
14 – 0 L
 
YEAR 8
16 – 8 L
 
YEAR 7
24 – 8 L
 
YEAR 6
16 – 12 L
 
YEAR 5
24 – 0 W
20 – 12 W v Ash
 
 Zone Cricket
Notes for Zone cricket will be handed out to students when the online registration format has become active. A reminder that teams will only be submitted into the local cricket competition if parents cover all the necessary roles needed to field a team each week.
Representative Sport
| | |
| --- | --- |
| Sport | Forms due back to Sports Office |
| Met East Triathlon | Nominations close – Friday 14 October |
Well done to Charles Warr (Year 6) who represented the U12 Met East Football team at the State Football Championships last weekend. Charles is an U11 player, so it is a massive achievement for him to be selected in the U12 age group. Awesome effort Charles!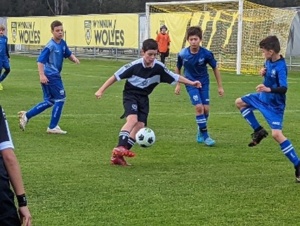 Pictured above Charles Warr – Year 6
Congratulations to Thomas Winn who has made the Queensland Golf team after he competed in the Queensland Championships in Townsville earlier this year. Thomas will now travel to Melbourne in late August to compete in the National Golf Championships. We wish Thomas all the very best on this sensational achievement!
Tom Feenstra, Josh McDougall and Sebastian Shimizu represented the school to play at the State Baseball Titles competition as part of Met East team in June. They played very well throughout the carnival which resulted in their Met East Team beating Met North in the final to take out the gold medal. This was only the third time Met East has won the state titles in 22 years. A fantastic effort and memorable experience no doubt!
From this State competition, Sebastian Shimizu was selected in the Queensland Baseball team. As the youngest player Sebastian will now head off to the Nationals held in Sydney in mid-August. Great effort boys and best wishes Sebastian!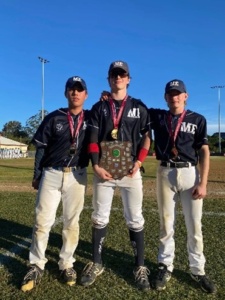 Picture above – Tom Feenstra, Josh McDougall and Sebastian Shimizu. The Met East team pictured below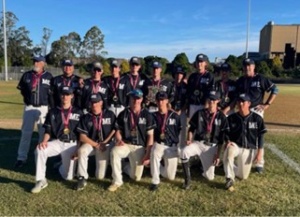 Congratulations to Luke Thornton who competed at the recent State U15 Rugby Carnival held in Hervey Bay as part of the Met East team. Luke's team were undefeated heading into the Grand Final. Unfortunately, Met East went down 10-6 to Met West in the Grand Final. Luke played very well and has subsequently been invited to participate in the Emerging Reds Cup trial held mid-August at Ballymore. A great achievement, all the best Luke!
Mr Craig Stariha, Director Of Sport