All trials for AIC basketball, rugby league and tennis are now complete. Round 1 will commence against Iona College this Friday 22 and Saturday 23 July.
I was pleasantly surprised by our rugby league teams who played at Banyo over the weekend. Although only a trial, the Villanova boys were playing two relatively tough rugby league schools and we were equally competitive in almost all games. Well done to all coaches on their work to ensure that Villanova is ready to tackle the league season ahead!
Our tennis teams performed well during the trial and were able to dominate the competition at most year levels. The teams look prepared for the season ahead.
Basketball continues to be very popular within the Villanova community. The basketball results from the weekend were again positive, with 26 wins from the 31 teams who played.   The opposition will be tough this weekend and I am positive that Padua will fare better when we reach them again in the regular season. Our aim is again to compete very well this season. It does not just happen; the boys must apply themselves week in and week out during training and on game day to achieve the best possible results. Let us continue our winning culture by applying ourselves consistently throughout the season. Best wishes to all!
I urge all parents and students to check the College's website regularly for updates regarding the Villa sport program. This includes information regarding training/trial schedules, upcoming fixtures/events, by-laws, uniform requirements etc. Plenty of notice/information is given to students via the College app, morning notices, assemblies, newsletters and of course the College website.  I request the support of our parents to ensure that the boys are receiving the information and are following through with their commitment by attending all sessions when necessary. As mentioned in last week's Villa View, the Sports Office is willing and able to negotiate alternative schedules to assist students who have many commitments. The 'Villanova Way' is to help when you can and to follow through once a commitment is made.
This weekend Villanova host Round 1 of the rugby league season at Villanova Park. Villanova play Iona on Andrew Slack; Eddies play St Pat's on Charlie Fisher and Lauries play Ashgrove on Fr Seary all day. The Villanova Sports Club will run a canteen all day. We ask parents to assist in the canteen throughout the day to lighten the load. Normally we would have up to seven teams playing at once, therefore we can draw on the parents of these seven teams to assist in the canteen. As we only have one team playing per hour, this dramatically reduces the pool. Any help this weekend would be appreciated. Perhaps whilst the boys are warming up, parents could assist before going off and spectating their son's game. We need your help! A roster can be located further in the Villa View.
Please note that rugby league photos will be taken for all Villanova teams at Villanova Park this weekend. Please find the schedule below.
As we have moved to a new uniform line across all sports this year, I noticed in my travels over the weekend that some players were mixing parts of the old uniform with the new. May I please ask for the support of parents to ensure that their son is dressed correctly. A few things I noticed were the old basketball shorts being worn, the old rugby league shorts being worn, a multitude of different coloured hats were being worn and some tennis players did not have the new squad shirt. It is imperative that we are dressed in uniform.
The annual Interhouse Track & Field Carnival will be held at Villanova Park during Ekka week, that is, on Thursday during Week 5 this term. As this is a College event, we do require all boys to attend and participate. The carnival caters for boys of all abilities with maximum participation where possible. All up, each student will be involved in at least eight events. Boys can choose to compete in championships or non-championship events/divisions based on their level of interest and ability. Sign-ons for those who wish to participate in the championship events will occur next week. Please read further information below regarding the Interhouse Track & Field Carnival.
Best wishes to all for Round 1 of the AIC basketball, rugby league and tennis held this weekend against Iona College. Enjoy!
AIC Tennis, Rugby League and Basketball Round 1 v Iona College, Friday 22 and Saturday 23 July – Times and Venues
All Year 5 and Year 6 basketball games are played on Friday afternoons. Note – the College will supply bus transportation to the playing venue each Friday afternoon for all Year 5 and Year 6 teams. Parents must collect their sons from the venue after the game. All Year 7 – 12 basketball and Year 5 – 12 tennis and rugby league games are played on Saturday.  Please refer to the College's website to view all times and venues for this weekend's fixtures against Iona College.
Villanova Inter-House Track & Field Carnival – Compulsory!
All students from Year 5 – 12 are required to attend Villanova's annual Inter-House Track & Field Carnival at Villanova Park on Thursday 11 August. All students are to attend school as per normal times. Buses will then transport the boys to and from Villanova Park. We hope all parents support the College to ensure that all boys attend.
The first events are due to start a 9.40am with the last event run to conclude at 2.00pm followed by presentations. All students will be rotated around eight events on the day, these include the 100m, hurdles (championship event only), bin ball, 200m, javelin, 800m, long jump, shot put, high jump (a select few in each age group only) and tug-o-war events. Our aim is to have fun, promote track & field, give everybody a go, highlight our best athletes and identify those boys who should be in our        AIC Track & Field Squad.
Track and Field – Championship Events and 'Fast and Furious'
Students have the option of competing in either a championship or non-championship events. Championship events are competitive based and non-championship considered to be more participatory based.
Boys who wish to compete for a championship event can build up points for themselves which will be used to determine the Year Level Track & Field Champions on the day and those who we wish to be in our Track & Field Squad.
All students from Year 5 – 12 may sign up for one, two or all of the championship events, these include – the 100m, 200m, 800m, hurdles, long jump, high jump, shot put and javelin events.
How do you sign up for a championship event?
Stations will be setup in various places around the College next Friday for boys to sign up. Boys simply turn up to the station and write their name next to the event they wish to compete in at a championship level. These stations are located below:
Year 5 and Year 6 Championship Sign-on (Junior School) – next Friday, first break in the Junior School assembly area
Year 7 – 9 Championship Sign on (Middle School) – next Friday, first break in front of Goold Hall
Year 10 – 12 Championship Sign on (Senior School) – next Friday, second break in the Senior School precinct
Students who do not wish to participate in the championship events will automatically compete in the non-championship program.
All boys will be given the opportunity to compete in a 'fast and furious' race. We are looking for our 10 best runners in each age group to nominate themselves for this event. The finalists will then compete in the first event at the Villanova Inter-House Track and Field Carnival in front of the entire College for the 'fast and furious' final.
At the end of the day, we want Villanova's best athletes to compete against each other for the College to identify our best athletes to join our AIC Track and Field Program. It would be reasonable to expect that all 'A' team members in all sports, nominate for at least one championship event. Those aspiring for inclusion in the Ben Mowen, Andrew Slack, Junior Football Development Squad and 1st Football candidates for next year's season must nominate or they will be excluded from the squads. Get in and have a go boys!
AIC Track & Field- Training
AIC track & field training officially commences the week beginning Monday 15 August, which is the week after Ekka week. This year all students from Year 5 – 12 will train on Tuesday and Thursday afternoon at Villanova Park. A bus will transport all athletes to and from each training session. We hope to commence training at 3.45pm and conclude by 5.15pm. The bus should return to the College around 5.40pm.
The coaches will cover all track and field disciplines across all age groups at these sessions. Training as a Year 5 – 12 squad will increase team spirit and ensure our athletes are able to attend the various sessions we have on offer.
A full program will be available on the College's website within the next three weeks.
AIC Basketball, Rugby League and Tennis
All AIC tennis, rugby league and basketball trials have concluded. Team lists will be posted within the Students Café and Parent Lounge portals by Thursday of each week. Please be aware that these lists can and will change each week depending on player performance, attitude and attendance at training.
We are expecting a significant challenge from Iona this weekend. In our quest to gain favourable results we ask all boys to come ready to play this weekend. Good luck to all involved!
AIC Rugby League – Mr Blake McLauchlan, AIC Rugby League Coordinator
All teams trialled against Padua College and Iona College on Saturday for their first rugby league game of the 2022 season.  It was pleasing to note that we came away with some pleasing results against two quality rugby league schools in Iona College and Padua College. As is expected, some are still learning the basics of rugby league but there were many positives to take out of Saturday's trial. The reports from all coaches were very positive and there was plenty of excitement amongst our players on the return of AIC rugby league.
For our 1st XIII squad, coming up against Padua College early in the season was always going to be a good test for our players. Padua College are a skilled rugby league team. They recently competed in the Confraternity Shield and have an enormous amount of match fitness and are a very competitive side. Although Padua College won the trial match, six tries to three, our 1st XIII coaches are confident that the result reflected basic errors and a lack of fitness which can be easily worked on at training. I wish our 1st XIII squad the best of luck as they commence their campaign this weekend at home for the opening round.
This weekend we come up against Iona College for Round 1 of the AIC Competition. All teams will be playing at Villanova Park on Andrew Slack Oval. Please check the draw posted on the website for the scheduled kick off times. Please allow enough travel time to ensure you arrive at Villanova Park at least 30 minutes before your scheduled kick off time unless you have been asked to arrive earlier by your coach.
A reminder that all players must be wearing the correct Villanova rugby league uniform. This includes the Villanova rugby league hire jersey, green Villanova rugby shorts (not football shorts, HPE shorts or black rugby league shorts) and the Villanova rugby union or football socks. A reminder that as we commence the official AIC season, that the NRL requires all spectators to be on the opposite side of the field from the players bench and that no spectators are to be in or around the players bench during game play.
I wish all teams the best of luck for Round 1. Play hard and play within the spirit of the game.
Rugby League Team Photos
Please note the rugby league teams will have their team photos taken this Saturday 23 July at Villanova Park. The full schedule is available below and via Parent Lounge.
| | |
| --- | --- |
| Time | Team |
| 7:20am | Year 5 |
| 8:20am | Year 6 |
| 9:20am | Year 7 |
| 10:20am | Year 8 |
| 11:20am | Year 9 |
| 12:20pm | Year 10 |
| 1:10pm | First XIII |
AIC Basketball – Mr Sean O'Neill, AIC Basketball Coordinator
The 2022 season is about to begin and there is much excitement and anticipation regarding the upcoming season. We have been able to have two full weeks of training and the opportunity to trial against Ashgrove and Padua. The results from the weekend against Padua suggest that we are in a good place for the first season.
The 1st V had a strong hit-out against Padua with a 69 – 64 victory, in what was a good final tune-up before this weekend.
This weekend sees us up against Iona in Round 1. Hopefully, all teams put out their best performance to start the season off well. Good luck to all!
Year 5 and Year 6 Basketball
The Year 5 teams will travel to Iona College this Friday afternoon for their Round 1 clash. The boys will be transported by bus to the venue straight after school and parents are asked to pick up their sons promptly from Iona at the conclusion of their game. The best way to access the basketball venue at Iona College is to enter via the North Road gates and park in the College grounds on the grass. Walk through the grounds to the Province Centre, where the basketball will be played. Please send extra food with the boys to have as afternoon tea.
Canteen Roster Saturday- Parent help needed
This Saturday, Villanova is hosting Iona College in basketball in Goold Hall, and we are hosting all of the Colleges at Villanova Park for Round 1 of the rugby league. This is a call out to ALL parents to help out for 30 minutes prior to your son's game. If you can assist for longer that would be greatly appreciated. Please pop your head in and ask if there is anything that needs to be done.
If we all chip in, this goes a long way to lightening the load on those that help all the time.
With six AIC Colleges at Villanova Park this Saturday, it will be very busy, and we urge all parents of the teams below to jump in and assist with what will be a great revenue raiser for the Sports Club.
Please see the roster below for both Goold Hall and Villanova Park:
Rugby League – Villanova Park
| | |
| --- | --- |
| Time | Team |
| 7:30am | Year 5 |
| 8:30am | Year 6 |
| 9:30am | Year 7 |
| 10:30am | Year 8 |
| 11:30am | Year 9 |
| 12:30pm | Year 10 |
| 1:30pm | First XIII |
Basketball – Goold Hall
Time
Court 1
Goold Hall
7:30am
10B
8:30am
10A
9:30am
11A
10:30am
2nd V
11:30am
1st V
AIC Tennis – Mr Todd Kropp, Tennis Coordinator
It was a great turn out on a cool winter's morning for the commencement of the tennis season on Saturday. Padua College were our opposition in what was to be our first trial and last opportunity for the boys to show their skills before the proper season commences this week.
It was most pleasing to see many new players attending who did not play last year, some even in the Senior age group who had never played before, illustrating that there is always time to become involved, support the College, have fun and learn new skills.
Competition for places in teams was particularly fierce in the younger grades; thank you to all the boys who trained and trialled. Unfortunately, not all players can make the team with limited number of places available. I encourage all players who have not been successful in making teams to stay in contact with their managers; we would like to see boys be available for selection throughout season and for weeks when there are absences.
The results of the trial matches were pleasing as were the overall individual performances of each team. While we did not record final scores for all teams, I know each player showed their competitiveness and flexibility as we worked through our final selections with teams changing through each set.
A special mention should be given to the First IV team; in a tough encounter they finished in a draw with some very notable performances from Josh W and Ollie S.
The uniform for tennis players consists of the Villanova squad shirt, green Physical Education shorts, team socks (PE socks) and the Villanova sports cap. All of these are available for purchase at the Villanova College Uniform Shop. All boys will need to be in full tennis uniform for Round 1 this Saturday.
Thank you to all parents and boys who have contributed already to what will be an enjoyable and hopefully a very successful season ahead.
Ben Mowen and Andrew Slack Squads
The participants of the above-mentioned squads for the up-coming 2022/23 season have been discussed at length with the rugby coaching staff. We hope to publish the squad lists by tomorrow in the respective parent lounge and student café portals. All members are expected to participate in this year's track and field program. The complete program details will be posted towards the end of this term. Only the lists will be published this week.
Representative Sport
Nomination paperwork is now available for the following sport:
| | |
| --- | --- |
| Sport | Forms due back to Sports Office |
| Met East Track & Field | Wednesday 3 August |
Mr Craig Stariha, Director Of Sport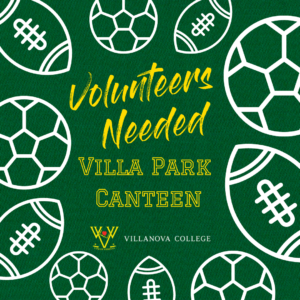 Your help is needed! All parents are asked to assist in the Villa Park Canteen this Saturday while your son/s warm-up.
Help is also desperately needed first thing in the morning preparing the food and cooking the barbecue.
Your assistance would be greatly appreciated. For information and to volunteer contact Sarah: spatterson@vnc.qld.edu.au