Last weekend Villanova College played Round 2 of the AIC chess, rugby and football season against St Peter's Lutheran College and many more in the supplementary draw. I must say I was very pleased with the overall performance displayed by our players. In terms of results, the chess boys did it tough only winning a couple of games. The competition was varied in rugby and football. Both College's enjoyed success throughout the day as the aggregate results went in favour of the opposition in football and in Villanova's favour in the rugby. Not a bad outcome to see both College's playing competitively and sharing the success.
As with all sports, some teams are doing it tougher than others, some teams are having more success than others, but I believe most boys are out there on the paddock giving it their all for the College and it is good to see. Well done to all!
The atmosphere at Villanova Park and at the opposition grounds over the past few weeks has been great. It certainly is the case that the Villanova community including players and spectators are enjoying the opportunity of being involved in the AIC footy season this year. The number of supporters who made the effort to stay and support the 1st teams was greatly appreciated and it certainly lifted the boys out in the middle. The AIC footy and rugby season is a special time where our boys really seem to enjoy the time spent with their mates outdoors playing sport. The College community does gain much satisfaction seeing its students wearing their uniforms with pride, chanting the College war cry, forming 'run-on' tunnels for each other and representing our school well both on and off the paddock. This all aids in the development of a positive school culture which has a flow on effect throughout the entire College.
Rugby and football training at Villanova Park for most teams from Year 7 – 12 seems to be working well. Having all teams train in one safe location side by side helps the coaches to work with each other and to communicate more effectively and enables them to watch all players work on their skills. Training at Villanova Park allows our skills directors to float among year levels to ensure support is given to coaches where needed. Unfortunately, there is the usual traffic congestion leaving the Park after training. Perhaps parents may consider parking on the western side of the Park behind the newly built western grandstand as not as many park in this area. When exiting from this side you simply use the bottom gate which is left open, and the line-up is not nearly as long as the Main entrance/exit.
I take this opportunity to thank those who have supported the College's decision for its students to wear full academic uniform when staying behind to support other teams.  Although there may be a difference of opinion, there is no doubt our supporters on the weekend looked good and represented our College well on the weekend and our older boys are leading the way. Well done boys!
This weekend marks Round 3 of AIC chess, rugby and football against Marist College Ashgrove. May I please ask all families to ensure that they allow enough time to travel so that the boys are present at least 30 minutes before kick-off. Arriving early is paramount to ensuring our boys are prepared and ready to go when the whistle blows.
I ask all players to dig deep this weekend and give their absolute best. Best wishes to all involved!
1st XV Rugby Game v St Laurence's – Rescheduled
As St. Laurence's College have three players gain selection into the Met East Open rugby team, which competes in trials during the weekend of Round 5 AIC fixtures v St Laurence's, the 1sts XV game has been rescheduled for Tuesday 24 May at Easts Rugby Club. As a community, the team would love your support and get as many Villanova supporters as possible to head down to Tigerland, to witness what shapes to be a classic match against our old rivals. Training for our Year 7 – Open teams will be cancelled that afternoon, and we hope the boys take the opportunity to show how good the Villanova College spirit is.
Villanova 1st XV v St. Laurence's College 1st XV- 5:00pm Easts Rugby Club.
AIC Chess, Rugby & Football Fixtures, Friday 13 and Saturday 14 May – Times and venues
All times and venues for this weekend's fixtures against Marist College Ashgrove (plus supp games) are available on the College's website.
AIC Rugby and Football team photos
All teams from Year 5 – 8 playing at Villanova Park this Saturday will have their photo taken prior to the team warming up. The times for these photos are in Parent Lounge. Please arrive 10 minutes before the scheduled time, dressed in the correct sporting apparel including boots. If you arrive LATE, sorry NO photo.
Location: Behind the scoreboard on Andrew Slack Oval
Rugby Photos Saturday 14 May – Villanova Park (Slack Scoreboard)
Time
Team
7:20am
8D
7:30am
5D
7:35am
6D
8:10am
8C
8:20am
5C
8:30am
6C
8:35am
7C
9:10am
8B
9:20am
5B
9:30am
6B
9:35am
7B
10:10am
8A
10:20am
5A
10:30am
6A
10:40am
7A
Football Photos Saturday 14 May – Villanova Park (Slack Scoreboard)
| | |
| --- | --- |
| Time | Team |
| 6:45am | 8A |
| 6:50am | 7A |
| 7:00am | 6A |
Villanova College RD 3 Photo Schedule – 14 May 2022
| | |
| --- | --- |
| 7:10am | 5A |
| 7:40am | 8B |
| 7:45am | 7B |
| 7:50am | 6B |
| 7:55am | 5B |
| 8:40am | 8C |
| 8:45am | 7C |
| 8:50am | 6C |
| 8:55pm | 5C |
| 9:40am | 7E |
| 9:45am | 7D |
| 9:50am | 6D |
| 9:55am | 5D |
| 11:00am | 6E |
St Augustine's Tour 2022
The annual exchange between Villanova College and our brother school St Augustine's College (SAC) will take place from June 20 – 22 in Sydney. Each year the exchange has students from both Colleges compete against each other in rugby, football, basketball and debating. The exchange offers an opportunity for the staff and students of both Colleges to form bonds and further strengthen our already strong relationship.
We hope to announce those who will attend this tour by the end of this week or early next week. An email containing an information letter will go home to all those who have been selected.
Please note that a schedule has not been made available. We will advertise as soon as it is complete.
AIC Cross Country Report – Mr Brian Pascoe, Cross Country Coordinator
As a community we congratulate the students selected for leadership roles with the cross-country squad for the 2021 AIC Championships. Dedication to training, resilience, effort, and conduct were the characteristics considered when choosing the leaders.
A high level of support shown to younger members of the squad is characteristic of Michael Anderson's conduct. His empathetic approach to his peers has made Michael a valued member of the Running Wildcats Cross-Country Squad. His dedication to training is also a positive influence on the squad. As such, Michael is a real inspiration to the students around him with the sense of humility in which conducts himself.
It is with pleasure I declare Michael Anderson Captain of the 2022 'Running Wildcats'.
Good luck to the following students in their leadership roles with the Running Wildcats:
Age Group Leaders
U12 – Brock Newman
U13 – Nate Lobegeiger
U14 – Christian McIlwain
U15 – Chris Anderson
U16 – Kyan Simpson
Open – Luke Schaumburg
Vice-Captain – Middle School
Vice-Captain – Senior School
Villanova's Running Wildcats Captain
With much anticipation the Running Wildcats will travel to St Patrick's College Playing Fields next Wednesday for the first cross-country trial. It provides each person with a chance to see how effective their training has been. The coaches are excited to see how good the squad is and how it compares to the other schools that will be there competing. A bus will transport the Villanova cross-country squad to and from the trial run at St Patrick's and is expected to return to the college at approx. 6.30 pm.
Year 5 and Year 6 Cross Country Report – Mr Tom Lonergan, Coach
"Rain, rain go away…" What a season, last week we were fortunate and able to train both sessions. The trial at SLC has been postponed from 11 May to the 25 May, one week before the Championship, which is on June 1.  Time is running out! I have consulted the BoM forecast and see that they believe the weekend will have little rain. I am going to schedule a trial run on Sunday. This will be held at Whites Hill Recreation Reserve, Boundary Rd, Camp Hill. The undulating terrain should provide a good running surface. It will replace the Villa Runners Club at 4 pm. We were going to have 30 Year 5's and 16 Year 6s attend the SLC Trial. I would hope to have most of these boys attend the Sunday Trial (note: this trial is not a compulsory event, just an opportunity to run a competitive race.)
My message is: "You cannot run Cross Country competitively unless you have done the hard work."
Villa Runners Club (non-compulsory) Sundays 4 – 5pm at Whites Hill Reserve, Camp Hill. This week the session will be a warmup and trial three km run through the Bush.
Lytton Trial
This event was held at Villanova Park on Thursday 5 May. A total of 25+ local primary schools; including private, Catholic and state schools, were involved. The course was changed somewhat as the going along the creek was not negotiable.
The first race was the 12 years boys and the Villanova squad included two Year 7 and three Year 6 boys. Our Year 6 boys included James Hannah 18th, Nathan Hannah 19th and Thomas McDougall 23rd.                                                            
The 11 years race is a mix of Year 6 and Year 5 boys. Harris McPherson in his first run for Villanova College finished first and was closely followed by Lawson Greenwood Year 6, who ran well for fourth place with Diezel Kennedy 9th (these three boys qualified to contest Met East) then followed Year 5 boys, Lachlan Ison 12th and Henry Short 25th.
The 10 years event is raced over two km, the distance Year 5 have to run at the AIC Championship. Max Farmer was most impressive with third place. He was followed in by Luke Williamson 15th, Jacob Aldenton 24th, Darcy Dickinson 34th, Joe Breslin 36th and Isaac Haywood 45th.
Overall the Villanova College boys gained valuable running experience in exceptionally large fields and performed creditably.
SPC Cross Country Trial – Wednesday 18 May 2022
All Cross-Country boys will be transported next week to SPC Playing fields, Curlew Rd, Shorncliffe by school bus to run over the Championship course before the big day on the 1 June. The bus will leave Shorncliffe at approx. 5.45pm and should arrive back at Villanova at around 6.30pm. A full schedule of races will be posted on the web as soon as it is sent through.
Yesterday's postponed event at SLC playing Fields, will now be held on Wednesday May 25.
 AIC Trimester 3 – Rugby League, Tennis (managers), Basketball Coaches Needed!
Currently the College is seeking coaches and managers of the above mentioned sports for the up-coming AIC Trimester 3 program. Trials will begin during the last week of this term. The season will be conducted during Term 3 as per the College calendar.
If you are keen to assist the College by taking on a role of coach or manager, please email the respective people below:
Trimester 3 Sign-Ons – Rugby League, Tennis, Basketball and Track & Field
Trimester 3 Sign-Ons are now open – For those wishing to play AIC Rugby League, AIC Tennis, AIC Basketball and AIC Track & Field please register your interest via the online sign-on form. The link will close on Monday 24 June –
https://villanova.jotform.com/tkropp/term-3-sport-sign-on—2022
A copy of this sign-on link is found on the College's website in the 'Locker Room' section.
Please Note:
Basketball
Year 5 and Year 6 Basketball is played on Friday afternoons at either 4pm or 4.50pm.
Year 7 – 12 students will play basketball on Saturday mornings.
There will be approx. four teams per year level, with eight – ten students in each team.
Tennis
Year 5 – 12 students will play tennis Saturday mornings.
There will be two teams per year level, with either four or five players per team.
Rugby League
Students can only play AIC Rugby League if they have played AIC Rugby Union or AIC Football. Rugby League coaches will view a number of Rugby Union games to commence the trial process. This will not determine the teams, as some may be playing AIC Football but will give the coaches a guide as to the quality of players we have as the majority will be playing rugby.
There will only be one team per year level in Rugby League. The teams will be – Year 5, Year 6, Year 7, Year 8, Year 9, Year 10, 1st Rugby League (combined Year 11 and Year 12 team), probably around 20 players per age group
Track & Field
Students can participate in any other team sport as well as Track & Field. Track & Field training will commence halfway through Term 3 and will be on a Tuesday and Thursday afternoon at Villanova Park.
College Web-Site – Sport Page
The weekly reports indicate that many people are using the College website each week to gain access to important information pertaining to Villanova College Sport. Please continue to use this site as information regarding draws, by-laws, coaches contacts, important notes/dates etc. are posted and updated regularly. The use of the Villanova App is also a must.
AIC Golf – Mr Matt Conlan
Villanova's best golfers teed off in the early hours of Monday morning at the demanding Nudgee Golf Club. The constant rain and the squally winds failed to dampen their spirits and the team was confident they could recapture the highly sought after Balharry Shield. Looking down each and every fairway was a daunting experience. If the players' skills and nerve held together and they managed to avoid the water and sand hazards littering the fairways, undulating greens threatened to bring them undone when they pulled their putters from their bags.
Because of the uncertainty of the weather, the competition was changed from a Stroke event to Stableford, to ensure steady play throughout the morning. Playing consistently throughout, Thomas Winn again carded the best overall score of the day with an impressive four over par (32 points). He was well supported by Tate Ramsay (33 points), Ben Pickering (30 points), Henry Wright (29 points) and Michael Gordon (27 points). The overall winner was determined by adding the four best scores together from each team. Villanova finished in sixth place on 124 points, 31 points behind overall winners, St Peter's Lutheran College.
Once again, our boys showed fantastic sportsmanship and were exceptional representatives of the College throughout the day. There is no doubt that we will be back again in 2023 with the aim to climb back up the leader board and regain the coveted shield. Congratulations gentlemen.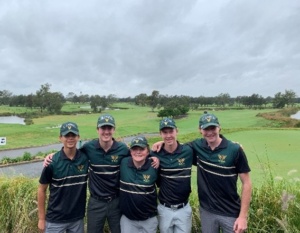 Sports Club – Canteen Roster
On behalf of the Sports Club we would like to thank all those who have been kind enough to assist in the canteen over the first two rounds of the competition. Unfortunately, it seems the same small group of parents are chipping in each week, working hard to provide a service that many of you use. 30 minutes is all we ask of you to get involved and help raise funds that your children will benefit from. It gets a little disheartening when we have so many people from our community at Villanova Park, yet so few donate a small amount of time. Please just pop in and ask if they need any help. Just because it may not look busy does not mean prep work or cooking needs to be done. It really is a great way to immerse yourself into the Villanova College family. This weekend Villanova will host all the Year 5 – 8 games at Villanova Park against Marist College Ashgrove. Please see canteen roster below.
Rugby/Football Canteen Roster

Villanova Park – 14 May

We ask parents to assist when their son arrives for warm up 30 minutes before their scheduled game.

All parents who can assist are asked to report to Sarah Patterson

Time
Rugby Parents
Football Parents
7.00am
8A, 7A, 6A, 5A
7.30am
8D, 6D, 5D
8.00am
8B, 7B, 6B, 5B
8.30am
8C, 7C, 6C, 5C
9.00am
8C, 7C, 6C, 5C
9.30am
8B, 7B, 6B, 5B
10.00am
7E, 7D, 6D, 5D
10.30am
8A, 7A, 6A, 5A
11.00am
6E
AIC Rugby
Last weekend we had some terrific results against a number of Colleges with 17 wins, six losses and two byes, but our main draw was against SPLC. Unfortunately, our 1st XV went down by one try, with some key injuries certainly impacting our squad. Many boys stood up despite this and showed terrific resilience and determination to grind out the 70 minutes. Our   Year 5, 6 and 7 boys continue to improve each week and last weekend had one loss out of 11 games. The 7A team managed to win 102 – nil, these boys are showing why they have been so tough to beat the last few years. Some great results also amongst our Year 9 and Year 10 teams, with these boys bouncing back from some tough losses against Iona.
This weekend we come up against a very strong College in Marist Ashgrove. Our younger years will be playing at Villanova Park and our older boys out at Ashgrove. After some very tight games against them in the trials, I know all teams want to come away with strong victories this weekend. It would be terrific to pack out Ashgrove this weekend to help get our Firsts over the line in what is sure to be a very tough game.
A reminder to all players that you must advise your coach if you cannot attend training.  We are still having teams try and fill positions for games to be played that weekend at the very last minute. This makes it difficult for us to get out the team lists, as coaches are still unsure where players are. If you have signed up to play, you have committed yourself to the entire season; trainings and games.
Let's continue to stay after your game to support the other teams and ensure you are at the ground early enough to warm up and proper prepare for the game ahead.
Best wishes to all teams for Round 3 versus Marist College Ashgrove.
 Team of the week Round 2
| | |
| --- | --- |
| Name | Team |
| Dom Bukowski | 5A |
| Finlay Griffin | 6A |
| Luis Stagg | 7A |
| Harry Plozza | 8E |
| Neo Pace | 9B |
| Patrick Grigson | 2nd XV |
| Flynn Thomas | 2nd XV |
| Harry Brown | 5B |
| Morgan Staley | 10C |
| Jack Perrier | 4th XV |
| Oliver Fyfe | 6D |
| Alex Everding | 5C |
| Christian Porreca | 10A |
| Dante Febo | 1st XV |
| Jackson Moloney | 1st XV |
AIC Rugby Results v St. Peter's Lutheran College
Team
1 v IONA
2 v SPLC
1st XV
26 – 25 W
29 – 19 L
2nd XV
12 – 6 L
17 – 12 W
3rd XV
L
14 – 0 L

v ATC 1st VX

4th XV
L
12 – 0 L

v ATC 2nd XV

5th XV
17 – 12 W

v MAR 7th XV

10A
20 – 5 L
12 – 7 W
10B
24 – 22 L
24 – 12 W

v ATC 9/10A

10C
33 – 12 W
43 – 14 W

v MAR 10E

10D
50 – 5 L

v Padua

9A
48 – 5 L
37 – 7 W
9B
65 – 7 L
38 – 12 W

v ATC 8/9A

9C
46 – 7 L
30 – 0 L

v MAR 9D

8A
17 – 0 L
BYE
8B
19 -7 W
?
8C
32 – 7 W
29 – 7 W

v MAR 8D

8D
L
BYE
8E
48 – 0 L
?
7A
7 – 7 D
102 – 0 W
7B
0 – 0 D
34 – 7 W

v MAR 7C

7C
L
24 – 17 W
6A
38 – 17 W
36 – 0 W

v ATC 6A

6B
19 – 17 W
56 – 0 W

6C
41 -5 W
35 – 20 W

v MAR 6D

6D
59 – 12 W
50 – 5 L

v IONA 6C

5A
12 – 7 L
40 – 0 W

v ATC 5A

5B
20 – 10 W
58 – 10 W

v ATC 5B

5C
39 – 27 W
27 – 5 W

v PAD 5D

5D
50 – 15 W
19 – 15 L

v IONA 5C

AIC Football – AIC Football Co-ordinator, Mr Anthony Kemp
The latest round against St Peters was a successful round with many teams putting in great performances. Overall, we enjoyed 18 wins, seven losses and two draws across the games on the weekend. The season is now beginning to take shape with a number of our sides off to a great start.
The first XI boys had a tough task on their hands coming up against an in-form St Peters side. Our boys went into this match with the knowledge that this was always going to be a tough game and that St Peters would be up for the challenge. Both sides came into the match off the back of strong opening wins and previous years' tussles still in the memory. Villa started the match strongly in what were tough conditions under foot. The early possession and field position were in Villa's favour and eventually paid off with a great goal from Zac Vedelago scoring from a free kick. From this point on the match became a tight tussle with both sides looking for opportunities on goal. Unfortunately, just before half time St Peters scored a goal back to go into half time with the momentum. The second half continued to be a scrappy affair with both sides having limited chances on goal. Unfortunately, a penalty was given away in the box with twenty minutes to go which St Peters were able to put in the back of the net to go 2-1 up. The Villa boys continued to push but ultimately were unable to get that goal back with the game finishing 2-1 to St Peters. Whilst this is no doubt not the result the boys were after there is still plenty of time left in the season to make a charge for the premiership
This week will see us take on Ashgrove in Round 3 of the football. Our trial only a few weeks ago will still be fresh in the memory of all teams and hopefully our Villanova teams go out there and give it their all. The Years 5 – 8 football sides will be playing at home this week at Villanova Park and the Years 9 – Opens teams will be playing away . Please note that there are scheduled photos for teams playing at Villa Park this Saturday – please check the photo schedule.  Please ensure that all parents and players check the schedule and playing times carefully this week and are at the game 30 minutes prior to kick off. Good luck to all teams in chasing that victory this weekend!
AIC Football Results v St Peters Lutheran College
Villanova College – Football Results 2022
Team
1 v IONA
2 v SPLC
1st XI
W 6-0
L 2-1
2nd XI
L 3-1
W 4-0
3rd XI
L 3-0
W 3-1
4th XI
W 4-0
W 4-2
5th XI
W 2-0
L 4-2
10A
L 8-2
L 2-1
10B
L 2-0
L 4-0
10C
W 4-1
W 2-0
9A
W 3-1
W 4-0
9B
D 2-2
W 5-0
9C
L 2-1
W 5-3 v MAR 9D
9D
L 2-0 v IONA 9E
W 4-1 v MAR 9E
8A
L 7-0
L 2-1
8B
L 3-0
L 3-1
8C
L 3-0
L 3-1
7A
W 5-0
W 5-1
7B
W 4-0
W 3-0
7C
D 4-4
W 7-0
7D
W 6-1
D 1-1
7E
L 7-5 v PAD 7E
BYE
6A
W 4-1
W 12-1
6B
W 1-0
W 3-2
6C
W 2-1
D 1-1 v MAR 6D
6D
W 6-1 v PAD 6E
W 3-1 v MAR 6E
6E
L 7-0 v SPC 6D
W 4-2 v SLC 6E
5A
D 3-3
W 9-1
5B
L 5-3
W 5-0
5C
L 4-2
W 4-1
5D
WOF v PAD 5F
L 13-1 v MAR 5D
AIC Chess – Mr Jack Lamb and Mr Nic Verity, AIC Chess Co-ordinators
Round 2 saw us face off against the always strong St Peter's side. While SPLC Captain Terrence led his 1st IV to a convincing win, the Villanova Senior B team refused to drop even a single game throughout the night. For the Seniors, it came down to the A teams and after a couple of nail-biting finishes with players on both sides getting into time trouble, SPLC managed to get the better of us and claimed a hard-fought win. The Junior teams drew with one win apiece and our Intermediate teams played their toughest games of the season so far and both the A and B teams were defeated.
We welcome back Mr Alex Stahnke, as the Villanova chess coach this year. Training this week will begin on Thursday morning for the Juniors at 7:15 am in V13 and Seniors on Friday morning at 7:15 am in T10. Intermediates are welcome to come on either day. Please note that training days will change to Monday (Juniors/Intermediates) and Tuesday (Seniors/Intermediates) mornings from next week onwards and all training will be in the STEM lab. Intermediates are still welcome on either day. We encourage the players to come to as many break time practise sessions as possible with a focus on improvement.
AIC Chess Results Round 2
Villanova College – Chess Results 2022
Team
Rd1 v IONA

Rd 2 v SPLC
Open
7-9 L
2-14 L
Senior A
6-10 L
7-9 L
Senior B
10-6 W
16-0 W
Intermediate A
5-11 L
0-16 L
Intermediate B
7-9 L
4-12 L
Junior A
9-7 W
6-10 L
Junior B
12-4 W
13-3 W
Mr Chris Everding, Director of Sport (Acting)