It was great to see the entire College was able to participate in a full round of AIC Rugby and Football trials over the weekend against Marist College Ashgrove. They are a tough opposition, and the boys will hopefully benefit from a tough trial leading into Round 1 this week against Iona College. Ashgrove have always been the benchmark in many sports and having them in a trial will set the platform for training over the season. This was the first real chance for coaches to work through some combinations and positional changes. Villanova is not a rugby or football club, and we don't have the luxury of four to five weeks of preseason with trials. This in turn places some pressure on coaches to make team selections without having all the training sessions and trials rounds available to them.
Our coaches have been busily sorting through all players given the time frames and sessions given to them. As Round 1 teams are announced this week, the reality is, some boys will be disappointed with their grading. The best way to deal with this matter is to show resilience and to work even harder at training and during the game each week to prove to your coach that you are capable to move up in the gradings. The coaches have been asked to monitor all players and change teams weekly based on player performance, attendance and attitude, if warranted. A player's position in a team is not guaranteed and we strongly encourage our coaches to reward those who show improvement and to challenge them.  Probably the biggest challenge is faced by our Year 5 coaches in both rugby and football. Boys may have played a number of years at club, but this doesn't necessarily mean they have better skills than others. Rugby clubs don't do gradings and boys stay in the same team for a number of years.
As stated in last week's Villa View, we remind all families that we do have a long weekend approaching when we play Iona College in Round 1 this weekend. We ask that all players make themselves available to play before they depart on any family trips away. We are very grateful that nearly all families were able to commit to the games last weekend – thank you! Understandably, if we have many players absent, our teams will be under strengthened and the full complement of teams will be compromised. We are hoping that all players will stay and play before enjoying a well-earned break with family and friends.
Please find below information pertaining to the College's uniform expectations on game days during the season and a separate article pertaining to matters of poor behaviour and sportsmanship.  Unfortunately, many students were still wearing the old jerseys on Saturday which the College would like rectified as soon as possible.
Best wishes to all this weekend against Iona College. Enjoy!
Poor Behavior and Sportsmanship
First and foremost, Villanova College is a place where we strongly promote and uphold Catholic traditions and values. It is the foundation on which we build our College.
When dealing with teenage boys during a footy season where things can sometimes get heated, we can expect emotions and tempers to flare on occasions. As a result, the boys under our care can, and do get things wrong, and they do make poor decisions and judgements from time to time. Our job as educators (whether that be parents, teachers or coaches) is to address these matters with our sons/students/players and lead them to be better men in the future, by showing them how to deal with issues appropriately.
The College has and will continue to enforce appropriate expectations/standards and we will teach the boys what good behaviour looks like. We ask for your support in working in partnership with the College to stamp out poor behaviour. If you see your son behaving poorly whilst he is representing the College and his family, please address the matter with your child.
Sport provides another platform where teaching and learning occurs, these situations do not simply exist in the classroom alone.
Red Cards
Should a player be red carded from the field at any stage throughout the season, they will incur an automatic one match suspension. This is an AIC directive and all players whether they were in the wrong or it was a case of mistaken identity, are to take the consequences on board and own their actions.
As a College, we will have a meeting with the player, the Acting Director of Sport and the relevant Head of School, following the Red Card to work through the behaviour and give assistance in helping the player move forward, own their behaviour and provide strategies as to how he can improve his own standards.
'The only thing necessary for the triumph of evil is for good men to do nothing' – Edmund Burke
 Uniform Expectations – Players and Spectators
All players are to wear the complete rugby and football playing uniform as published below. Football players should not wear the basketball or PE shorts; they must wear the College football shorts.
Please Note
Football players must wear the Villanova football shorts not the Villanova basketball shorts, which do look similar.
The Rugby and football socks are the same
Students may train in any coloured gear
Important Information for Year 11 and Year 12 Rugby and Football Players
Due to certain sizes of rugby and football jerseys not being available, a decision has been made that ALL Open teams will wear their gold jersey from last year.

We apologise for this inconvenience, but we are unsure as to when new stock will arrive.
Year 11 players are to keep their new jersey if it has already been purchased, as this will be worn in competition games next year.  It can also be used as a training jersey this year.
Year 12 players may return their new jersey to the Villanova College Uniform Shop for a FULL REFUND, if they wish to. All Open players are to have the new playing shorts and socks. No other shorts or socks will be accepted.
Please note that all boys who attend the Year 9 – 12 rugby and football fixtures on the weekend as a spectator or player must wear the College academic uniform. Therefore, students are not permitted to attend their games wearing the playing uniform. If students intend to stay and support other teams at the Year 9 – 12 venue they must get changed into their academic uniform after their game, this includes ties and blazers for Senior School students.
Students who are playing at a Year 5 – 8 venue may be permitted to wear their playing uniform before and after their games. However, if the younger boys (Year 5 – 8) wish to travel and support the Year 9 – 12 matches, particularly the First games, they must change into the academic uniform.
It is paramount that the parent body supports the College to ensure that these expectations are met. Wearing the correct uniform appropriately is the standard which is expected.
AIC Chess, Rugby and Football Round 1 v Iona College, Friday 29 April and Saturday 30 April – Times and Venues
All times and venues for Round 1 this weekend against Iona College are available on the College's website. Please note that most of the Year 5 – 8 football and rugby teams will play at Villanova Park and most of the Year 9 – 12 football/rugby teams will play at Iona.
AIC Golf Championship
The annual AIC Golf Championship will be contested on Monday 9 May at the Indooroopilly Golf Course.  We are currently seeking nominations from students in Year 5 – 12 who have a current AGU Handicap and Golf Link Number. Each College must submit a team consisting of five players. These players will be escorted by a staff member on the day of competition. Transport to and from the venue will be arranged by the College. All interested students are asked to see Mr Everding to register. The final team will be selected based on handicaps. Nominations close tomorrow, Friday 29 April. The final team will be selected by Wednesday 4 May.
AIC Rugby, Football and Chess Teams
Please be aware that all AIC teams will be posted on the College's website from week to week. All coaches have been advised to select teams based on player performance, attitude and attendance at training. Therefore, the College strongly encourages the movement of players from team to team each week if warranted and no position from 1st to Year 5 is guaranteed throughout the season (especially the 'A' teams and 1st teams).  We hope this encourages a friendly rivalry for positions within a cohort, but we also hope this rewards those players who have trained hard and performed well.
AIC Chess
Last Friday was spent playing a lot of chess. The boys had coaching, then some practice and finally games against Ashgrove. It was a chance for us to explore positions and see how we would fare during the season. There were some good signs for the Seniors and Juniors in particular, but we know we have some work to do for the Intermediate teams, so practice, practice, practice. We are looking forward to tomorrow and hope to start the season with a win against Iona.
Term 2 Games
Once the teams have been selected, the first round of games will commence on Friday 29 April. For away games, the boys will be transported by bus and returned to Villanova, where you will pick them up. Unfortunately, we cannot give you accurate times for pick up as it depends on many variables, but it is usually around 6.30pm. We drop off at the main gate in Sixth Avenue. We are usually provided with afternoon tea, so if dietary needs are required, please inform your relevant teacher and we will make sure that it is followed. If you wish to pick up your sons from an away school, please inform the teacher and let us know when you are leaving as we do a head count and cannot leave until we are sure everyone is catered for.
Home games usually finish earlier but again no guarantee of time. We play in the Tolle Lege Library, so boys may be collected from there.  It is important that you let us know that you are taking your son. Once all the Juniors are finished which is usually earlier, they can be collected after they have cleaned up and put everything away. If your son has another sport to attend, they may leave when they are finished their games, but again they must inform us that they are leaving.  The schedule is listed below for you.
| | | |
| --- | --- | --- |
| Date / rounds | School | Home or away |
| Round 1, April 29 | Iona | away |
| Round 2, May 6 | SPLC (St Peter's) | home |
| Round 3, May 13 | Ashgrove | away |
| Round 4, May 20 | SPC (St Pat's) | away |
| Round 5, May 27 | SLC (St Laurence's) | home |
| Round 6, June 3 | SEC (St Edmunds) | home |
| Round 7, June 10 | Padua | away |
| | Junior teams do not play St Edmunds as they do not have a Junior School | |
Practice days
Juniors will continue as Wednesday and Thursday in break 2 in V13.
Coaching day before school will be confirmed soon.
Intermediate and Seniors: T10 will be open at morning tea every day and boys are expected to attend at least two sessions for practice.
Coaching before school is to be confirmed soon.
Just a reminder that the boys need to be in their formal uniform, including ties, for the games. If your son is unable to play, please inform the appropriate teacher so that reserves can be arranged. All boys are expected to attend on the night and will play if the opposing school brings reserves or C teams.
Contacts are:
Junior:  Mr Matthew Conlan – mconlan@vnc.qld.edu.au
Intermediate or Senior:  Ms Leah Belson  –   lbelson @vnc.qld.edu.au
Mr Jack Lamb and Mr Nicholas Verity can also be contacted for any level  – jlamb@vnc.qld.edu.au   or   nverity@vnc.qld.edu.au
Good luck for the season.
AIC Football – Mr Anthony Kemp, AIC Football Co-ordinator
Last weekend saw our first and only trial take place in what was a very much needed hit out for our football teams. Results from the trial against Marist College Ashgrove indicate that we can have a strong season and be very competitive once again across the board. Our First XI boys had a pleasing 2 – 2 draw against Ashgrove, but will no doubt be looking to improve when they match up again in a few weeks time. The First XI boys will be looking to continue their good form coming into the first AIC match of the season against Iona this weekend. It would be fantastic to see as much support as possible for the boys in their first game of the season at Iona. I would like to wish the First XI all the best for their season ahead.
This weekend is the official first round of the AIC Football season and we will be matching up against our close rivals in Iona. Our Year 5 – 8 teams will be playing at home against Iona whilst our Years 9 – Opens teams will be away at Iona. Could I please ask all players and parents to check the schedule carefully for venues and times? It is imperative that all players come focused and ready to perform to the best of their ability and start the season off in the strongest possible manner. To help with this, players need to ensure that they are at their venue half an hour before kick-off to warm up and prepare with their team. All players are reminded to wear the new Villanova Football (except Year 6) uniform with boots and shin guards to their games.
Good luck to all of our teams (in particular our Year 5 boys) for their first official AIC football matches of the season!
AIC Rugby – Mr Adam Fry, AIC Rugby Co-ordinator
Villanova Park will play host to Iona College for Round 1 in the AIC rugby competition for our younger boys this Saturday. Our older boys will be out at Iona, so it would be fantastic to see many boys heading out to support our seniors. The Firsts had a terrific trial against Marist College last weekend, so it would be great to see many boys out cheering them on.
It will be a tough assignment for our players this weekend and even though our preparations have been hampered by Covid and the weather, the boys are keen to get out there and kick off the season proper. Our trials last Saturday went well, and the coaches have been making the necessary adjustments and will put the final pieces together this afternoon during training. Team changes can be made weekly, and selections are not just based on performance.
Boys are to be mindful of their attitude to other players and their coaches at training and during matches. Negative comments towards teammates may result in players being removed from a team and placed somewhere else. It is important regardless of ability levels that we respect all players and remember that we are all on the same team. Their behaviour is also on display for everyone to see or hear and some boys may be taken from the field if they are not able to control their emotions. The key thing we look for in the boys is not how they react but how they respond, and these issues will be addressed by our coaches.
A reminder to keep your communication open with all your coaches, there are still many boys not attending training or letting their coaches know their availability. It is important to your team and coaches that you make them aware of any issues making training or games.
Please also be aware that all team lists for the weekend's fixtures will be posted on Parent Lounge and fixtures and training schedules on the College Website.
Good luck to the boys playing at Villanova Park and also to our 9 – Open students playing at Iona College, particularly the Year 5s, as they play their first competition game in the Green and Gold.
Villanova Park Canteen – AIC Rugby and Football
The Year 5 – 8 rugby and football games will be played at Villanova Park this Saturday. We are asking for parents to help by volunteering their time to help serve and/or cook. The barbecue will fire up at 6.30am and it is usually in the first hour that we need the most assistance to prepare and cook the food. Please drop your son off and help if you can.
Although at times the canteen/barbecue may look like they have enough helpers, please come and offer your time as some of those volunteers may need to get to their son's games.  The canteen/BBQ during the Football/Rugby season is the Villanova Sports Club's main source of income and it can only operate with the help of Villanova College  parents (both Football and Rugby).  So please come along and help, meet some new friends and catch-up on what's going on around the school. We hope to see you on Saturday.
Rugby/Football Canteen Roster

Villanova Park – 30 April

We ask parents to assist when their son arrives for warm up 30 minutes before their scheduled game.

Time
Rugby Parents
Football Parents
7am- 8am
5D, 6D
5A, 6A, 7A, 8A
8am- 9am
5C, 6C, 7C, 8E
5B, 6B, 7B, 8B
9am- 10am
5B, 6B, 7B, 8C
5C, 6C, 7C, 8C
10am- 11am
5A, 6A, 7A, 8B
5D, 6D, 7D, 7E
11am- 12pm
8A, 10D
 Dogs at AIC Sporting Venues
A reminder to all parents that due to Health and Safety requirements, All AIC Sporting venues are dog free venues including Villanova Park.  Please do not bring your dog!
AIC Cross Country – Mr Brian Pascoe AIC Cross Country Co-ordinator
On Thursday 5 May, several members of the cross-country squad will compete in regional trials at Minnippi Park. Good luck to all boys who are competing, the application at training thus far in the season will hold you in good stead.
Dedication to training, effort and conduct are the characteristics of the students currently training with the cross-country squad. Although, the level of participation has been good, further runners in the Under 15 and 16 age groups would benefit the squad. I challenge boys in those age groups, especially students fit from playing other sports to speak to either myself or Mr Roache about how you can get involved.
The level of enthusiasm displayed in the running training has been infectious for the whole squad. The following students have really impressed with their effort, intent, and commitment to training Thus far in the season. Developing a great love for running has caused their performances to improve significantly, and this is a real inspiration to the students around them.
I look forward to getting a gauge on the performance of the cross-country squad at the warm-up meets scheduled for the 11 and 18 May.
Year 5 and Year 6 AIC Cross Country – Mr Tom Lonergan, Coach
On Monday 2 May training will again be held at Whites Hill Recreation Reserve, Boundary Rd, Camp Hill. (Meet at cricket clubhouse). Boys serious about representing Villanova in the AIC Championships need to attend this training as we have just five weeks until the Championship – Boys with Big Hearts run Cross Country.
A reminder that the Villa Runners Club will continue running every Sunday during the Cross-Country Season at Whites Hill Reserve from 4pm – 5pm. Meet at the shelter on the cricket fields.
Lytton District Cross Country
The Lytton District Cross Country trial will be held at Villanova Park on Thursday 5 May. Selections are being finalised by Mr Lonergan and Miss Roberts and the students will be notified by Mr Fry tomorrow. The boys who have been selected will be given a note regarding the requirements for the day. Villanova will be running the canteen at the trial, and we will be looking for parents of the runners to assist with preparation and serving throughout the morning. A note will accompany the boys nominated regarding this request.
Training in the coming weeks will be held on Monday and Wednesday 3.15 – 4.30 pm. Where there is a clash with Villanova football training, the boys are expected to attend at least one of the two sessions. There is a non-compulsory session held, 4 – 5pm, at Whites Hill Reserve on Sunday afternoons for boys wanting to do an extra session
Representative Sport
Congratulations to Joseph Wilson (Year 12) and Amarco Doyle (Year 11) who competed in the Queensland U18 team at the recent National Basketball Championships in Mackay. Queensland were victorious, so we now have two current National Champions at our College.
Congratulations to Harry Rouhliadeff (2021), who was a member of the victorious  Queensland U20 Basketball Team at the recent national titles in Wollongong.
Well done Harry!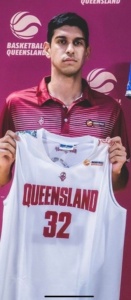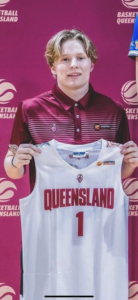 Mr Chris Everding, Director of Sport (Acting)