At this time, the College Leadership Team is working together to frame the strategic priorities for the future. There has been an initial consultation with staff members of the College and the issues tabled and noted. You will recall a whole of College survey was conducted in 2018 by MMG and the results of the survey provide feedback on many issues to inform our future planning.
One of the key priorities for the future is the wellbeing of staff and students.  The World Health Organisation defines wellbeing as a state in which every individual realizes his or her own potential, can cope with the normal stresses of life, can work productively and fruitfully, and is able to contribute to her or his community (WHO, 2016).
We know there is a strong link between student wellbeing, learning outcomes and the life trajectory of students. We recognise that the wellbeing of young people is improved, and their learning outcomes optimised, when they feel connected to others and experience safe and trusting relationships.
Staff wellbeing is a critical factor in building a stable environment for students. Ultimately, a healthier workforce will positively influence student engagement leading to better learning outcomes.
STUDENTS AND ROAD SAFETY
I received an email from a member of the public who took the time to inform me of her concerns regarding students from the younger grades who are running across roads in front of traffic and being cheeky to drivers who are alarmed at their antics. I have asked our staff to address this matter with our students. I also think it is important parents reinforce with their sons the danger of running across four lanes of traffic around school pick up times. We know boys struggle to foresee consequences for their actions at times, and it is the obligation of the adults in our community to point out the dangers.
VILLANOVA BUS
As part of the contract the College has in place with Belbaker Bus Company, we were offered the opportunity to have one of their buses wrapped in the colours of Villanova College based on our design. I am pleased to say we have completed the project and the wrapping of the bus is a stand-out. I am sure the bus travelling across Brisbane will continue to place Villanova College in the minds of families.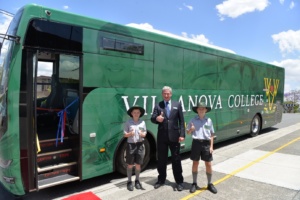 SENIOR STUDENTS
Our Year 12 students are currently completing their final assessment tasks and will conclude this phase next Tuesday 12 November. The Senior Formal will be held at the Hilton Hotel on Tuesday 12 November. On Thursday 14 November, the Year 12 students will be farewelled from the College at a formal whole of College Assembly to be held in Goold Hall. On Thursday evening the Year 12 students and their families will gather for the Graduation Mass and ceremony once again in Goold Hall.
Please keep our Year 12 students and their families in your prayers and thoughts as they begin the final week of their secondary schooling.
PRAYERS PLEASE
We keep in our prayers and thoughts the family of Mr Tony and Mrs Linda Rolls following the death of Tony's mother, Kathleen Rolls, grandmother to College Captain, Matthew Rolls and Dominic Rolls (Year 10). We also keep in our prayers the family of Mr John and Mrs Judy Krasniewicz (staff) following the death of John's mother Olga last night.
"May God hold each of them gently in the palm of his hand."
You have made us for Yourself O Lord
And our hearts are restless until they rest in You.
God bless
Mr Mark Stower, Principal