Dear Members of Villanova College Family,
The Gospel reading last Sunday saw Peter ask Jesus," how often must I forgive those who wrong me, as often as seven times?" Jesus answered, "Not seven, but seventy-seven times." In other words, here is no limit to the amount of times that we are to offer forgiveness.
It can be difficult at times to extend forgiveness. I am sure we have all experienced times where our stubbornness prevents us from taking the step to say sorry and to forgive those who have 'wronged' us.
The challenge for our Catholic community is to be an example of God's love and forgiveness as we forgive others. It is in the Our Father that this gospel is found: 'forgive us as we forgive those…' We receive God's pardon and forgiveness freely without question or limit and we are asked to share this forgiveness with others graciously, freely and without question.
The great mystery of forgiveness is that the more we share it- give it away, as it were, the more it grows and spreads. But it does require a very determined decision on our part; we need to want to forgive the other person and we are called to take at least one small step as we reach out and as the gospel tells us – forgive our brother and sister from our heart.
Staff Senior Banquet
Following the required COVID-Safe Plan for the 2020 Staff Senior Banquet, our staff and Senior students enjoyed a wonderful evening together last Friday. Students were recalling their first years at Villanova College and sharing the memories prompted by the display of class and sporting photos that flicked across the screen. Our staff heard many stories that brought out laughter as well as some surprised looks as the boys shared stories of classroom antics with their usual candour.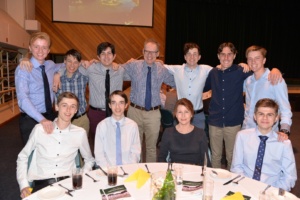 A special thank you to the team of Year 12 parents who did a terrific job serving the food and supporting the caterers. Thank you to Mr Tony Rolls, Year 12 Pastoral Area Leader for his organisation of a great evening.
Year 5 and Year 7 Welcome Evenings
This week we have welcomed to the College new families who will be commencing with us in 2021. Many families beginning their association with Villanova College are new to our community and I extend a very warm welcome. I have assured our new families of the support of our Villanova College family during the next eight years as together we develop the young boys into fine young men.
Enrolments 2021
A reminder to all our existing families it is a necessity to provide a term's notice if you have decided to not to continue your son's enrolment at Villanova College in 2021. I appreciate in these uncertain times it may be difficult to know future movements related to employment and transfers. However, our budget planning is dependent on accurate enrolment data, so please contact the College if you need to provide notice for 2021.
Term Four 2020
Term Four 2020 will commence on Tuesday October 6 for all students. Term Four also see the students returning to summer uniform and the ties and long trousers can be packed away until next year. Our Senior students will continue to wear their Senior tie during the remainder of the year.
I wish all our students and families a safe and enjoyable break over the September holidays.
Prayers
We offer our prayers and thoughts to the Ellison family following the death of Mrs Cecily McMahon,  mother of Tim ('80), Gerard ('89), grandmother of Tom Ellison ('10), Ben Ellison ('13), Luke Ellison ('17) and Andrew Ellison (Year 10 2018).  Cecily was married to Mr Ed McMahon, architect of many Villanova buildings including Mendel Hall, Goold Hall, and the priory (just to name a few).  She was the craft convenor at many of the International Carnivals held at Villanova in the 1980s.
We also offer prayers to the Gifford family following the passing of Mr Peter Gifford, grandfather to Riley Gifford in Year 6.
May their souls and the souls of all the faithful departed through the mercy of God rest in peace. Amen
We also keep in our prayers and thoughts Fr Peter Wieneke OSA who has had a short stay in hospital for treatment and a few weeks of recovery. We wish him a speedy recovery.
You have made us for Yourself O Lord,
And our hearts are restless until they rest in You.
God bless
Mr Mark Stower, Principal