Dear Members of the Villanova College Family,
This Friday we celebrate the Feast Day of St. Augustine. Born in the year 354 CE,  Augustine of Hippo was a man with a restless heart. He was a God-seeker, philosopher, convert, contemplative monk, prolific writer, busy Bishop and theologian. His quest was to make sense of himself and humanity before God.
Augustine had extensive experience of educating young people in his early years, having taught in a number of cities and it was during these experiences that he struggled with the wayward nature of youths. Augustine moved to Milan and came under the influence of the Bishop of Milan, Ambrose who had a profound effect on the young Augustine.
The restless heart of Augustine prompted a searching, a commitment to truth and love and an unrelenting desire to engage in the mystery of God. It is a journey of discovery we are all invited to take. And like most journeys it is one full of twists and turns, of stops and starts and sometimes even wrong directions.  The destination is our own self-discovery of "who am I" and in searching our inner self we find the mystery of God.
This Friday we will celebrate the life of St. Augustine and remember his contribution to our understanding of our Catholic faith and our human condition.
College Captain 2021
Following selection processes and voting by the Year 11 student body, I am pleased to announce that Louis Henderson has been elected to the position of College Captain (elect) 2021. Louis has accepted the position and he is honoured to be trusted with this important role. We congratulate Louis and I have assured him of our support during 2021.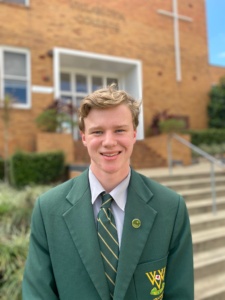 Pupil-Free Day
Please be aware Friday 4 September will be a pupil-free day due to staff being involved in the quality assurance processes conducted by the Queensland Curriculum and Assessment Authority.
COVID-19
Thank you to all our families for your understanding during these uncertain times. I am aware that many students and staff are remaining at home when displaying any symptoms and undertaking testing for the virus. Students and staff are then remaining at home until the test result is returned, and all symptoms cease. To date we have not had any positive results.
We continue to encourage all members of our community to maintain good personal hygiene and especially the practice of washing hands with soap and water regularly. In every classroom hand sanitiser is readily available and there are a number of hand sanitiser stations around the grounds.
The guidelines for sport on Saturday are very clear and I again thank our families for their adherence to these guidelines. We know these guidelines place restrictions on families being present at sport. However, the alternative in the case of an outbreak is far worse for all concerned and if we all follow these guidelines, we can maintain schooling, sport and some resemblance of normalcy.
Chickenpox Alert
Over the past few weeks, the College has had several confirmed cases of Chickenpox in the Junior and Senior Schools.
I encourage parents to access the following link to information provided by Queensland Health:
http://conditions.health.qld.gov.au/HealthCondition/condition/14/217/23/Chickenpox-Varicella
Chickenpox starts with cold-like symptoms such as a mild fever, headache, runny nose and cough. A day or two later a rash begins, starting as small pink blotches but rapidly progressing to itchy blisters which usually last three – four days before drying out and turning into scabs. Please note that the booster chickenpox vaccine is not included in the funded national schedule, so parents may believe their child is 'fully vaccinated', when in fact, they may not have had their booster.  Please consult your GP for further advice.
Given the current COVID-19 pandemic, if any of these symptoms are present, I would advise parents to seek immediate medical attention for their son/s.
I thank parents for remaining vigilant and supporting the Villanova College community by keeping their son/s at home until they have been deemed medically fit to return to the College.
Social Media Presentation
I dropped into the Year 10 Form meeting last week to listen to Mr Brett Lee speak about cyber-bullying and social media. You could have heard a pin drop the boys were so focussed on what was being presented.
Mr Lee, a former member of Queensland Police who spent 16 years in the Child Exploitation Unit, made a number of important points to the students on the following topics.
Cyberbullying and the law
Sexting and sexually explicit photographs
Identity theft
Digital reputation
Using the internet effectively
Mr Lee has also written a book, "Screen Resolution: The book to enlighten and empower parents".
I encourage parents of our Year 10 students to raise with their sons this important presentation and ask them what were the key messages and 'takeaways' from the talk.
Time to commence revision program
With exams just around the corner, it is now time for students in the Middle and Senior Schools to begin their revision of work covered over this term. As we move towards the final weeks of Term Three students will be completing assignments and preparing for upcoming exam block.
Prayers Please
We keep in our prayers the Joseph family following the death of Hegel Joseph – Senior 2018. We keep his family and the Senior students of 2018 in our prayers and thoughts at this sad time.
May his soul and the souls of all the faithful departed through the mercy of God rest in peace. Amen
You have made us for Yourself O Lord
And our hearts are restless until they rest in you.
God bless
Mr Mark Stower, Principal