Dear Members of the Villanova College Family
In the current climate of uncertainty surrounding COVID and lockdowns we need to be mindful of our mental health and wellbeing. On Thursday 9 September, we will hold RUOK Day at the College.  This special day is a national day of action dedicated to reminding everyone that every day is the day to ask, "Are you OK?" and support those struggling with life's ups and downs.
Our Junior School is doing a fantastic job is bringing this day alive in our community and with all the resources, badges and wrist bands being sold it will be difficult for anyone in our community to not know it is RUOK Day on Thursday 9 September.
We often hear the importance of being mindful and to find time in our busy schedule to just turn down the volume and sit with silence and to calm our mind. Some people use yoga, others nature, while some will use music and noise cancelling headphones to block out distractions. Whatever way works, it is crucial to our wellbeing that we all find time to slow down.
The diagram below shows that mental health and wellbeing is holistic and involves social connections and physical wellbeing as key components to overall wellbeing.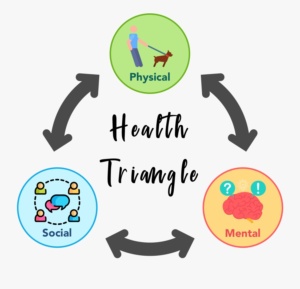 Year 12 External Exams Timetable
The recent announcement by the Queensland Government to allocate the cancelled Ekka Public Holiday to Friday 29 October will impact the Year 12 External Exam Timetable. The Queensland Curriculum and Assessment Authority will adjust the exam timetable and provide the advice to schools as soon as a decision is finalised.  Year 12 students and families will be kept informed of any changes to assist with their own planning.
To assist parents during this stressful time, the Resilience Centre is holding an online presentation by Neil Worsley.
Exam Stress: the parent survival guide
Wednesday 1 September, 2021
7.00pm – 8.30pm
Cost: $30.00
Click here to register
AIC Sport Resumes
This weekend will see the resumption of AIC sport for Tennis, Basketball and Rugby League. I am grateful for the work of our staff in the Sports Office to ensure teams, coaches and managers are ready for this Saturday with very little notice.
I am confident the students will be very pleased to see the games continue this weekend and we wish all our teams every success for the remainder of the season.
Prayers
We keep in our prayers and thoughts, teacher Mrs Christina Drakogiannakis and her family following the passing of her mother, Mrs Maria Van der Kamp.
May her soul and the souls of all the faithful departed through the mercy of God rest in peace. Amen
God bless
Mr Mark Stower, Principal
In keeping with the spirit of Reconciliation, Villanova College acknowledges the Yuggera and Turrbal peoples, as the Traditional Custodians of this land on which we stand.  We pay our respects to Elders, past, present and emerging.  This has always been, and always will be, a place of teaching and learning connected to country, culture and community.