When I was growing up and in those early and middle teen years, I did not have access to the social media platforms and smart phones that today's young people take for granted. If I had to ring a girl it was done at the house phone in the kitchen where everyone could hear, especially mum or I had to race down the street to the phone box hoping I had the change to make the call.
Technology today has brought a whole new world of opportunities to our society. We have ready access to information and news, and we can connect with people from across the world. Technology also brings with it a number of challenges that we all need to navigate.
There was a great advertisement some time ago that highlighted the perils of posting images and materials online. The advertisement pointed out that posting online publicly was the same as posting on a billboard down at Stones Corner. It is public and everyone can see it. I know the reaction of the public would be outrage if some of the material I have seen was posted on the billboard.
Posting material online is further complicated as teenagers will post material and say things online that they would never dream of saying face to face with a person. They assume the post is anonymous and they can hide behind a fake name or account. The normal social rules and common decency often goes out the door in this environment.
I spoke to a group of Year 11 students yesterday about the issue of social media and what is the most effective way to educate young people about safe use of social media platforms. I did not receive too many pearls of wisdom and the students were a little uncomfortable with the discussion.
Our Pastoral Area Leaders take time each year to address this topic and to provide strategies for students to stop and think before they hit the "send' button. The following link will provide resources for families and I encourage you to click on the link and have a read-
https://raisingchildren.net.au/teens/entertainment-technology/digital-life/social-media
Finals of AIC Basketball and Tennis
This Friday and Saturday the finals of the AIC Basketball and Tennis fixtures will be held across a range of venues. I wish all our teams the very best for their games. Our First V Basketball Team has gone through the rounds undefeated and will be opposing strong opposition from St Edmund's College, Ipswich. The game will be live streamed and will be an excellent match to watch.
Next week our sporting program turns to Cross-Country, Rugby and Football. There will be a large number of students across the College involved in sports over the next four weeks. The AIC Management Committee and Directors of Sport met this week to clarify the guidelines for the sporting venues, spectators, and safety requirements under stage three restrictions currently in place in Queensland. Further details will be available to families early next week.
Congratulations and thanks must be given to our Directors of Sports from the AIC Colleges who have worked tirelessly over many weeks to have sport back in action for our students.
Staff News
We congratulate Mr Callum Hackett and his wife Chrissie on the birth of a beautiful baby daughter, Georgia Rosemary Hackett.  We also congratulate Ms Christianne Kemp and her partner on the birth of a healthy son, Hudson Henry earlier this week.  All are well and extremely happy.  We welcome Georgia and Hudson to the Villanova College community.
Prayers Please
The Augustinians joyfully announce the ordination to the Diaconate of Br Tuấn Anh Lê OSA by Most Reverend Mark Coleridge, Archbishop of Brisbane, on Saturday 15 August in St James' Parish Church, Coorparoo, Brisbane. Please keep Br Tuấn Anh in your thoughts and prayers over these coming days.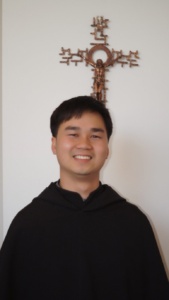 We keep in our prayers the people of Beirut following the devastating fire and explosion that has affected so many families.
You have made us for Yourself O Lord
And our hearts are restless until they rest in You.
God bless
Mr Mark Stower, Principal