Last Saturday saw the conclusion of the chess, rugby and football seasons for 2019. For the Sports Department, this season consistently sees the largest participation of students in the teams across the three activities. Their efforts during the season to ensure the competition runs smoothly and the coaches, managers and officials are all in place and well supported, deserves recognition and I thank Mr Craig Stariha, Mr Chris Everding, Mr Blake McLauchlan and Mrs Erika Schofield on behalf of all the players, parents and supporters.
I also congratulate and thank the parents and supporters who were on the sidelines at the games each week. Overall the support was outstanding, and I know the players thoroughly enjoy having supporters at the games cheering on the team.
Finally thank you to the coaches, managers and officials and members of staff. All of our coaches and managers are volunteers who give up their time freely to provide guidance and support to our students so that they can participate in the sporting program. Once again on behalf of the students and families, thank you.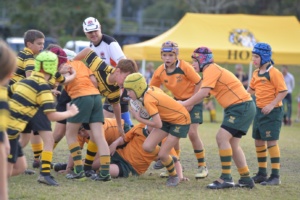 COMMENCEMENT OF TERM 3, 2019
On Monday 15 July, Parent-Teacher Conferences will be held in Goold Hall from 10.00am until 8.30pm. Following the distribution of End of Semester Reports at the end of this term, the Parent-Teacher Conferences provide an opportunity for parents and students to meet with the teaching staff to discuss academic progress over the past semester.
I strongly encourage students to attend the conferences to hear first-hand the feedback from the teaching staff and to be involved in this process. Students attending the Parent-Teacher Conferences are asked to wear their academic uniform including blazer if a member of Senior School.
Term 3 classes will commence for all students on Tuesday 16 July.  
YEAR 12 RETREAT
Early next term Year 12 students will have the opportunity to take some time out from their busy schedule to reflect on their year to date and to look forward to the future at their annual Retreat. The Year 12 Retreat is a very special time for the students as they explore their relationship with family, friends and God.
YEAR 11 SEMI-FORMAL
On Friday 19 July, the Year 11 Semi-Formal will be held at The Landing, Dockside, Kangaroo Point commencing at 7.00pm and concluding at 10.30pm.  Our Year 11 students and partners are asked to begin arriving from 6.30pm. The Semi-Formal is an important occasion and allows our young men to play the role of host to their invited partner. It is an opportunity to experience the social norms of this occasion and to be a gentleman. Year 11 students and their families have received details of this function via email last week.
PRAYERS PLEASE
We ask for your prayers for the Greenhalgh and Perrier families following the recent death of Mrs Maria Greenhalgh, wife to Doug and mother to George, Year 11 and Josh, Senior 2018.
May her soul and the souls of all the faithful departed, through the mercy of God, rest in peace. Amen
God Bless
Mr Mark Stower, Principal