Dear Members of the Villanova College Family,
Last week I had the pleasure of attending Year 9 Camp for two nights and I thoroughly enjoyed the opportunity to spend time with the students and staff in the beautiful Noosa Northshore hinterland. The group of students I spent time with were known as "Delta Company" and they were a great group that embraced the challenges and opportunities of all the activities.
The outdoor camp experiences provided by the staff of the College allow our young men to learn and discover often hidden qualities about themselves and others. For many boys, the camp experiences are often the highlight of their school year and provide many fond memories.
Building News
The final and fourth classroom in the new Year 7 Learning Precinct has recently been completed and staff and students are very excited to move into their new learning space. The refurbishment of the classrooms has been a project four years in the making. Our teaching staff were courageous in trialling different classroom designs including the use of launch pads and a range of furniture to learn what works best for boys' learning. It was from this work and research on models of Co-Teaching, and our association with Fielding Nair International, that these new classrooms were designed by our architect, Architectus. We are very proud of the new facilities.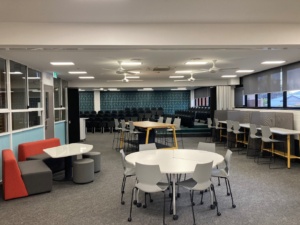 Anzac Day March
Thank you to the many students and staff who made the effort to attend the Anzac Day March for the Coorparoo RSL. The students enthusiastically participated in the march and were a credit to the College. It was wonderful to see the students and crowds of people returning to this event. It is a reminder to us all of the importance of our presence at such a significant event.
Round 1 AIC Sports Competition
This Friday evening and Saturday we commence our first round of Chess, Football and Rugby. The students have had numerous speakers spell out clearly the College's expectations for their conduct both on the field and as spectators. I am looking forward to our students enjoying the competition and playing the games in the right spirit. I wish all our coaches and managers all the best for the upcoming season.
Prayers
We keep in our prayers Mr John Walsh, ('76) Past President of the Villanova College Old Boys Association and his family following the recent death of John's mother, Tess Walsh.
May her soul and the souls of all the faithful departed through the mercy of God rest in peace. Amen
God bless.
Mr Mark Stower, Principal
In keeping with the spirit of Reconciliation, Villanova College acknowledges the Yuggera and Turrbal peoples, as the Traditional Custodians of this land on which we stand.  We pay our respects to Elders, past, present and emerging.  This has always been, and always will be, a place of teaching and learning connected to country, culture and community.