The Gospel reading from last Sunday tells the story of the post-resurrection scene where the Apostles are gathered together, hiding away in fear and confusion when Jesus appears and stood among them. Thomas, one of the twelve was not present at this time and when he was told the story, he refused to accept the truth. For Thomas he would only believe if he saw the wounds of Jesus with his own eyes.
I am challenged by this Gospel reading from John on many levels. At times I too can be highly judgemental and blind to what is behind the actions of people. At times my faith can be a little shaky if I do not make God and prayer a central part of my daily routine. At times I can doubt the good in our world when I see the many incidents of hate and destruction. Despite these occasions my faith in God remains strong.
During this Easter Season of the Church we have received a message of hope.
"Christ has Died, Christ has Risen, Christ will come Again!
AIC SPORTING COMPETITION
This week at the College Assembly I spoke to the students about the topic of good sportsmanship when representing Villanova College. I firmly believe good sportsmanship comes from strongly held values about the dignity of the person and doing the right thing when faced with choices. I want our players to be fierce competitors and I want our players to play the game in the right spirit.
Last weekend there were a number of incidents where our students, in the heat of the game, let fly with some very unsavoury language directed at the opposition. Now some may say in the heat of battle this is acceptable. I disagree. We teach our students at Villanova College to treat all people with respect. One way we show respect is in the way we speak to each other. Our opposition each Saturday are our guests from a brother College of AIC. They deserve our respect. We show this respect by welcoming them to our College and by being a great opponent, playing a hard and fair game and extending the hand of friendship at the end of the contest.
If you are a Coach or Manager of our students, I ask that you model through your words and deeds the expectations of good sportsmanship we have for all our students no matter the level of competition. Our young men need to be guided by role models who understand the game is not just about winning.
THANK YOU
Thank you to the many students who participated in Anzac Day Services last week. It was pleasing to hear a number of reports of the great work of our students at a number of ceremonies including  many Dawn Services. Well done to all involved.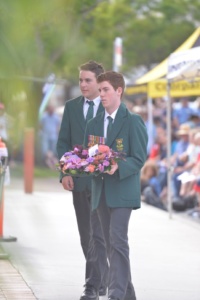 You have made us for Yourself O Lord,
And our hearts are restless until they rest in You.
God Bless
Mr Mark Stower, Principal