College Open Day
Last Thursday we welcomed some 340 families and well over a thousand people to the College to share and celebrate Villanova College life and the opportunities it presents to our boys. The preparation for such days are vitally important because it asks everyone involved in the school to ask the question "Why?"
Why does Villanova exist?
Why is a Catholic school in the Augustinian tradition important?
Why would someone want to send their son to our College?
Why do I choose to work here?
Why is education and teaching so important to me and to parents?
In asking these questions you are encouraged to engage in defining clarity of purpose, re-orientation to one's motivations and action and a re-identification of what outcomes one is looking for that may deliver happiness and satisfaction. Questioning "why" delivers purpose and defines accomplishment.
There is another layer though that is specific to the realm of our Augustinian identity. Asking "Why" shapes our convictions to our values of humility, interiority and being restless in our search for truth. This time of questioning and finding answers or solutions shaped our Open Day. It made the decision about who presented, what was showcased, how we shared our community. The goal was to show "The Villanova Graduate" and how we get there. The showcase was the boys who participated, who performed, who led tours, who spoke with visitors, who engaged in activities with one another in community. For that I am very thankful as for me it was yet another opportunity, in a different setting to get to know the real Villanova. To see how when challenged the Villanova boy steps up. I have seen it in the classroom and on the sports field, but these are places where largely boys are comfortable, they know the landscape! Engaging with strangers, talking about their school, showing welcome and hospitality and feeling the nervousness of a question they don't quite know the answer to – this is a new challenge! I am honoured to say that our boys, your boys, stepped up brilliantly. Equally, our staff again showed their quality and commitment in the way the event was organised and managed and the careful way our prospective parents were considered in the design of the program and what elements of College life were showcased. It was a great day to get to know our school and define our direction and purpose with clarity and intent.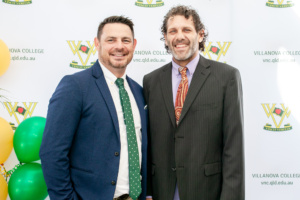 National Reconciliation week
Last week we acknowledged National Sorry Day and this week has been Reconciliation week. Included in these acknowledgements was last weekend's Reconciliation round. A week when all First sides in football and rugby deliver an acknowledgement and commitment to reconciliation. This is one of the great characteristics of AIC, as an association of largely Catholic schools, with one Lutheran school we have shared values and shared perspectives. This means that the sporting field can perhaps achieve more than just the outcome of a game.
Last Friday's assembly we also heard from former Brisbane Lion Mr Daryl White of his own family's experiences in Alice Springs and the trauma of life as part of a family directly impacted by the policy and practices that delivered the national disgrace that was the 'stolen generation'. Such presentations and conversations are always difficult for those who are the privileged or were the beneficiaries of such government policy and actions. Developing in ourselves empathy and understanding is often difficult because, as we analyse the outcomes and impacts of those historical decisions, we have to acknowledge their abhorrence and with that be willing to accept responsibility to take action to reconcile and heal the wounds that have been caused. Too often we keep an insular perspective and only consider that because we personally have not engaged in direct action that alienated communities or stole children and culture from our first nations people that we have nothing to reconcile or apologise for. However, we are challenged to move beyond such insular and selfish perspectives. There needs to be collective acknowledgement, clear and honest education and perhaps some contextualised rebalancing of resources or finances to build measures that engage community, reconnect culture and proactively see the value of indigenous culture and indigenous peoples restored. It is a complex and timely task, but when you engage with Aboriginal and Torres Islander peoples and talk of their culture and custom it is such a worthwhile pursuit for our national identity.
College security adjustments
As per my email from earlier in the week the first stage of College security arrangements will begin next week, a week ahead of time. From 8:45 each morning all College gates will be locked and access is only available from Sixth and Seventh avenue. This is for students, parents and contractors. All parents will be required to go to the Main College Reception to sign in, as has been previous College practice. Students if late for school will go directly to their sub-school administration area.
Core infrastructure elements are being planned and further information will be shared in due course.
Vale Fr Gerry Dullard, Augustinian Priest and former Rector of the College
One of the great characters and friends of Villanova College Fr Gerry Dullard passed away this week in Melbourne. Given his presence and passion for Villanova College, and influence over past generations of Villanovans, a Memorial Service will be held on Thursday 14th July at 7pm with Fr Peter Wieneke hosting. More details will follow. It will be held on campus at the College but the exact venue is yet to be determined. To RSVP please click here.
Mr Paul Begg, Principal
In keeping with the spirit of Reconciliation, Villanova College acknowledges the Yuggera and Turrbal peoples, as the Traditional Custodians of this land on which we stand.  We pay our respects to Elders, past, present and emerging.  This has always been, and always will be, a place of teaching and learning connected to country, culture and community.