As we approach the half-way mark of this first term, it is worth taking a moment to check on the status of your son. In the busyness of family life, the weeks and days can fly past and before we know it the end of term is upon us. Allow me to pose some questions for you at this key time.
How has your son settled to the challenges of the new year?
How are his organisational skills at the moment?
Does he seem to have it together with all the demands he is facing with sports, schoolwork, home life and possibly work?
Is he getting enough sleep? (recommendation is 8 – ten hours per night)
How is he handling his classes and working with his teachers?
How is the homework, assessment tasks and homework routine?
How is his general mood? (this can be difficult to determine in teenage years)
Our Pastoral Area Leaders and Heads of School have a wealth of knowledge and expertise in dealing with boys. If you have any concerns, I urge you to contact your respective Pastoral Area Leader or Head of School to discuss the matter.
AIC SPORTING ASSOCIATION
At the recent AIC Sports Management meeting the issue of spectator behaviour and good sportsmanship was raised. The AIC Charter states the vision for the AIC Sports Association as, "To develop good and healthy young people of character through sport and competition within a Christian context."
Furthermore, the Mission Statement clearly articulates how this vision is to be enacted.
The AIC will provide well-organised competitions in sport and other activities that foster participant engagement and pride in communities in a holistic Christian context. Our students, staff and families (both past and present) will nurture spiritual, moral, emotional, intellectual, physical and social development through respectful and compassionate relationships in a safe environment.
All the activities on offer to the students of AIC Member Colleges provide opportunities for learning and growth. All Member Colleges understand the importance of competition to challenge young men to participate and live a healthy life. Through the thrill of competing, sporting activities teach our young men about winning humbly and losing graciously.
At all sporting facilities you will notice new signs that will remind all spectators of the expectations of good sportsmanship and a reminder about respecting all volunteer umpires, coaches and managers. Without the generosity of these volunteers the AIC Competition would not be possible.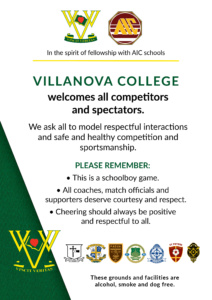 MMG EDUCATION – Parent Survey Results: Overall Satisfaction/Agreement
| | | | | |
| --- | --- | --- | --- | --- |
|  General Topics | JUNIOR SCHOOL | MIDDLE SCHOOL | SENIOR SCHOOL | OVERALL |
| Parents New to the School- Statements relating to starting at Villanova College | N/A | N/A | N/A | 89% (Very High) |
| Overall satisfaction with camps | N/A | N/A | N/A | 89% (Very High) |
| Overall satisfaction with communications from Villanova College | 89% (Very High) | 89% (Very High) | 89% (Very High) | 89% (Very High) |
| Statements relating to Parent Portal | 75% (High) | 79% (High) | 74%(High) | 76% (High) |
| Management and Leadership of Villanova College | 89% (Very High) | 89% (Very High) | 89% (Very High) | 89% (Very High) |
| Satisfaction with facilities | N/A | N/A | N/A | 79% (High) |
| Reputation in the wider community | 75% (High) | 70% (High) | 70% (High) | 71% (High) |
| Affinity (Loyalty) | 89% (Very High) | 89% (Very High) | 79% (High) | 89% (Very High) |
STATEMENT FROM ARCHBISHOP MARK COLERIDGE RE: the verdict in the Cardinal Pell case:
The news of Cardinal George Pell's conviction on historical child sexual abuse charges has shocked many across Australia and around the world, including the Catholic Bishops of Australia. The Bishops agree that everyone should be equal under the law, and we respect the Australian legal system. The same legal system that delivered the verdict will consider the appeal that the Cardinal's legal team has lodged. Our hope, at all times, is that through this process, justice will be served.
In the meantime, we pray for all those who have been abused and their loved ones, and we commit ourselves anew to doing everything possible to ensure that the Church is a safe place for all, especially the young and the vulnerable.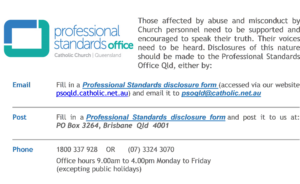 We remember in our prayers Mrs Avis Greenup, great grandmother of Andrew Dickie (Year 6).
May her soul and the souls of all the faithful departed rest in peace, Amen
You have made us for Yourself O Lord,
And our hearts are restless until they rest in You
God bless
Mr Mark Stower, Principal