I take this opportunity to draw to your attention the section written below regarding coaches, managers and officials needed for 2023. As with all Colleges within AIC, Villanova relies heavily on the assistance of staff, parents, students and Old Boys to assist with coaching, managing etc. Put simply, our boys depend upon the good nature of many within our community to give of themselves so that our students can enjoy the benefits that playing sport provides.
PLEASE give serious consideration to nominating yourself to assist the AIC Year 5 – 12 sports program at Villanova College in 2023 by completing the online nomination form found on the College website (further details below). At this stage we are still short on cricket coaches. If you would like to assist the College by fulfilling a coaching role, please contact the Sports Office.
AFL, Volleyball and Cricket trials are now complete and all Year 5 – 12 (2023) draft team lists have now been posted in the respective Parent Lounge and Student Café portals. Please read below information pertaining to further training sessions and trials organised.
2023 Coaches/Managers and Officials Needed – OUR BOYS NEED YOUR HELP!
The Villanova College Sports Department is currently seeking coaches, managers and officials for the Year 5 – 12 AIC Sports Program in 2023.  In particular, we require the assistance of staff, parents, Old Boys and friends of the College to take on the various duties needed to ensure that every student has the opportunity to participate and enjoy all the benefits that playing sport provides as well as ensuring the ongoing growth and development of our sports program across all areas.
Villanova's success in sport is dependent upon many factors, one being the generosity of members within our community to give of their time and efforts in order to serve our students by taking on specific roles. These roles include coach, manager, referee, umpire, scorer etc. If you can help in any way, please complete the online nomination form below.
All forms received will be compiled into a database. Before each season commences a member of the Sports Office will contact those who have expressed an interest to assist. A final confirmation of commitment will be sought, and further details will be given.
The College is indebted to those who were able to assist throughout 2022. We now invite those who would like to assist in 2023 to become involved for the benefit of our students and the College. You will no doubt find it rewarding and no experience is necessary. Please click on the link below if you are able to assist – https://villanova.jotform.com/tkropp/coach-manager-and-official-nominati
AFL, Cricket and Volleyball – Training and Further Trial Games – Where To From Here?
As Goold Hall is unavailable for the next three weeks due to the Year 12 external exams, we have decided to put a hold on all training in all sports until the hall comes back online and re-commence all training at the same time.
As many of our cricket players are involved with club cricket this term, there will be no training or trial matches for any AIC teams this term. Training for all Villanova cricket teams entered in club competition will resume as normal, however, please note that these teams are different from AIC teams selected for 2023.
Villanova's cricket emerging talent squad (already selected) will continue to train as normal as per schedule sent to these players. Some of these players will be required for some up-coming trial matches, including First XI trial matches.
During Week 6 and Week 7 this term all 2023 Year 7 – 12 volleyball teams and all 2023 Year 6 – Open AFL teams will train once in Week 6 and once in Week 7. Some of these teams will be required to participate in trial games organised against St Laurence's and Iona College as per the schedule below.
Further Volleyball and AFL Training Schedule – Week 6 and 7, Term 4
NOTE – Open AFL training TBC
 
Monday 7 and 14

November

Tuesday 8 and 15

November

Wednesday 9 and 16 November
Thursday 10 and 17

November

Friday 11

and 18

November

6:30am – 8.00am
Volleyball

Year 11 in Goold Hall

Volleyball

Year 8 in Goold Hall

AFL

Year 8 and Opens at Coorparoo JAFC

 

Volleyball

Year 10 in Goold Hall

AFL

Year 9/10 at Coorparoo JAFC

 
3.30pm – 5.00pm
Volleyball

Opens in Goold Hall

AFL

Year 6 at Little Langlands

Volleyball

All Year 7 players (excluding the A and B players) will be required for one last trial session on Tuesday 8 in Goold Hall

The 7 C and D teams will be decided after this final session

AFL

Year 7 at Coorparoo JAFC

Volleyball

Year 9 in Goold Hall

Volleyball

Only the Year 7 A and B teams will train on Thursday 10

 
IMPORTANT NOTE – All Year 7 Volleyball teams (A – D) will train together in Week 7, that is, on Tuesday 15 November
Further Volleyball Trial Games Organised (only for those boys who were selected after the Saturday 15 October trials)
Saturday 12 November, Year 7-Open Trial match v Iona College – times and venues TBA
Saturday 12 November, Year 7-Open Trial match v Iona College – times and venues TBA
Saturday 19 November, Year 7-Open Trial match v St Laurence's College – times and venues TBA
Further AFL Trial Games Organised (only for those boys who were selected after the Saturday 15 October trials)
Saturday 12 November, Year 7A, 8A, 9/10A and Open trial match v Iona – times and venues TBA
Friday 18 November, Open trial match v St Laurence's College – times and venues TBA
Saturday 19 November, Year 8A and 8B and Year 9/10A and 9/10B trial match v St Laurence's College – times and venues TBA
Experienced Football Coaches Required
The Villanova College Sports Department is currently looking for experienced/highly qualified coaches to be involved in the College's football program. We are seeking coaches who will work with our 'A' level sides. Coaching positions will be paid. If you are interested or know of someone who might be interested, please contact Football Co-Ordinator – Anthony Kemp, akemp@vnc.qld.edu.au
First XI/Second XI Football Trials
The College will commence the First XI/Second XI Football program on Wednesday 9 November at Villanova Park from 3.45 – 5.15pm. Please find below the schedule for the trials:
Trial session dates
Wednesday 9 November
Tuesday 15 November
Thursday 24 November
Currently we have a list of students who have signed up to attend these trials. Any other student/s who are wanting the opportunity to trial are welcome to attend and are asked to register their interest at the Sports Office. Boys are to find their own way to and from the trial venue.
AIC Touch Tournament
A one-day AIC Touch Tournament was held at Runcorn last Saturday 22 October. Villanova entered seven teams across the four divisions Primary (combined Year 5/6), Year 7, Year 8/9 and Year 10/11.
No official results from the carnival are released except for the eventual winners. Unfortunately, Villanova drew a tough pool in all categories, with the winner of each pool then advancing to the finals. We thank all coaches and players who participated throughout the tournament. The main aim was for the boys to get involved and have fun, although a sense of strong competitiveness wasn't far behind.
Villanova Swimming – Mrs Juanita Jacobs – AIC Swimming
We have now well and truly begun the Villanova swim season. If your son is interested in joining the squad, there is still time. Please check the Locker Room section of the website for the documents and further details on training times. Villanova Swimming Registration Link – https://villanova.jotform.com/tkropp/aic-swimming-registration—202223-
AIC Water Polo Tournament
Unfortunately due to the weather conditions the AIC Water Polo tournament was cancelled on Sunday. This event will not be rescheduled.
Zone Cricket
A smaller number of teams have taken to the field this year for the Pre-Xmas Cricket competition. Villanova  entered two teams in the EDJCA Competition and six teams in BEARS. Villanova is responsible for the administration and set up of the teams, but the running of Term Four cricket falls to a group of parent volunteers. This has been the case for many years and the boys would not be able to play unless they were supported by this group.
Thank you to the following parents who have volunteered regularly over the years to support the programme to make sure that all boys wanting to play are able to have a game:
Rob Watson, Deanne Perrier, Stewart Rieck, Amanda Waterson, Michael Moloney, Matt Borger, Dave McMahon, Peter Arvoll, Lisa Forsyth, Andrew Huntley, Steve Miller, Steve Vig, Damien Lewis, Jeffrey Petrie and Paul Innes.
Thank you to Jeff Ilka, Ross Whitby and Phil Horton, for the mammoth task of registrations, rep cricket coordination, Villanova delegates at EDJCA and BEARS, parent volunteer coordinators, bi-law experts, draw coordinators and general trouble shooting. These gentlemen have dedicated much of their spare time to make sure that Villanova Cricket is in a good place and that we are successful in cricket at club level. The College thanks you for your tireless efforts and for driving the Zone cricket. You have allowed Villanova to be regarded as a strong club and gone into bat for the College to work through issues that arise from time to time in support of our coaches and you have been a strong voice for our cause and always acted in the best interests of the boys.
The Term 4 programme allows players to work on their skills for the next AIC season and have our players well prepared for Term 1 cricket. The College thanks you for your time and efforts over the years and your departing, as your boys conclude their time at Villanova College, will leave massive shoes to fill, if we are to continue to be members of EDJCA and BEARS.
Zone Cricket Representatives Needed
In the future, if Villanova is to continue Zone Cricket in Term 4, we will need a new group of parents to drive the programme and look after registrations, rep cricket selections (BEARS), team selections and be delegates for Villanova at BEARS and EDJCA meetings. Please contact the Sports Office if you can take on one of these roles next year or if you would like more information. The roles will not begin until August 2023, but it might be a good idea to speak with Jeff, Ross or Phil regarding the commitment level of each position.
Level 1 Cricket Coaching Course
Attention all parents, cricket coaches and students in Year 10, 11 and 12. Queensland Cricket will be holding a Level 1 cricket coaching course at Villanova College on 23 November. The field component of the course will be on Whinstanes beginning at 5pm and the theory component will be held in Goold Hall from 6.15pm to 7.30pm. It would be great if all of our cricket coaches, those who are going to begin their coaching careers and any parents wishing to upskill themselves, could lock this in their diary and complete the course. If you are interested in the Level 1 coaching course, could you please email the Sports Office and register your interest.
Term 1 Cricket Coaches Needed
Villanova is seeking coaches to cover the following teams for the 2023 AIC Cricket season. Teams that need covering are 5C, 5D Gold, 5D White, 7D Gold, 9D Gold and 10C. If you can coach one of these sides, please contact the Sports Office.
Representative Sport
Congratulations to Mitchell Rieck who finished second in the 2000m steeplechase at the Queensland School Championships last weekend.   Mitch has now been selected in the Queensland team to compete in Adelaide at the Australian All Schools Track and Field Championships in December.  Mitch also finished fifth in the final of the 1500m.  Yet another great achievement from Mitch!
Well done to Arjun Dhanda (pictured below) who recently competed in the State Cricket Championships as part of the Met East team. Arjun used this opportunity very wisely and built good relationships with all teammates and coaches. Great effort Arjun!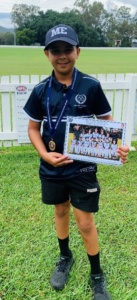 Mr Craig Stariha, Director Of Sport