Villanova had a solid round of results against St Laurence's over the weekend. Overall, it was a competitive match up where both Colleges enjoyed some success.
I have been very pleased with the efforts and subsequent results from the rugby league fraternity over the last couple of weeks. We have won the last two rounds against St Patrick's and St Laurence's, which included two solid wins by our 1st XIII team. Effort and self-belief go a long way in sport (in fact, all areas) and we are seeing this in our 1st XIII team this season, keep it up boys! My expectation is that all teams should perform well this weekend against St Edmund's. However, be warned, do not take them lightly. Well done boys, keep up the good efforts.
Overall Villanova had a solid round against St Laurence's in the basketball winning the majority of the games played. At this point we have many teams in premiership contention as we move towards the final two rounds, this includes our 1st basketball team who are playing extremely well and are looking to take out the coveted 1st premiership for the second consecutive year.
Full credit is given to St Laurence's who won the tennis round, nine games to seven. All our Year 5 and Year 6 teams won their tennis matches which attributed four wins from the seven we gained and brought some respectability to the overall margins. Laurie's proved to be far too strong in the older age groups including the 1st tennis team, who took a comprehensive victory over our boys on the day.
In our quest to be competitive and strive for success in all that we do, all teams must continue to contribute and give their best each week. As we approach the end of the season, it is common for teams to become relaxed. As mentioned earlier, St Edmund's should not be taken lightly. As always, I ask the boys to give it a 'good crack' this weekend. Turn up on time, get your head in the game, give 100%, support your mates and enjoy! Only two rounds remain this year.
The AIC Track & Field training program has begun. It is pleasing to report that the coaches have been impressed with the attendance from our younger boys at training so far this season. The attendance of those from Year 9-12 could be better although we do understand the need to place studies as the priority particularly with the Year 12 students.  Although we know there are many things happening within our sports program now, we ask those boys who have been selected in the Track & Field squad to regularly attend training each week and give T&F their full priority over other sports played. The training schedule is posted on the web under the AIC Track & Field section. The second AIC meet for the season is held next Thursday 8 September and the third and final meet will be held during the last week of school on Wednesday 14 September at SAF.
As detailed below, the Villanova swim program will commence next week for those boys who are currently in Year 5 – 11. This program is open to anybody who wishes to become part of next year's AIC swim squad or for those who simply want to improve their fitness.  Please read below for further details. I strongly encourage your son to get involved. To further develop Villanova sport, we must accept that a good work ethic and attendance to regular training (among other things) is a must. It is a fact that we must do the hard work pre-season to obtain good results in competition.
I wish us all the very best this weekend in basketball, rugby league and tennis fixtures against St Edmund's College. Those who are travelling away must allow time to 'find' and arrive at the venue. We need to be present well before the start of play. Please enjoy!
AIC Tennis Team Photos
Please note the Year 5 – 8 Tennis teams will have their team photos taken this Saturday 3 September at the Morningside Tennis Centre. The full schedule is available below and via Parent Lounge.
Please arrive five minutes before the scheduled time, dressed in the correct sporting apparel.
If you arrive LATE, sorry NO photo.
Location: Morningside Tennis Centre (on court)
AIC Tennis Team Photos Schedule (Saturday 3 September)
| | |
| --- | --- |
| Time | Team |
| 7:15am | 5A |
| 7:20am | 5B |
| 7:25am | 7A |
| 7:30am | 7B |
| 9:50am | 6A |
| 9:55am | 6B |
| 10:00am | 8A |
| 10:05am | 8B |
AIC Tennis, Rugby League and Basketball Round 6 v St Edmund's and Ambrose Treacy College, Saturday 3 September – Times and Venues
All Year 5 and Year 6 basketball games are played on Friday afternoons (no games this week). All Year 7 – 12 basketball and Year 5 – 12 tennis and rugby league games are played on Saturday.  Please refer to the College's website to view all times and venues for this weekend's fixtures against St Edmund's and Ambrose Treacy College.
AIC Tennis – Mr Todd Kropp, AIC Tennis Coordinator
I would like to congratulate all our Villanova tennis players from our round against St Laurence's College. It was a tough day against a well-trained opposition. I did get the opportunity to watch some matches played at the away venue where the Senior teams competed. It was refreshing to see how competitive our players are, and how far they have come from the beginning of the season. It was great to watch our boys compete in tie-break situations with the same determination that they started the match, it is certainly much easier said than done but I encourage all our players to value and fight for every opportunity to win a rally, game or set.
Whilst our First IV team didn't finish the day the way they'd hoped, it was certainly entertaining to watch them on the court with each member demonstrating why they deserve the First team shirt. With some tough matches, fast serving, fierce rivalry and even some friendships across the net, St Laurence's took the victory. I know this will fuel our First IV team who will be hard at it on the court once again this week in preparation for their match against St Edmunds.
Can I please remind all AIC Tennis players about the commitment to the Villanova College uniform, please only wear the tennis uniform outlined on the Locker Room. Many of these fixtures take place in public centres and we want to look our best in order to represent our College.
AIC Tennis Results
TEAM
Round 1

IONA

Round 2

SPLC

Round 3

ASH

Round 4

SPC

Round 5

SLC

Round 6

SEC

Round 7

PAD

1st IV
3-5 L
1-7 L
L 4 (59) – 4 (50)
W 8-0
L 8-0
2nd IV
5-3 W
3-5 L
L 2-6
W 8-0
L 2-6
3rd IV
7-1 W
5-3 W
W 4 (30) – 4 (26)
L 5-3
L 5-3
4th IV
BYE
6-2 W
W 7-1
W 6-2
W 5-3
10A
4 (24) – 4 (24) D
0-8 L
L 3-5
L 6-2
L 1-7
10B
8-0 W
4 (31) – 4 (33) W
L 1-7
W 4 (32)-4 (29)
L 1-7
9A
4 (36) – 4 (38) L
1-7 L
L 1-7
W 5-3
L 2-6
9B
2-6 L
1-7 L
L 1-7
L 5-3
L 4 (31) – 4 (33)
8A
1-7 L
L 2-6
W 5-3
W 8-0
8B
7-1 W
2-6 L
L 2-6
L 6-2
L 3-5
7A
4 (24) – 4 (29) L
0-8 L
L 0-8
W 5-3
L 2-6
7B
2-6 L
5-3 W
L 4 (29) – 4 (30)
W 7-1
W 4 (33) – 4 (29)
6A
0-8 L
7-1 W
W 6-2
W 8-0
W 7-1
6B
1-7 L
3-5 L
L 4 (24) – 4 (31)
W 5-3
W 8-0
5A
7-1 W
4 (29) – 4 (30) L
Wash Out
W 8-0
W 7-1
5B
7-1 W
8-0 W
Wash Out
W 8-0
W 8-0
AIC Basketball – Mr Sean O'Neill, AIC Basketball Co-ordinator
The Round 5 match up against Saint Laurence's was always going to be a great spectacle with both Colleges having many undefeated teams. It certainly didn't disappoint with many closely contested games all day. We ended up winning 23 games and losing eight. In the aggregate count, we halved the day six to six.
The 1st V was a spectacular game to watch with both teams starting well. Despite an early lead to Villanova, SLC showed excellent grit and determination and a strong defensive mindset to contain us. Some clutch plays by Villanova ended up seeing us draw away to win 75 – 48.
This week we are up against SEC and hopefully some continued good form. Good luck to all teams!
Goold Hall Canteen Roster
Round 6 v St Edmund's
Saturday 3 SeptemberAll parents who can assist are asked to report to the Canteen.
Time
Parents of Team
7.45am
7A
8.45am
8B
9.45am
8A
10.45am
9B
11.45am
9A
After midday
Any parents who can assist would be greatly appreciated
AIC Basketball Results
TEAM
Round 1

IONA

Round 2

SPLC

Round 3

ASH

Round 4

SPC

Round 5

SLC

Round 6

SEC

Round 7

PAD

1st V
W 82-59
W 104-73
W 110 – 46
W 78-69
W 75-48
2nd V
W 42-38
W 56-34
W 32-29
W 68-28
W 45-35
3rd V
W 44-37
L 29-43
L 30-34
W 52-43
L 52-27
4th V
W 30-26
L 21-30 (V ASH)
D 31-31
L 34-26
W 34-23
11A
W 79-32
W 46-32
W 41-33
W 99-23
W 68-31
11B
W 58-38
W 74-24
W 51-32
W 73-24
L 48-33
11C
W 46-20
BYE
W 20-16
W 45-27
W 21-17
10A
L 52-18
W 73-18
W 44-34
W 45-42
L 50-32
10B
W 33-32
W 52-14
L 21-33
W 34-28
W 34-32
10C
W 35-28
W 67-10
WASH OUT
W 24-16
W 39-27
10D
BYE
L 35-46
L 29-49
W 33-19
W 56-44
9A
W 49-27
W 59-41
W 62-34
W 59-32
W 45-42
9B
L 40-28
W 64-21
L 23-43
W 47-38
L 29-27
9C
L 68-25
W 44-23
D 36-36
L 45-36
W 37-32
9D
L 43-21
BYE
W 29-26
W 29-19
L 34-32
8A
L 23-14
L 35-36
L 32-48
L 44-35
L 41-26
8B
W 55-24
W 63-2
W 46-18
W 57-17
W 53-12
8C
W 55-15
W 80-5
W 37-24
W 35-26
W 57-31
8D
W 47-14
BYE
L 31-15
W 22-19
W 38-8
7A
L 32-23
W 42-19
W 37-35
L 54-39
L 53-44
7B
W 35-30
W 27-16
W 42-21
W 43-26
L 47-23
7C
W 37-14
W 74-5
W 31-29
W 28-17
W 35-29
7D
W 22-12
BYE
W 32-10
W 34-16
W 36-8
6A
W 32-24
W 51-16
W 55-14
W 93-10
W 22-20
6B
W 29-26
W 92-10
W 43-19
W 99-2
W 51-22
6C
WASHOUT
W 33-17 (V ASH)
W 48-14
W 91-4
W 62-8
6D
WASHOUT
W 28-22 (V ASH)
W 25-22
W 82-0
W 47-10
5A
W 61-10
W 54-8
W 52-10
W 37-17
W 57-18
5B
W 42-8
W 102-4
W 77-12
W 39-6
W 44-17
5C
W 70-6
W 30-7 (V ASH)
W 27-10
W 31-7
W 38-10
5D
W 25-9
W 19-11 (VASH)
W 17-9
W 55-2
W 22-11
AIC Rugby League – Mr Blake McLauchlan, AIC Rugby League Coordinator
We had a successful Round 5 versus St Laurence's College on the weekend, coming away with two draws, three wins and two losses. Heading out to Ipswich to compete against SLC was always going to be a challenging task. Our young men demonstrated that they could back themselves, playing with grit and determination right up to the final whistle. Many matches were very close, and it is pleasing to see the development of our players improving each week.
Unfortunately, our Year 5 team experienced their first taste of defeat for the 2022 season. It was obvious that many of our Year 5 boys were disappointed, but I would like to take this opportunity to remind our young men that growth and resilience comes from defeat. I urge our Year 5 boys to continue to train hard, remain positive and most importantly, continue to enjoy their first year of AIC Rugby League.
The 1st XIII secured an 18 – 16 win over SLC, giving our players an enormous amount of confidence leading into the final two rounds of the AIC competition. Once again, the boys were reduced to only 12 players for a part of the match but dug deep for each other to keep a level score for the 10-minute period. I urge the First XIII to remain focussed and to continue to build on this belief as we look towards the final two rounds.
This week we take on St Edmund's College for Round 6 at St Laurence's College playing fields. Please check the draw posted on the website for the time and the field that Villanova has been allocated. Please allow enough travel time to ensure you arrive at Runcorn at least 30 minutes before your scheduled kick off time unless you have been told to arrive earlier by your coach.
A reminder to those boys who are spectating to please make sure that you are in your academic uniform. This includes your tie and blazer. Those boys who wish to stay for an extended period of time after their match are also expected to change into their academic uniform.
Finally, a reminder that if you are absent from training that you contact your coach prior to training so that the coaches can plan effectively and get the most out of the training sessions. Coaches contact details can be found on the AIC Rugby League Season Schedule which is located in the AIC Rugby League section of the Locker Room.
I wish all teams the best of luck for the final two rounds of the 2022 AIC Competition. Train hard, be aggressive, play within the spirit of the game and as always, chase the win.
AIC Rugby League Results
TEAM
Round 1

IONA

Round 2

BYE

Round 3

ASH

Round 4

SPC

Round 5

SLC

Round 6

SEC

Round 7

PAD

1st XIII
34 – 4 L
L 16-28
W 24-6
W 18-16
YEAR 10
28 – 10 L
L 6-40
W 28-10
D 12-12
YEAR 9
14 – 0 L
L 26-8
L 18-16
W 30-0
YEAR 8
16 – 8 L
L 24-14
W 26-4
L 18-10
YEAR 7
24 – 8 L
L 10-4
W 28-16
W 24-20
YEAR 6
16 – 12 L
L 12-28
D 16-16
D 20-20
YEAR 5
24 – 0 W
20 – 12 W v Ash
D 24-24
D 28-28
L 28-16
AIC Track & Field Meet – SAF, Thursday 9 September (next week)
The second AIC Track & Field meet for the season will be held next Thursday 8 September at SAF. This meet will be for all students from Year 5 – 12 and we would expect all boys to attend. Bus transportation will be provided. Year 5 and Year 6 students will depart Villanova by bus at 2.15pm and return by bus at 5.30/45pm. Year 7 – 12 students will depart by bus at 3.10pm and return to the College at 8.30pm. Parents are welcome to collect their son from the venue. The full program for this week's meet will be posted on the web when finalised
As we only have two meets remaining for the season, it is imperative that all boys give Track & Field their full priority and attend as this will assist coaches with selections within a competitive environment.
Please refer to Parent Lounge and Student Café portals to view a full list of students required to attend the weekly training sessions for Track & Field. All boys are to give this meet their highest priority over any other sporting commitment.
Villanova Swimming
Please be advised that the Villanova swim program will commence next week for those students who are currently in Year 5 – 11 (that is, our 2022 AIC Swimmers). All new students to the College in 2023 are invited to commence their training Week 1, Term 4 as per days and times listed below.
The annual AIC Swimming Championship will be held in Week 7 of Term 1, 2023. For Villanova College to be competitive and to do well, we urge all current students and those who will be commencing their education at the College in 2023 to commence swimming training NOW.
Training will commence for all current students on Tuesday 6 September 2022 and will continue every Tuesday, Thursday and Friday morning throughout the entire season. For those students who are commencing at Villanova in Year 5 and Year 7 in 2023, training will commence in Week 1, Term 4 2022 (on Tuesday 4 October) as per the schedule below. These sessions will run up to and include Friday 16 December 2022. The program will recommence on Tuesday 3 January 2023 and will run until the end of Week 1, Term 1, 2023 at which time selection trials will be held. Further information regarding these trials will be provided next year.
While the College appreciates that some students may choose to continue their pre-season training elsewhere, we would encourage all swimmers to consider joining the College's program. All students who are interested in joining Villanova's swim team will be required to attend trials in Week 1, 2023. Participation or non-participation in our pre-season schedule will not guarantee a place in our final squad. However, we do believe it will strengthen your chance to do well at the trials and aid in building a strong College swimming culture.
All training sessions will be held at Langlands Park Memorial Pool, located at 5 Panitya Street, Stones Corner, and will be under the direction of Mr Felipe Barraza Rojas – Villanova Swim Coach (Year 9 – 12) and Ms Kerry Holland – Villanova Swim Coach (Year 5 – 8).
Training is open to all students who hope to become a member of Villanova's 2023 swim team or for students wishing to increase their physical fitness.  Please note that these sessions are for students who are capable swimmers only, they are not 'learn to swim' sessions. Parents who are looking for 'learn to swim' sessions may wish to enrol their son/s in an alternate program run at Langlands Pool.
Villanova Swimming Training Schedule
(Commencing Tuesday 6 September for current Villanova students and on Tuesday 4 October for students commencing at the College in 2023)
| | |
| --- | --- |
| Day | Students in Year 5 – 12 in 2023 |
| Monday | |
| Tuesday | 7.00am – 8.00am |
| Wednesday | |
| Thursday | 7.00am – 8.00am |
| Friday | 6.15am – 7.45am |
Fees: A flat fee of $200 will be charged per student for all training sessions up until the start of the 2023 school year. This includes all sessions over the summer holiday period. Students are then entitled to attend as many training sessions as possible throughout this period. Altogether, those who join the program could have access up to 50 training sessions throughout this period at a cost of only $200 (this is $4 per session by highly skilled and qualified swim coaches). The more sessions you attend the more value for money you receive. This represents outstanding value.
Kerry Holland has asked all members of the Jets Swim Club to participate in at least one of the Villanova squad sessions each week. These additional sessions will help build team spirit and provide further skills training for Met East squads, and relay practice.
For those wishing to enrol in the swim program, please click the link below to register your details online. Information regarding payment can also be found within this link. Please understand that the personal details and emergency contact information provided within the registration form will be shared with the staff from Langlands Pool. Staff at Langlands Pool do not have access to the College's data-base and need your contact information in the event of an emergency. If your details change you must notify the Sports Office (details below) as the updated information the College receives is not shared with Langlands Pool. If you do not wish for your emergency details to be shared with the staff from Langlands Pool, we will be unable to allow you to participate in the program.
Villanova Swimming Registration Link
Flipper/Pool Buoy and Bag: All students are required to purchase their own flippers and pool buoy for training. Langlands Pool will supply your son with a training pack at a cost of $100. Please find attached the order form, which must be lodged with Langlands Park Pool directly (not Villanova College) to receive your training gear at a discounted price.
For those who wish to take advantage of this opportunity, please complete all information required in the registration link above. It is common for most boys to commence the program in Term 4 although there is an option to start earlier for the current students. Late comers into the swim program will be accepted; however, they will be required to pay the full fee.
If you have any further queries please contact the Villanova College Swim Coordinator, Mrs Juanita Jacobs via email jjacobs@vnc.qld.edu.au. Alternatively, please contact the Villanova College Sports Office on 3394 5621 or via email sportsoffice@vnc.qld.edu.au
Cricket Camp – September Holidays at Villanova Park
A 'Holiday Cricket Camp' will be run over the up-coming September school holiday break. The camp will be run by NPD Cricket at Villanova Park on the 28 and 29 September. Please find a link to all registration and payment details – https://www.vnc.qld.edu.au/student-life/co-curricular/sport/aic-cricket/
Zone Cricket Registrations Due Tomorrow!
If you are intending to sign up your son for Term 4 cricket, registrations will close tomorrow, 2 September. Please refer to the Locker Room and sign on as well as make payment for the season.  Numbers at the moment are well down but we hope there is an influx of players to top up teams and give us a good representation in both the EDJCA and BEARS comps. Current numbers are below:
| | | |
| --- | --- | --- |
| Year level | Current numbers | Minimum extra numbers needed |
| 5 | 9 | 13 |
| 6 | 6 | 6 |
| 7 | 10 | 14 |
| 8 | 16 | 8 |
| 9 | 0 | – |
| 10/11 | 17 | 5 |
Andrew Slack and Ben Mowen Squads
At present several boys who play rugby have been asked to attend Track & Field training. Some of these boys have not attended at all. Be aware, those who aren't prepared to help and give back to the College when asked, will be withdrawn from these squads and all money paid will be returned. In matters where the students have a lot on their plate the College will then negotiate an alternative training schedule. Empty promises from players will not be tolerated.
Junior Football and Senior Football Development Squads
It is our aim to announce these squads by the early to mid-next term. Again, when asked, we require boys to assist and give back to the College to assist our Track & Field program if they are good enough. Alternative schedules can be negotiated where boys have lots of their plate.
Representative Sport
Well done to the boys listed below for their results in the annual Bridge to Brisbane race held over the weekend. From the 14 – 18 years age group the following boys gained 16th – Ben Sciacca (class of 2021), 44th – Mitchell Rieck and 48th – Kyan Simpson. Well done boys!
Thomas Winn (Year 11) competed at the National Schools Golf Championships in Melbourne last week as part of the Queensland team. Thomas won all five of his match play games which contributed towards the Queensland team winning the Championships as well as Thomas making the All-Australian Golf Team. A sensational effort, well done Thomas!
Pictured below – Thomas Winn with his All-Australian commemorative plaque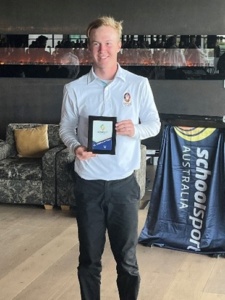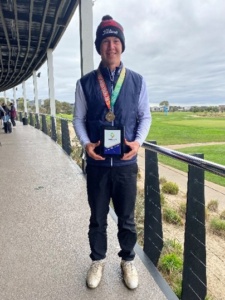 Last but certainly not least, congratulations to Jack Renner (Year 10), on his selection into the "All Australian Volleyball Team" after competing in the School Sport Australia Championships for 15 Years Volleyball. Jack was an integral member of the QLD team who took home the undefeated Gold Medal. Well done, Jack!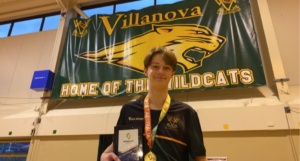 Mr Craig Stariha, Director Of Sport