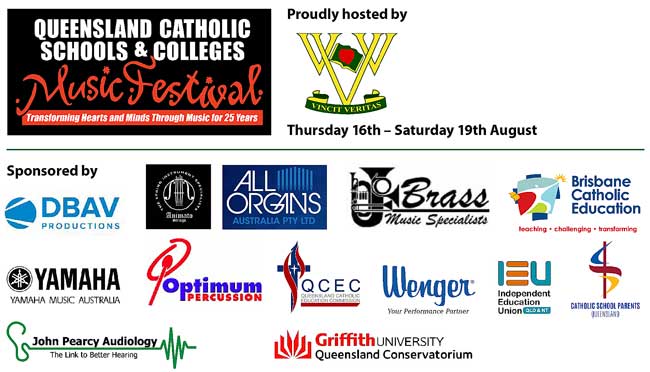 August 2018 marks the 28th Anniversary of the annual Queensland Catholic Schools' and Colleges' Music Festival.
Hosted by Villanova College, this four-day music extravaganza will run from August 16-19.
QCMF is the largest youth music festival of its kind in the Asia-Pacific Region. Having started in 1991 with just 43 performances from 12 local Catholic schools, this year the festival will showcase over 570 performances, featuring over 15,000 of our finest young musicians across 112 Catholic schools and colleges from around Australia.
To celebrate 28 years, the 2018 festival will be the brightest festival ever staged at Villanova. Music lovers, young and old, are invited to come and enjoy jazz, instrumental, choral, orchestral and contemporary performances from some of our most talented school musicians.
The festival's artistic director, Mr Michael Jones, said, "As a not-for-profit event, the success of QCMF each year relies on the tremendous support from our volunteers, sponsors and, of course, our local Brisbane music loving community. Everyone is welcome to come along and enjoy the festival's fun, family friendly atmosphere, and listen to the inspirational music produced by our country's talented young musicians."
QCMF begins on Thursday, August 16 at 4pm and continues for four packed days. Except for Thursday, the festival opens each day at 8.30am. Tickets are $10 a festival pass ($5 concession). A wide range of food and drink is available throughout the festival, so come and take part in this truly unique event.
All members of the public are welcome. For a full list of performances and further information on QCMF, visit www.qcmf.com.au.